Dedicated Development Teams: Hard to Find, Impossible to Forget

Lead Business Analyst at TechMagic, with a background in Project Management and QA, mentor, and speaker. Passionate about Business Analysis and Product Design.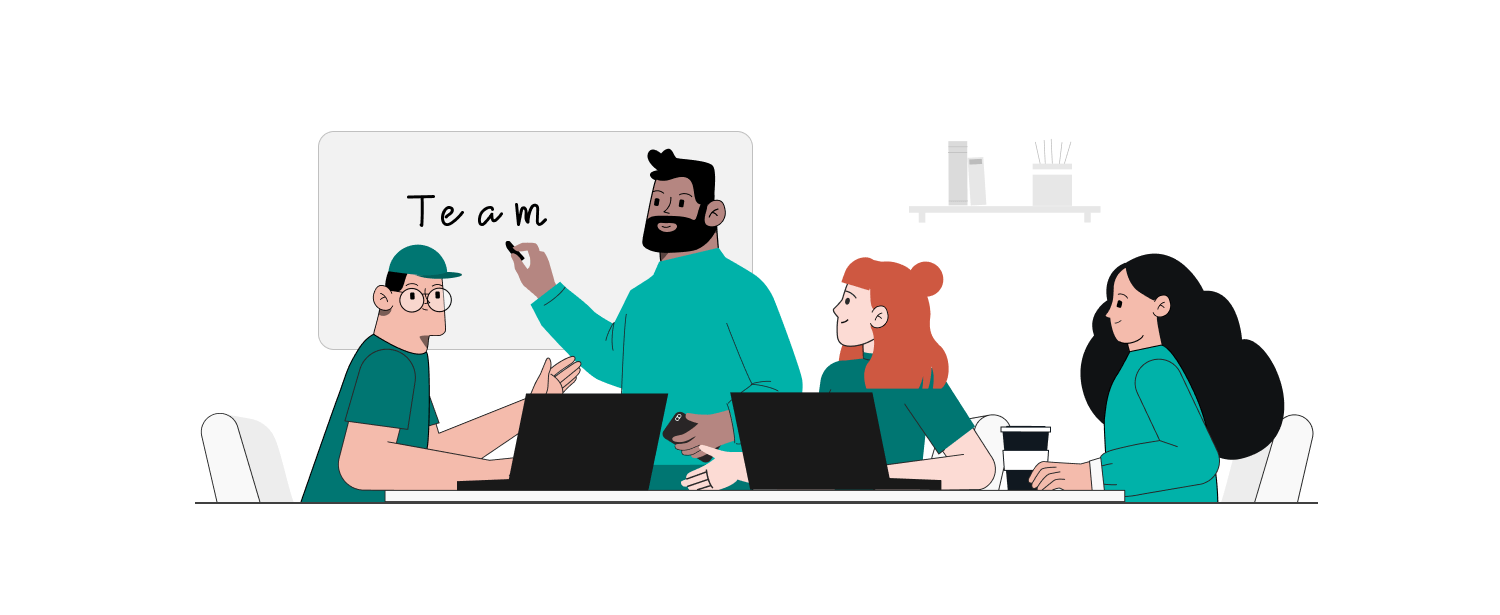 Dedicated software teams have already proven themselves in the market through their reliability and by providing optimal conditions for product development. So how can you build such a team, and what benefits can your company enjoy from engaging one?
According to a Deloitte study, 70% of interviewed companies see cost reduction as the top reason for outsourcing. Others see flexibility, agility, and access to tools and technologies as more important factors.
But although businesses may be guided by different reasons, the survey shows that most of them are interested in hiring third-party providers for getting certain tasks done. This means they need a convenient cooperation model to make it happen. In the IT area, one of these models is a dedicated software development team.
In this blog post, we discover how to find a dedicated team, build it, and define team structure. Let's get started!
What Is a Dedicated Development Team?
Before we get into the details, we need to figure out the basics: what a dedicated software development team is and how this model works. Let's start with the definition.
Definition of a Dedicated Development Team
A dedicated development team is a cooperation model where a vendor is responsible for all the administrative, operational, and recruiting issues in building a team for a client according to the client's specifications. The client, in its turn, participates in the selection of specialists and can take control of their management. The vendor handles all HR admin related to the staff.
When you hire a dedicated development team, it consists only of the exact specialists you need for tasks, and they stay with you throughout the entire project as their sole job. The vendor takes care of their paychecks, sick leave, vacation leave, and so on. As a result, you get a remote, ready-to-work group of specialists who function just like your in-house department but you won't waste time on administrative work.
Read also: A Global Brand From Day One: the Core Idea, Benefits, and Features of MyTelescope
One key aspect is developers outsourcing dedicated team don't become your direct employees, so there is a lot of room for cost reduction. That's one reason why using a dedicated software development team is often the go-to choice for long-term projects.
How Costs Are Calculated in the Dedicated Team Model
When working with a dedicated development team, you pay each team member's salary plus the vendor's margin. You don't have to worry about other payments like employment taxes or administrative and insurance fees. How is this different from the other common outsourcing options — fixed price and time and material? Let's see.
In the fixed-price model, you pay a fixed price to get the project done, regardless of how many hours developers actually spend working on your tasks. Usually, there is a fixed deadline. So if the project needs to be extended due to new requirements, you will need to negotiate that separately. Because of these factors, a fixed-price model is a good fit only when you have a short-term project with a precise scope.
Meanwhile, if you choose a time and material model, you'll pay for each hour a team member spends working on your project. You won't have managerial control over the team of developers, and developers will be able to work on other clients' projects in parallel. Like a dedicated development team, the time and material model suits long-term projects. But the difference is that the team won't work for you full-time; they'll just complete tasks as required for the project.
So, when hiring a dedicated development team, you pay not only for task completion but also for the team's full attention to your project, unlike with the time and material model. Also, tasks can be changed, added, and determined during the project at no additional charge, unlike the fixed-price model.
But let's dive into the details and discuss other benefits of this model.
Benefits of Dedicated Development Team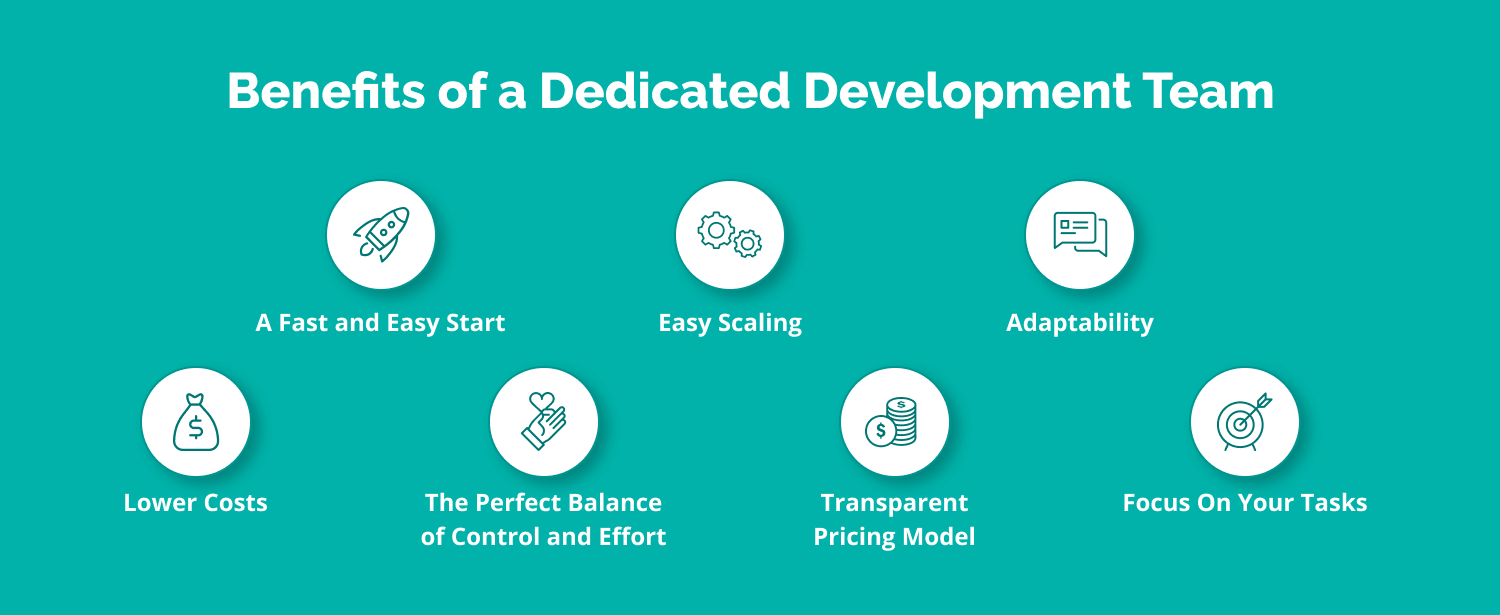 Working with dedicated software teams is advantageous for every business that uses it in the right context and with a reliable vendor. Here's a roundup of the most common benefits.
Lower Costs
Hiring a dedicated development team allows companies to avoid many of the costs associated with hiring in-house employees. You don't need to spend money on advertising vacancies, recruiters, or employee relocation. You won't pay for health and unemployment insurance, CPD training, or cover the cost of a gym membership or other perks. You don't even have to pay taxes on such team members. What's more, you can hire a dedicated software development team from countries with lower hourly rates for IT specialists, such as Ukraine, and save even more.
A Fast and Easy Start
With a dedicated development team, you don't have to spend weeks or months hiring all the people you need as the vendor will offer you a shortlist of candidates ready to start working right after you decide on who you want. Moreover, since the team is formed of the vendor's employees, they may have already worked together before. So, they know how to quickly join the workflow and adapt, requiring little time to coordinate as a team. Even without this benefit, these professionals are accustomed to the setup and will be ready to start working and cooperating immediately.
The Perfect Balance of Control and Effort
One of the best things about working with a dedicated development team is that you get to choose the level of management on your end. For instance, you can take full control, selecting each team member, leaving comments, edits, and tasks via Jira or Slack, and leading general meetings. Or you can hire a project manager who will monitor and control all processes, providing you with regular reports. This way, you can be sure that the project develops according to your vision.
You may also like: Where and How to Find a CTO for Your Startup [Complete Guide].
Easy Scaling
When you work with dedicated software teams, you choose the composition of your team. You can also scale it up or down to meet your changing needs. Your vendor will recruit additional staff for you in days if needed. So, usually, there are no recruiting delays.
Transparent Pricing Model
As already mentioned, you pay for each team member's salary plus the vending company fee. Some companies prefer to issue the fee as a separate line in the invoice. In any case, you can easily calculate the final price as you negotiate the rates in advance, and it won't change until the end of the project unless you add members to your team. So, there are no unexpectedly fat paychecks.
Adaptability
The goal of every dedicated development team is not only to get the job done but also to make you feel like they are part of the company for the duration of the project. So, they adapt to your corporate culture, company processes, and communication methods. This way, even though your team of developers works remotely, you interact with them as if they were in your office.
Focus On Your Tasks
As masters of adaptability, the dedicated team quickly understands your company culture and internal processes. Since these specialists work only with you, their attention is focused on your issues, and they are ready to respond to any remarks, comments, or requests immediately.
Still, you can only get all these benefits if you build a proper team. Don't panic; it's not difficult at all. As we will outline in the next section.
How to Build a Dedicated Software Development Team
Building a dedicated team is much easier than hiring in-house staff, as the vendor does most of the work. Still, there are a few steps you should follow to create your dream team.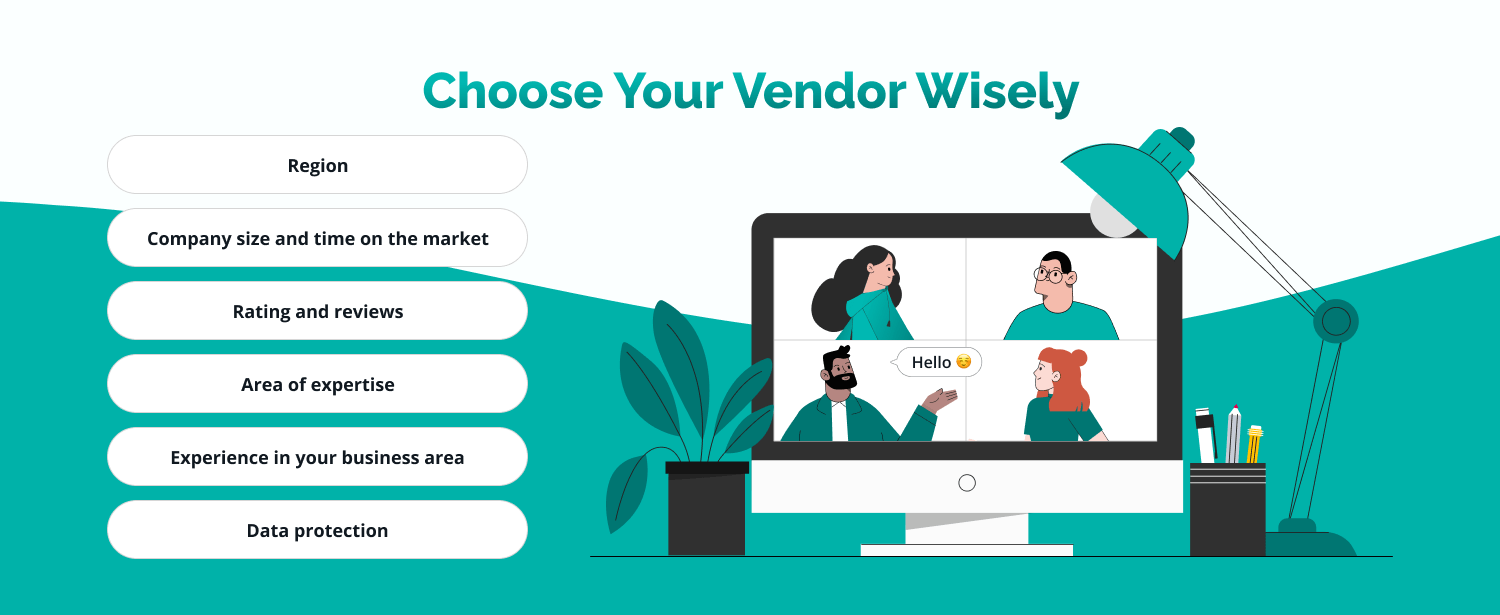 If you google "dedicated development team," you might be bewildered by the sheer number of companies that offer this service. So, you need to focus on specific criteria to weed out the ones not a good fit for you. These criteria may include:
Region
The cost of dedicated development team services, working hours, and cultural understanding greatly depend on the country where your dedicated team operates. For example, developers from Asia may offer lower prices, but Eastern Europeans usually understand ​​the American work style better and offer higher quality.
Company size and time on the market
The larger the company, the greater the choice of specialists, but the price of their services may also be higher accordingly.
Rating and reviews
Companies with many positive reviews are more reliable, and negative ones can be telling — especially if the projects are similar to your own — so it's sensible to spend some time exploring this. You can find customer reviews on websites that specialize in ratings and reviews of IT services, such as Clutch and GoodFirms.
Area of expertise
This is a simple way to cut the chaff. Find companies that specialize in your type of project. For example, if you need a mobile application, companies that only deal with web development can be discounted immediately.
Experience in your business area
No matter how good the reviews are, you must pay attention to a team's experience in your industry and expertise in projects similar to yours. For example, if you need to complete a healthtech project targeted at the US, make sure the company knows how to meet HIPAA requirements.
Data protection
Find out what data protection and privacy practices the company uses. For example, at what stage a non-disclosure agreement (NDA) is signed. You should sign an NDA at the beginning of cooperation to prevent the disclosure of your trade secrets.
Choosing a reliable vendor for a dedicated development team starts with research, reading company reviews and case studies on their websites, and then you will be ready to reach out to some vendors that seem like a good fit.
Define Your Requirements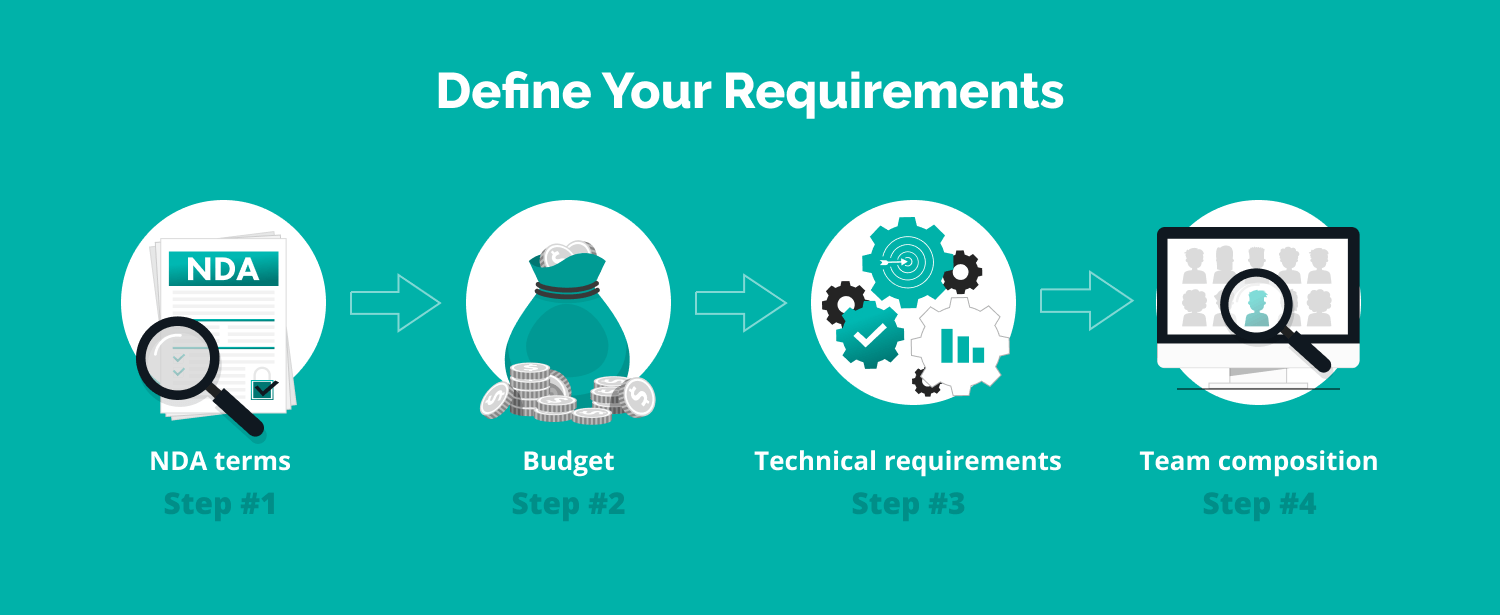 When you've decided on the vendor, you need to determine your project details and requirements, including:
NDA terms
Agree on NDA details before disclosing your project's confidential data.
Budget
You should have a general idea of ​​how much you want to spend and over what period.
Technical requirements
You may not yet know the precise requirements, but you must outline the big picture so the vendor can draw up a shortlist of appropriate specialists.
Team composition
You must choose which kind of specialists you need in your team. Don't worry if you miss something — you can always change the structure of your dedicated software development team later.
You can write down all these requirements in advance, but most often, companies define the final details after discussion with the vendor. So, if you don't have a go-to list at this stage, the vendor will help you figure it out.
Interview Candidates
After you have decided on the team's composition, the vendor will select candidates for each position and provide a shortlist. Your task is to conduct interviews and choose who you want on your team. Just like hiring for an in-house team, during the interview, you should double-check the specialist's technical skills, communication style, understanding of your company's culture, and other aspects that you consider essential to having a successful team.
Sign the Papers and Launch the Team
If you have successfully completed the previous steps, this stage is rather symbolic. Before the launch date, the vendor should prepare all the final papers and deal with any legal issues.
Double-check that the team has received the project requirements, created common workspaces for communication, and aligned processes. If everything is set up, the team will begin work.
After that, you will be able to monitor and manage the team's work to complete the project. That means you can give teams and individual specialists tasks and change things up if the first idea doesn't work. You can also change the team's structure by adding or dismissing team members. Overall, control over the team is in your hands, although you might opt for a project manager to handle the day-to-day management.
How to Define a Dedicated Team Structure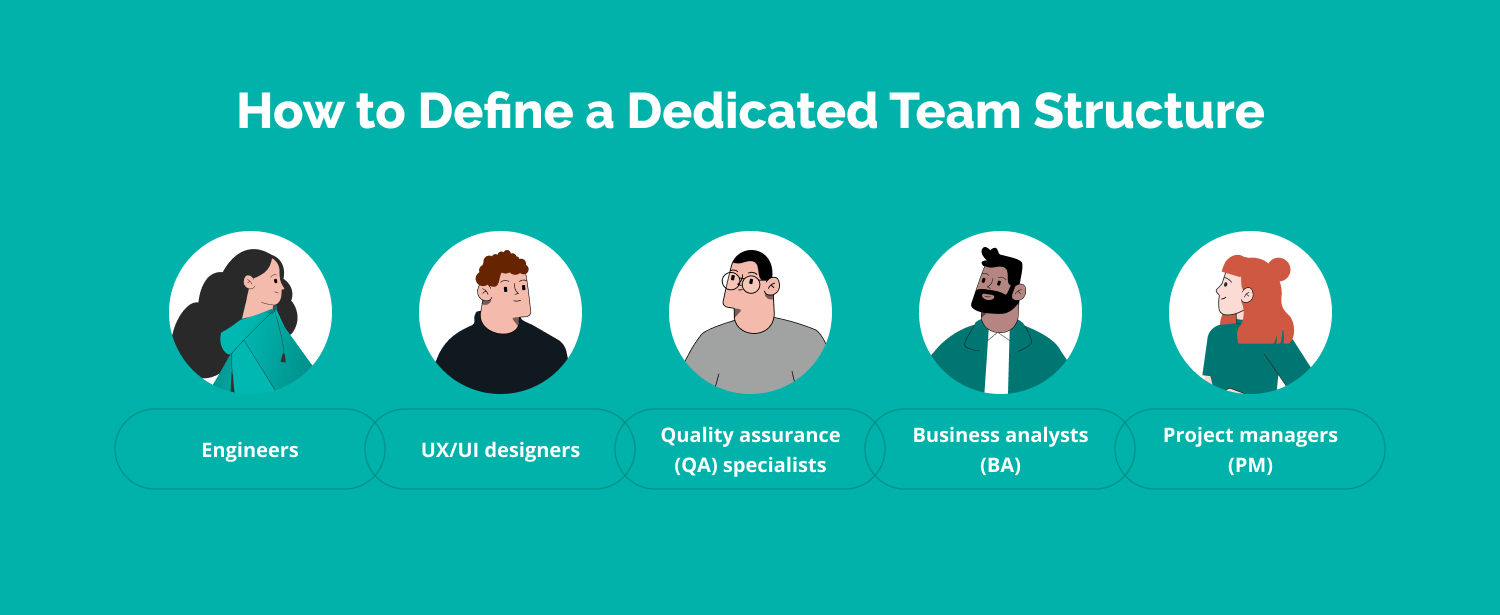 Your team can include any number of specialists depending on the project goals and budget. If you don't know exactly what you need, the vendor will help you decide. But typically, a dedicated software development team consists of:
Engineers
Engineers or developers are your driving force as they write the code. The skills your developers need depend on the project type and technologies you will use. But in any case, you cannot build a website without a front-end and back-end developer or an app without a mobile developer.
UX/UI designers
Designers create the visual part of your product. UX designers make interfaces easy to use and intuitive for customers. UI designers care about colors, fonts, pictures, and everything that makes the product look good and attract customers.
Quality assurance (QA) specialists
Before launching a product, you need to ensure that everything works; this is a QA's job. The QA should check that the product is bug-free, meets safety standards, and has excellent usability. QAs make sure you avoid pitfalls such as your app constantly crashing, which not only annoys customers but may also compromise the security of their data.
Business analysts (BA)
The business analyst is the bridge between the business and IT sides. Such a specialist analyzes the needs of the market and your customers and forms technical requirements for the development team. BAs are essential if you only have a general idea for a product as they guide you on specifics and ways to implement them in the most beneficial way.
Project managers (PM)
A PM is a person who keeps the team running and is your primary communicator. A PM plans workflow, distributes tasks, monitors implementation, motivates team members, and helps correct their mistakes. In general, a PM does everything to ensure that the project goes according to plan and that all your edits and wishes as a client are heard and considered. Still, you can take this role yourself if you wish because dedicated teams are ready to adapt to any PM.
These professionals form the backbone of a team for almost any project. But you also can hire people for specific tasks, such as developing artificial intelligence, leading a team, or analyzing big data.
Our Experience in Dedicated Team Services
TechMagic is a software product development company with nine years of dedicated development team experience. A narrow focus on AWS, Serverless, JavaScript, Salesforce, and Native Mobile has allowed us to achieve strong expertise and provide customers with a high-quality service.
We work with businesses of any size, from small startups to established companies with thousands of employees. At the same time, your location is not important to us since we have experience in adapting to the various time zones and cultures of the US and Europe.

If you hire our dedicated development team, we'll take care of all the operational, recruiting, and legal issues and help you choose the right team setup. And we'll give you full control of managing your team. Thanks to this, you will not waste time on administration but rather be focused on the goals of the projects.
Our approach has already proven itself in practice. Our dedicated teams have developed various software solutions for different companies. Mobile Practice (an e-learning application for sales teams) and MotionFlowMedia (a marketplace for graphic designers) are just two examples of projects that benefited from our dedicated team service.
As we grow, so too does our pool of available team members. We pride ourselves on these specialists keeping fully up to date through our free in-house training center. So, don't hesitate to contact us to find out if we have the talent you need to get your project up and running.
Conclusion
A dedicated development team is one of the most popular outsourcing models for long-term projects. Businesses avoid the administrative, operational, and tax outlays required to hire in-house employees but enjoy the same level of dedication from the development team as they would have with an internal department.
To get all the benefits a dedicated team model offers, you need to form the right team structure and select specialists with the appropriate skills. That's why it's crucial to pay attention to the experience and reliability of the vendor.
TechMagic provides professional dedicated team services and has already helped a number of companies to reach their business goals with state-of-the-art software products.
Ready to hire your dedicated dream team? Contact us to discuss your project!
FAQs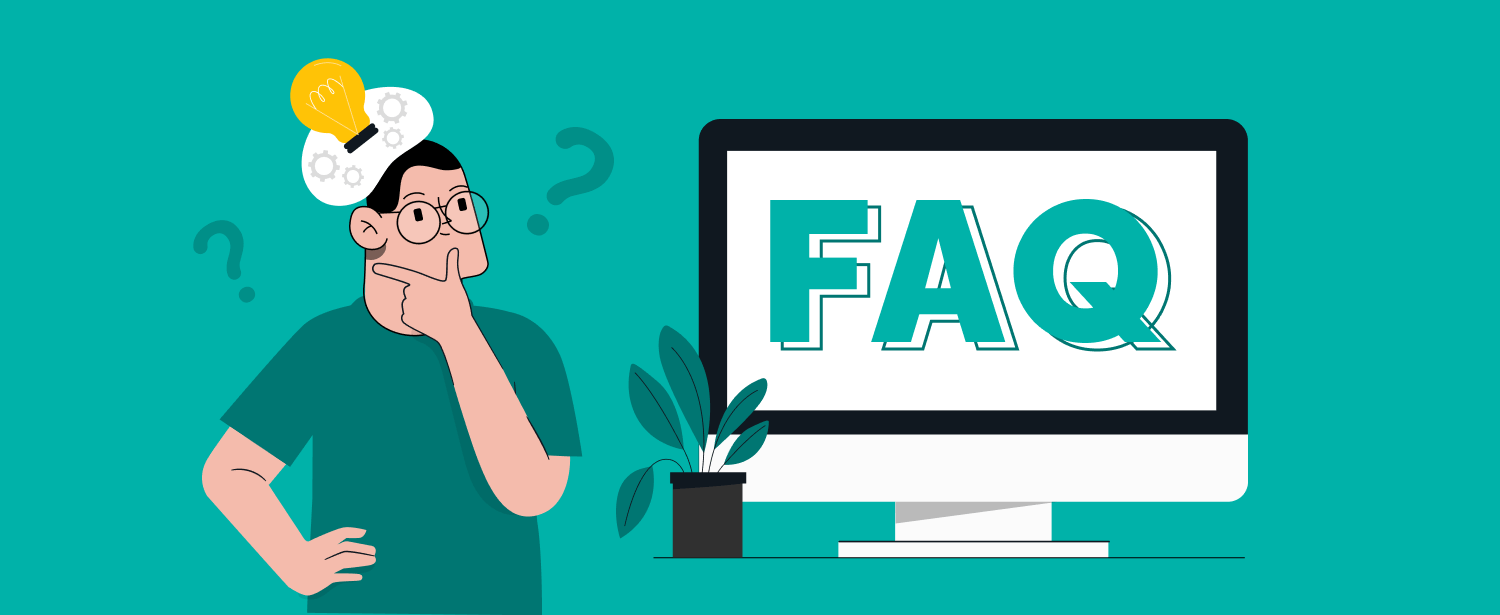 What is a dedicated development team?

Dedicated development team is experienced and skilled specialists who work entirely on a single project for a business. The team comprises professional project managers, testers, designers, developers, and other specialists needed for effective development. A dedicated software team works exclusively for a single organisation for a longer period than a standard outsourcing technique, which involves a corporation hiring an outside group to work on a project for a set amount of time.

How to choose a dedicated development team?

Take into account these points when looking for the right dedicated web development team for you:

- Technical proficiency: The team should possess a depth of knowledge and ability in the technologies and programming languages needed for your project.
- Communication abilities: Your team will keep you updated on the project's status and is receptive, clear, and successful in communicating.
- Workplace culture and values: Choose a team that will collaborate and be transparent with you throughout the development process and shares your workplace culture and values.
- Client testimonials and portfolio: Find testimonials from clients and has a strong portfolio of completed projects.

We recommend that you don't go to extremes — such as the cheapest option or the most expensive — but look for the best cost/reviews ratio. Consider TechMagic that has successful experience in providing dedicated team services to companies in the US and Europe and has excellent feedback from previous clients.

How can I hire a dedicated software development team?

Hiring dedicated software teams is easy, as the vendor does much of the work for you. All you need do is:

- Choose a reliable vendor
- Define the project requirements
- Interview potential members of your team from the vendor's shortlist
- Sign the final agreement.

Done! You now have a dedicated team to work on your project.

How can I manage an external dedicated development team?

You can manage an external team in the same way as an internal one but at a distance through different communication channels and applications. You can use Jira, Trello, or other software for setting tasks, Slack for quick communication, and Zoom for meetings. Before starting work, you should agree on all these communication processes to avoid any teething problems.

How to organise work with a dedicated development team?

It takes good project management, clear communication, and a well-defined scope of work to plan work with a committed development team.

- Be adaptable and flexible: Be ready to change the project plan and give the team the required resources to achieve a high-quality result.
- Describe the project's goals: To prevent misunderstandings and ensure everyone is working toward the same objectives, clearly outline the project's objectives, deliverables, and scope of work at the outset.
- Clarify your expectations: To ensure the team has the resources to produce on time and under budget, be explicit about the project's timetable, budget, and other requirements.
- Use project management framework: To assign tasks, track progress, and monitor the team's performance, use project management software.