Nearshore VS Offshore Development: What to Choose in 2023

Lead Business Analyst at TechMagic, with a background in Project Management and QA, mentor, and speaker. Passionate about Business Analysis and Product Design.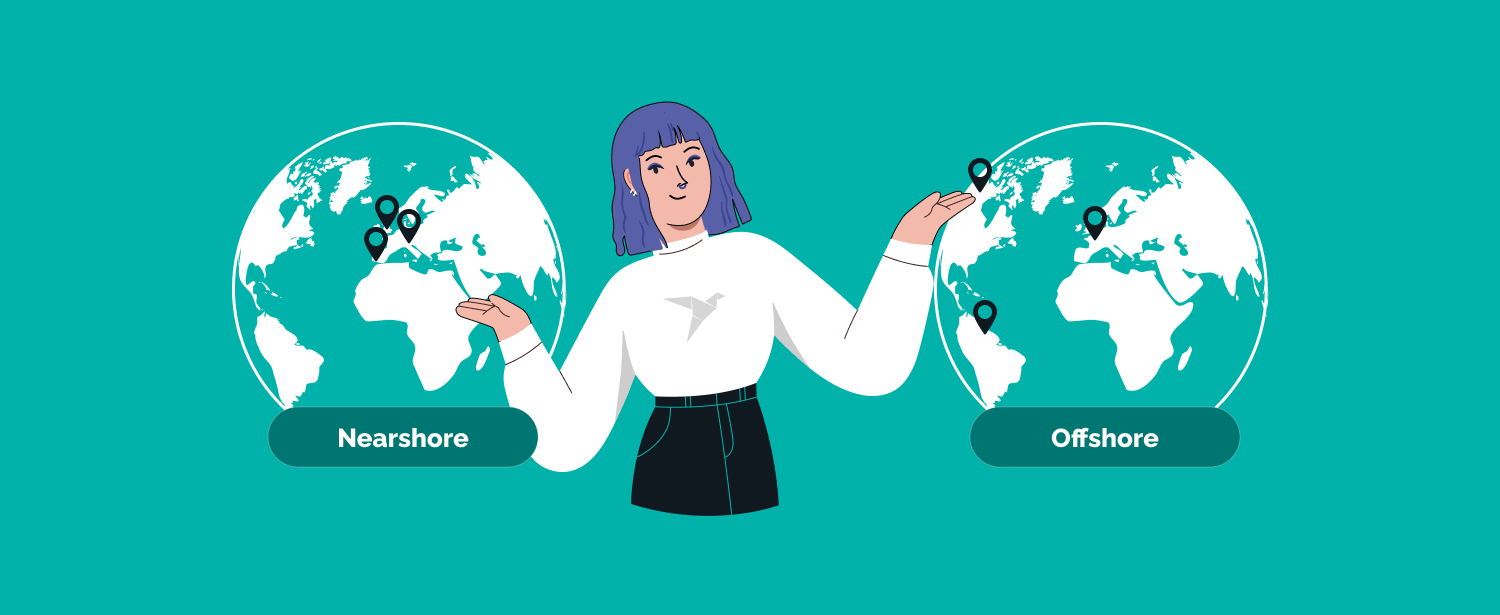 Outsourcing software development allows businesses to improve operational performance and flexible up-scaling, holding your core team's focus on business processes. To be cutting edge, processes must run keeping costs low. Outsourcing software development offers you agility and speed!
The IT outsourcing market is predicted to reach $425 billion by 2026, according to Statista. That's why you need to know nearshoring vs. offshoring remote team models to create digital goods quickly and profitably. Keep reading, and you'll find out about nearshore outsourcing, its benefits, and the value offshore development may provide to your company.
Let's begin!
Nearshore
Nearshore outsourcing is when companies delegate software development to a team in a similar time zone from the same geographical location.
Nearshore outsourcing bridges the gap between offshore and onshore, providing the best of both worlds. As the name implies, the organization with which you will collaborate must be located in a country close to yours and, ideally, share the same time zone (or at least, not have more than 3 hours difference between). Nearshore outsourcing companies provide a larger talent pool with the specific skills and expertise you need for the project.
Working with a nearshore outsourcing partner is accessing the necessary skills, talent pool (i.e find a CTO Co-founder), resources, and capabilities to drive digital transformation. However, this does not have to be the only reason you choose nearshore outsourcing.
Are there any other benefits or drawbacks of nearshore outsourcing? We have the answer
Pros and cons of nearshoring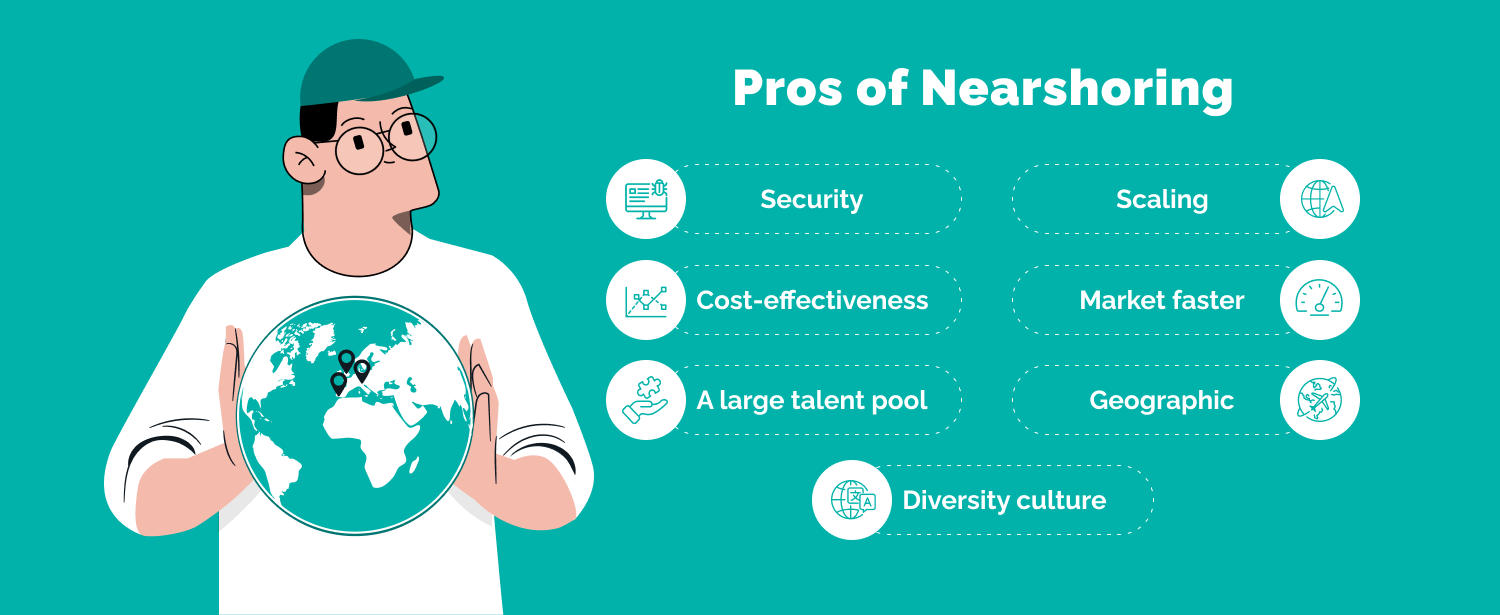 Physical closeness to your staff is the main advantage of nearshoring. Here are a few additional valuable advantages of going nearshore:
Security
You gain greater control over your intellectual property by nearshoring your development projects. The same data protection laws make it easier to draft contracts and enforce confidentiality throughout and after the project.
Cost-effectiveness
Organizations can significantly reduce their development expenditure by choosing a nearshore software development partner since they avoid the costs associated with in-house recruiting or the higher hourly rate of onshore teams. Furthermore, compared to offshore software development, having an expanded team close by implies that communication may be nearly instantaneous, reducing the time lag between teams, amount of time-sharing information, etc.
Scaling
The nearshore approach enables businesses to boost development capacity on-demand to accommodate a single project or a growing development portfolio. The chosen outsourcing partner is in charge of building a team of software engineers with the best-fit talents for the current project, leaving the client's core team to focus on strategies and new technologies.
Market faster
The nearshore engagement strategy decreases the time required to educate a team. As a result, the software development lifecycle is reduced, and a customer may deliver up to twice as quickly to market a quality product.
FinTech Development
Learn about our expertise in the industry and what we have to offer
Learn more
A large talent pool
When a firm chooses a nearshore software partner, it gains access to a pool of thousands of highly and diversely qualified professionals without relying on time-consuming internal recruitment. The outsourcing partner creates the dedicated software development team for a client's project and then integrates this additional resource with the organization's in-house team.
Geographic
The nearshore approach to software outsourcing brings a broadened IT staff within the "arm's reach" of the client's headquarters. Improved temporal synchrony results in smoother communication, little cultural differences, cooperation, and project delivery. It makes real-time collaboration easier. Moreover, nearshore locations can be reached by plane in two to three hours. Your business trips would be shorter, less expensive, and more productive. The client will have more possibilities to see the outsource team in person frequently.
Diversity culture
According to the International Journal of Multidisciplinary, one of the most important factors is cultural affinity, which includes comparable negotiation conduct and viewpoints.
Cultures are broadly similar when work is outsourced to a neighboring country. It is easier for teams to integrate and collaborate with faster communication and more productive interactions, improving deliverables' efficiency and quality.
Cons of nearshoring
High-cost
You save money compared to onshore or in-house vendors, but your hourly are higher compared to offshore vendors. You must conduct additional due diligence regarding work quality and vendor capabilities to ensure that the quality of deliverables is worth the additional cost.
Note: Nearshore is about outsourcing software development, technical support, and call center jobs in a neighboring country that is a short distance away. Now, let's move on to offshore outsourcing.
Offshore
According to the YouGov report, 48% of companies outsourced offshore and predicted a total market value of $620 billion by 2032.
Offshoring is a business concept in which you outsource a service or project to a firm in another country to get high-quality technology available at a less costly, particularly one that is geographically far from your location. It may even be on the opposite side of the world or with a time difference of five or more hours. As a result, the offshore staff is frequently referred to as "overseas workers."
Many providers in remote areas operate on a low-cost basis, and their pricing might be extremely appealing. If this path is taken, the client organization must spend resources to ensure that communication works effectively on both sides and that the engagement results in a favorable conclusion.
Offshoring might benefit long-term projects that start from MVP development, provided preparation is done to establish frameworks to compensate for the communication risks of different time zones. For instance, a "follow the sun" strategy in which teams overlap shifts to maximize productivity.
So let's take a closer look at benefits of offshore outsourcing and its drawbacks to realize which outsourcing model fits your company.
Pros and cons of offshoring
There are main advantages of hiring an offshore software development team.
Cost savings
Because of the cost of living and salaries, software development teams may be able to develop at cheaper hourly rates than in other regions of the world.
Global talent pool
You can choose your offshoring destination based on your talent requirements. Offshore destinations have seen a spurt in training institutions imparting professional technical courses such as engineering, mathematics, science, and technology. It provides clients access to a large talent pool and more flexible scalability and efficiency than in-house development - with a shorter time-to-market.
Shifts
Working in separate time zones might operate 24/7 without needing to work at the company headquarters at night. Offshore professionals are available to work in the shifts their clients want them to. This ensures an overlap of working hours (just like in nearshore countries) and a quick turnaround.
MyTelescope
Learn how we built MyTelescope that gathers and analyses data within 20 minutes instead of 70 hours.
Learn more
Cons of offshoring

Time zone differences
The time zone difference for clients is usually around 10 to 14 hours. This is not easy to overcome, and the working hours overlap somewhat. It affects the frequency and quality of meetings, ultimately affecting project deliverables.
Communication
Where it falls short is in the degree of control it provides. With an offshore workforce possibly located on the other side of the world, maintaining smooth communication and organizing face-to-face meetings becomes a significant issue.
Communication is essential for high-quality, cost- and time-efficient product development.
Cultural barriers
Small percentage of professionals who are trained or have enough experience working with western clients, and cultural barriers can be too much to overcome for remote teams.
Quality issues
Verifying vendors' capability and checking their internal processes may be difficult by distance. Many companies outsource software development to vendors that do not have mature processes and cannot meet the quality standards prevailing in the industry.
Traveling
Traveling offshore means 15 or more hours of flying. Longer wait times and misunderstandings due to language difficulties and cultural differences might easily raise the prices again. This does not include the stress you experienced during the business process. However, if the lowest hourly cost is your primary concern, offshore outsourcing is most likely your best alternative.
What's the difference between nearshore and offshore?
It is difficult to determine that outsourcing software development is profitable for many businesses worldwide, from startups to large multinational corporations. Location and money are important considerations, but there is more to it. So, which option should you take?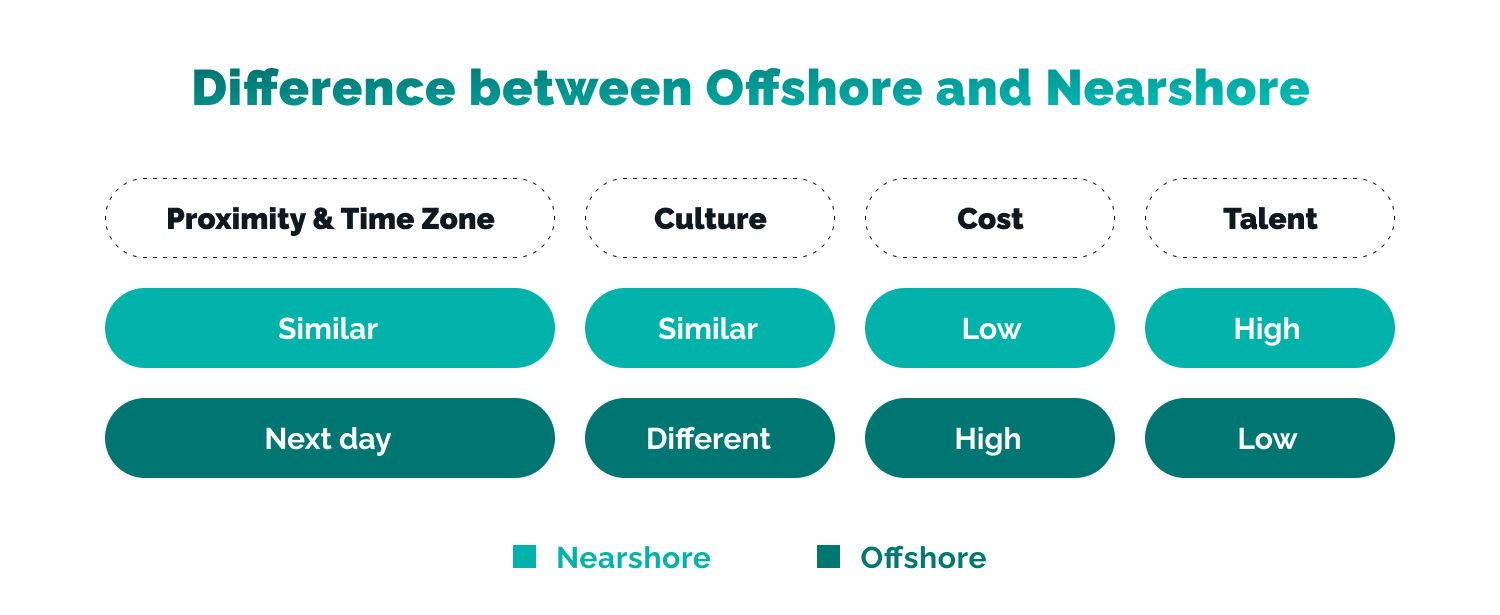 Proximity & Time Zone
The first major difference between nearshore offshore development is geographic proximity and time zone differences. Today, IT development is more advanced and changing faster than ever. Such tasks often come with liability and risk management issues. This requires careful consideration, clear and effective communication, and the practical need for face-to-face interaction.
Culture
Although countries all over the globe speak English, many companies practicing offshoring have encountered serious cultural and communication barriers. Simply put, cultural affinity is a more effective and frustration-free working environment. It also means smoother business cooperation for both.
As the world gets smaller and businesses go global, cultural affinity translates into greater stability and predictability.
Cost
Reducing costs is still the primary reason why companies outsource. Being closer to the client country leads to more effective interaction at a lower cost and greater productivity. Time zone proximity erases the need to work extra hours - commonly seen when outsourcing to faraway countries. This means the overall or loaded hourly rate with nearshoring is lower, thus lowering the overall cost.
Consider your personnel expenses and the management of remote teams, infrastructure, and services. For example, your in-house staff may become bored traveling or working late at night or early in the morning.
Talent
A thorough comparison between offshoring and nearshoring would not be complete without assessing the talent pool offered by these two forms of IT outsourcing. Historically, companies in the U.S. have offshored low-wage and low-responsibility jobs to cheap labor locations around the globe. However, that trend has changed as more companies rethink their offshoring strategies.
To recap: Offshoring is the best choice when money is the main issue and for projects that need little to no visual communication or for the complete team to be online at the same time.
Offshore outsourcing works best when
cost is the most important concern,
real-time cooperation is modest,
your internal procedures are mature,
your expected outputs are simple.
When nearshore is the alternative if you want to closely monitor the project and profit from relationships with highly competent and experienced IT workers. It also simplifies communication and time management while hastening the completion of your project.
Now, you might be confused with nearshore and offshore outsourcing comparison. So check out these tips for picking a relevant outsourcing model for you.
Tips for choosing the right outsourcing model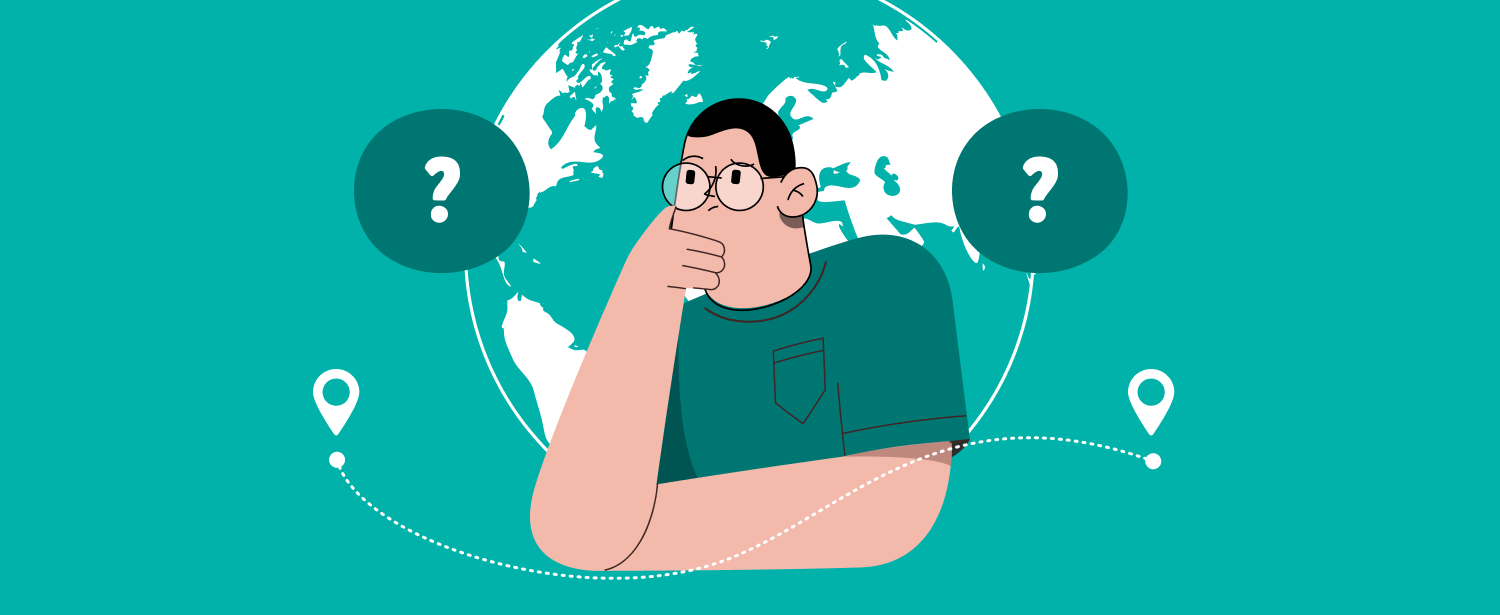 Determine your priorities before hiring a software development business, just like you would looking for the ideal developer. The location of the outsourcing company you pick impacts whether it can match your expectations.
Answer the questions such as
What is your budget? (if limited, then it is best to turn to countries with a low rate; if not, then you can focus on the professional level of developers)
How involved do you intend to be in the project?
Whether it's important to you to be able to communicate in real-time with developers?
Are there any specific local laws that you must comply with?
Is it critical for you to be in the same country or city as the outsourcing provider?
Do you have full in-house team or need more specialists (if you have the team and need more developers, consider will it be the problem in communication through different shifts)?
So, what do you choose should you go with an offshore or nearshore outsourcing company?
The bottom line
Whether you want to up-scale resources for a single project or need to fill a skills gap to support your in-house team, outsourcing your software development delivers a cost-effective alternative with significant time savings.
Cost savings, cultural affinity, talent, physical closeness, and time zone are all significant benefits of nearshoring, allowing organizations to experience productivity gains, improved morale, and a higher return on investment.
"Nearshore outsourcing web development is considered best to offshore software development" is neither fair nor factual. All firms have various goals; some may benefit from a mix of nearshore and offshore outsourcing, while others may discover that offshore outsourcing better fulfills their needs.  
The choice is yours!
---
TechMagic has delivered over 120+ projects for HR Tech, MarTech, Healhcare, and FinTech industries. Also, we are a part of the Amazon Web Services, Azure, and partner networks. Contact us if you're looking for technical expertise.
FAQs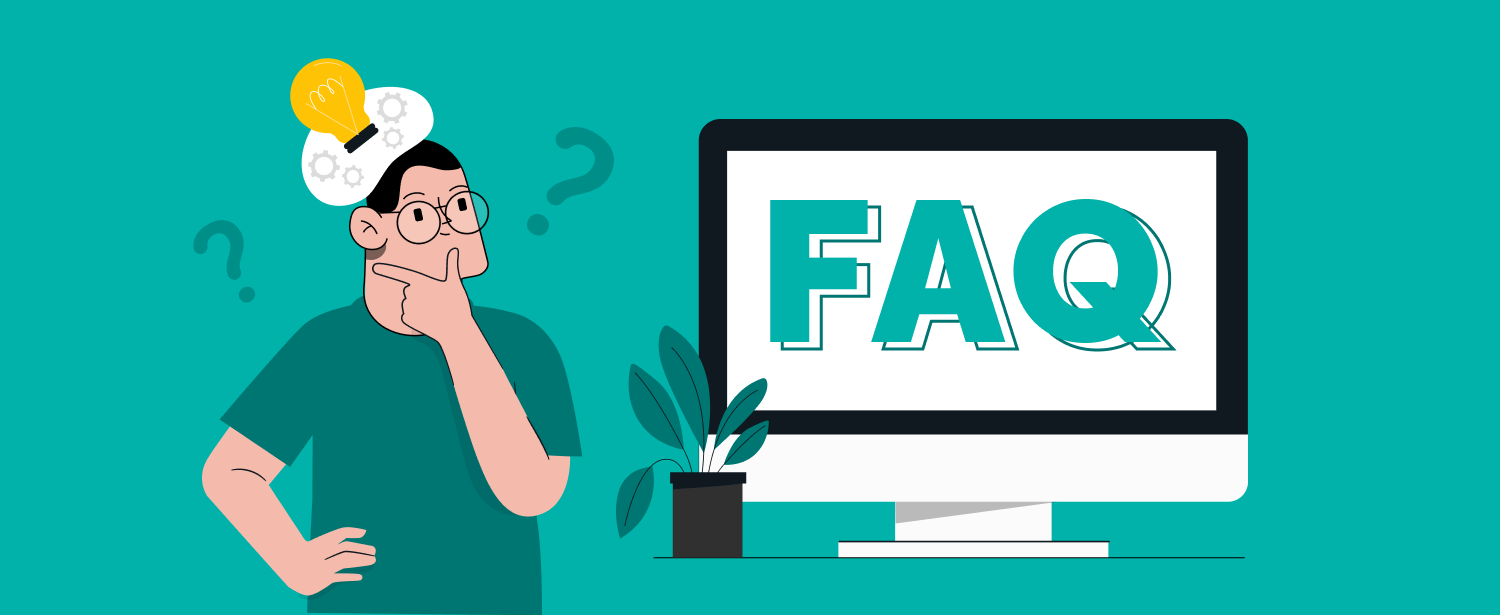 What is the difference between nearshore and offshore outsourcing?

Nearshore outsourcing means outsourcing to a location close to you or the same country. Offshore outsourcing means outsourcing in another country far away from your location with a different time zone

What is nearshore in BPO?

Nearshore is a method of outsourcing Business Process Outsourcing (BPO). That's a business model offering business processes in countries with low operational costs compared to the United States, Western Europe, or Japan.

What is a nearshore software development team?

Nearshore software development teams provide development support to small, midsize, and large companies. Nearshore means a software development team is outside the client's main (home) country, however close to the main. One consideration is the time zone because communication is important. Typically, 60-90% of a nearshore team's work may be performed in a different time zone.

What is a nearshore project?

A nearshore project is a project in which a company works completely or partially outside its offices or in another geographic area. Nearshore project teams use communication tools like videoconferencing to interact with the rest of the team.