TechMagic acquired Dynamo Development

Co-Founder & CEO at TechMagic. Leading a full-stack development company that scales engineering teams and builds software products from scratch. Passionate about AI and innovations.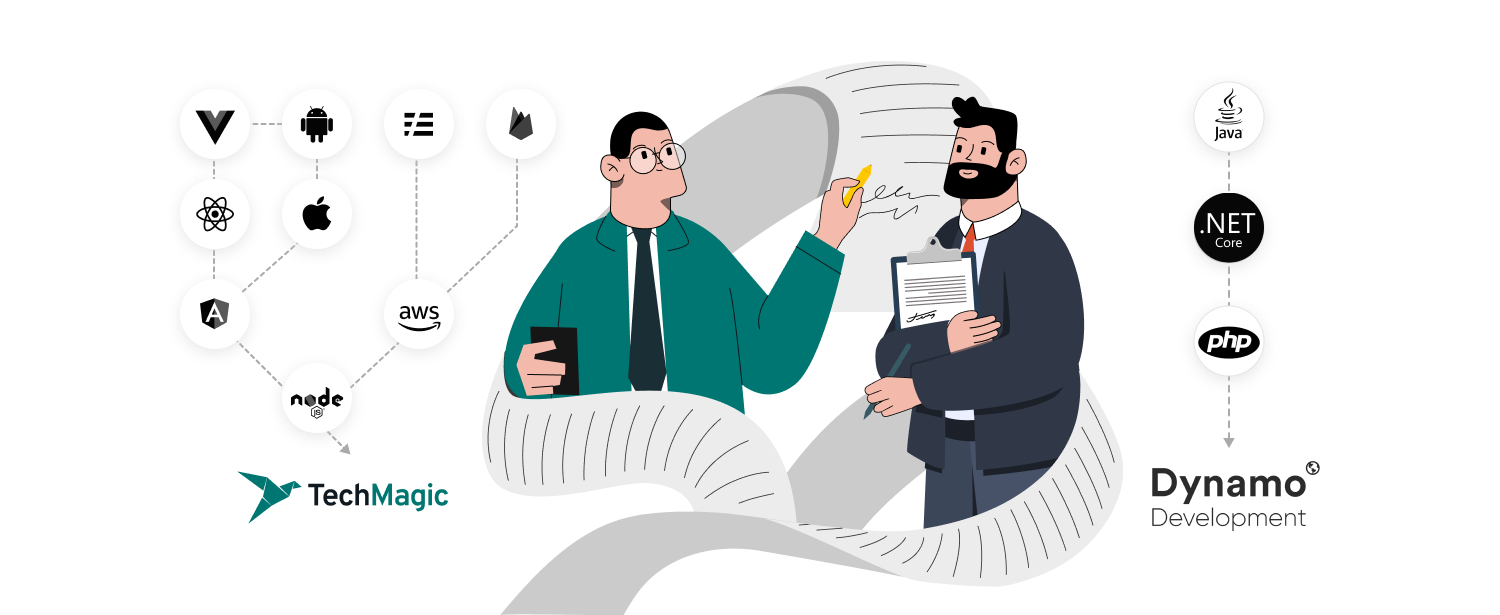 Official press-release.
TechMagic — software product development company one of the leading companies in  — is happy to announce that it has acquired the Dynamo Development company and is integrating it into its ecosystem.
"Integration with Dynamo allows us to increase our presence in the American market. In addition, we have similar engineering cultures and values, and together we will be able to get more opportunities for further development. The integration process will be gradual and should be completed in early 2023," — says Oleg Dats, CEO at TechMagic.
Having a solid presence in Europe, TechMagic has been looking for new opportunities for scaling and growth.

After thorough research, we found a company with the same values and an engineering approach. Dynamo Development is a company founded in New York with the main development centre in Kyiv with more than 50 specialists. Over 25+ years of experience has led this company to a solid portfolio in FinTech, HealthCare, and Real-Estate, and ensure good expertise in Salesforce, .Net, Java, PHP, QA, and C++.
By acquiring Dynamo Development, TechMagic will scale its presence in the US market. With the support of Dynamo's CTO, David Grinberg, who lives in the US, we will enhance the acquisition of customers in the USA.
The acquisition of Dynamo Development will bring 3 key opportunities to our company:
TechMagic extends its current JavaScript-based technical stack with new expertise in Java, .Net and PHP.
TechMagic grows to 300 specialists. The Salesforce team from Dynamo will join forces with our subsidiary company, MagicFuse.
The acquisition of Dynamo Development will significantly accelerate the growth of TechMagic in the US market.
By becoming one unit, we can create more modern, scalable, and relevant solutions for our customers and take on more Web and Salesforce projects.
About TechMagic:
TechMagic is a software product development company with strong expertise in AWS and Serverless, founded in 2014. We have extensive knowledge in 4 industries as MarTech, Healthcare, FinTech, and HR tech, but we are not determined only to them. TechMagic is ready to turn ideas into reality for any type and size startup and large entrepreneurs.
Our clients from the USA, the United Kingdom, Sweden, Italy, Germany, and Benelux value our innovative approach to creating effective solutions based on needs. Our technology stack is based on Node.js, TypeScript, Angular, React, Vue.js, GraphQL, Firebase, AWS and more.
Oleg Dats
CEO and Co-founder of TechMagic
hello@techmagic.co
+380 (68) 348 64 20
https://www.techmagic.co/
About Dynamo Development
Founded in New York, Dynamo Development company is a custom software company with a development centre in Kyiv with 50 specialists. Over 25+ years, the company has developed a solid portfolio in FinTech, Healthcare, and Real-Estate based on the expertise in Salesforce, open-source stack, IoT, Microsoft Windows platform, .Net, Java, PHP, QA, and C++.
David Grinberg
CTO, Dynamo Development
+1 (212) 385-1552
https://dynamo-ny.com/