TechMagic is Among 250 B2B Leaders Worldwide in the Top 1000 list

Co-Founder & CEO at TechMagic. Leading a full-stack development company that scales engineering teams and builds software products from scratch. Passionate about AI and innovations.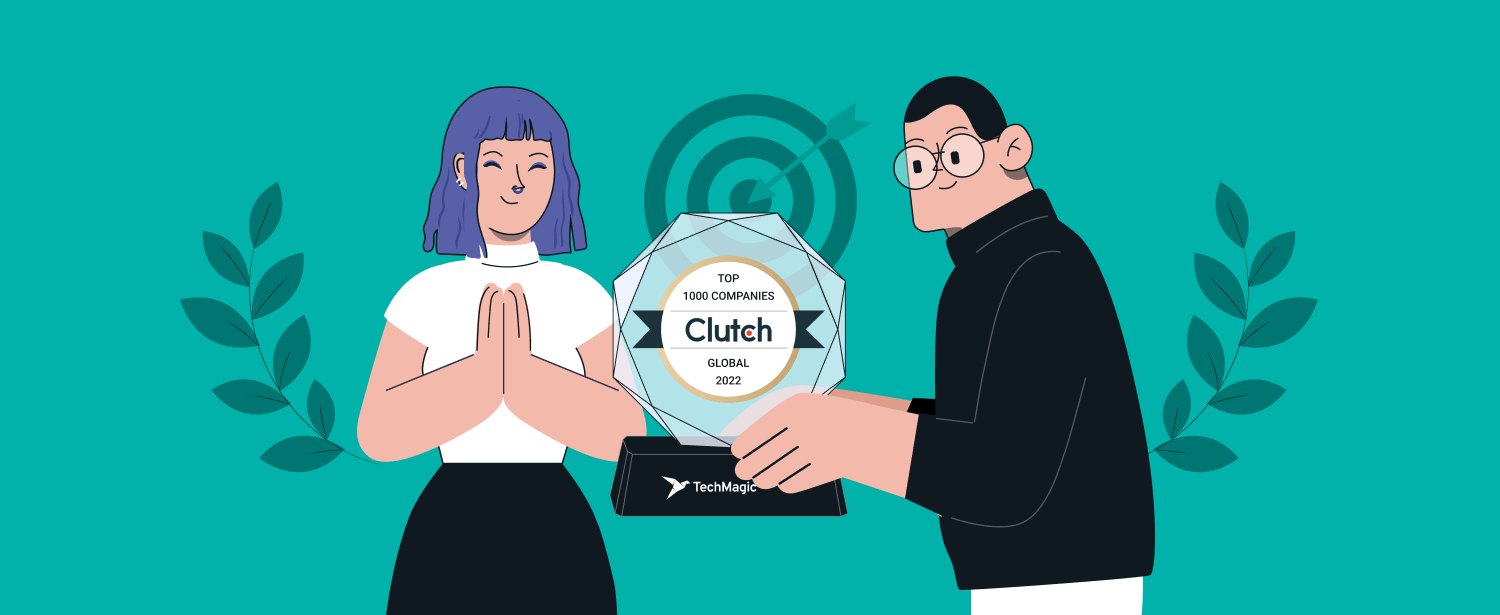 Precise attention to even the most minute detail separates exceptional results from good ones. Here at TechMagic, nothing goes unnoticed!
Since 2014, we've delivered stellar technologies and solutions to companies that want to set industry standards. Today, we're proudly celebrating an achievement showcasing how much our clients support and believe in us.
To recap this amazing rollercoaster that 2022 year was, we announce that we've officially spotlighted Clutch's 2022 list of developers with unparalleled expertise. Their latest report rewarded TechMagic as one of the global top 1000 companies this year!
What "TOP B2B Companies Worldwide" list from Clutch is?
After extensive research to recognise the best businesses in many industries, Clutch hosts an annual awards cycle. The companies undergo a thorough review and are scored using a rigid process, determining how businesses interact with customers examined throughout the selection process across criteria:
Case studies
Type of companies the company works with
Services of the company
Awards company gets
Brand reputation and visibility
Client testimonials
TechMagic is among Top 250 companies Worldwide
We are extremely pleased that our contribution to the IT industry did not go unnoticed, and we took place in 250 of the top 1000 list among more than 150,000 companies on the platform. TechMagic has been developing high-end tech solutions for enterprises, startups, scale-up and companies from Fortune 500 lists for 8 years. This honour is a result of our years of effort, dedication, and trustworthy partnerships.
Despite the challenging year, we have proven nothing will stop us from fulfilling commitments to customers and partners, thanks to the team that delivers results no matter what.
Words alone cannot give justice to how grateful we feel right now. Needless to say, this award is made possible by our clients.
Their success is our success - our wins are their wins too.
TechMagic is highly thankful to everyone who supported us, especially our clients who took the time to leave us their honest insights on Clutch since the beginning of our journey. Thank you so much for trusting us!
As for now, we have an overall score of 4.8 stars and 40 total reviews. Some reviews are:
"They can deliver high-quality products while maintaining cost-efficiency."
"They did an impressive job of understanding where we wanted to go without us having to explain it explicitly."
TechMagic welcomes to cooperation
What better way to celebrate this moment than to welcome more opportunities.
Do you need a dedicated development team to ensure the success of your software engineering project? You can see yourselves why we're one of the top 1000 best companies on Clutch - connect with us right away and let us help you build great solutions.