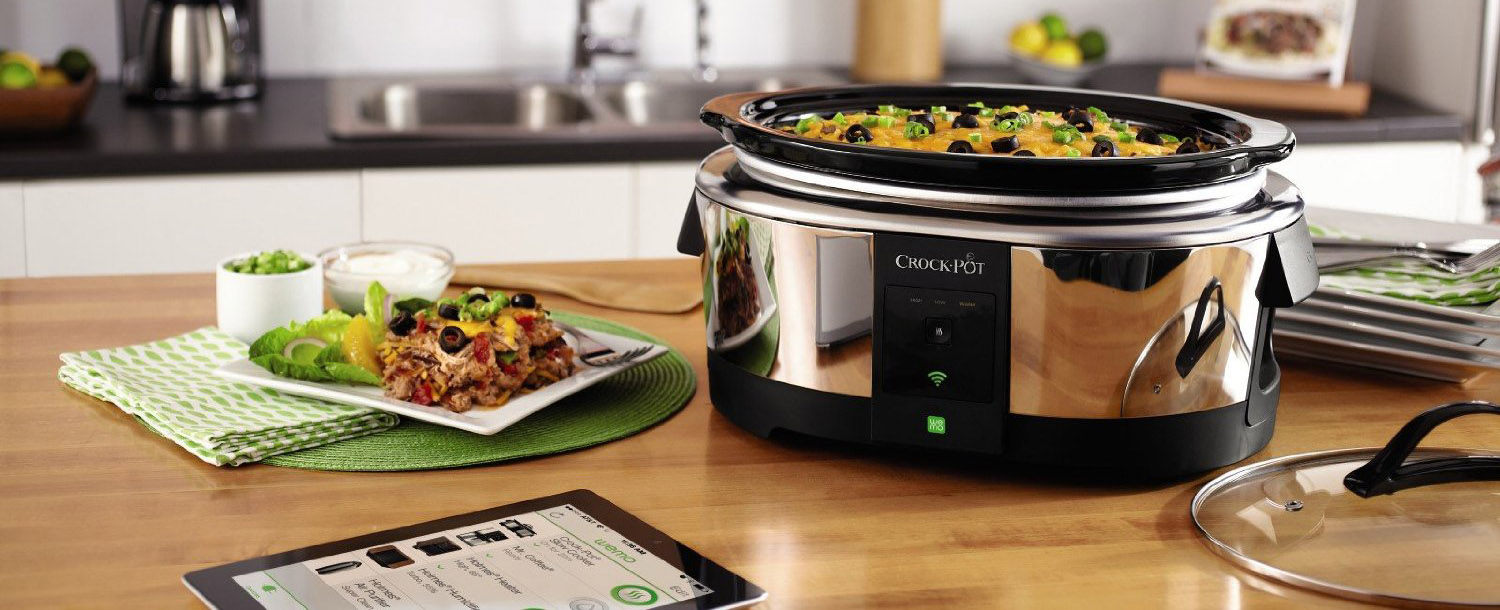 Top-5 Cooking Applications or how to connect a phone to a fridge
Mobile applications change our lives in all possible ways. They find their ways to our kitchens too. Hundreds of cooking apps appear every month. Some of them are free, other require a subscription or some other form of payment. You can find apps by regional tastes such as – American, European, Japanese or Asian kitchen, and with specific religion-targeted kitchen audience like halal or kosher. There might be apps with weight loss, low carb, vegetarian or diabetic recipes. There are applications that show how to cook using only ingredients that are available in your fridge and or from specific gourmet ingredients. There are apps that help to generate a grocery list for some dishes or top-100 dishes from famous head-chefs. We have selected the top-5 most interesting culinary applications.
1. Forq – take a photo of recipe and don't worry about anything!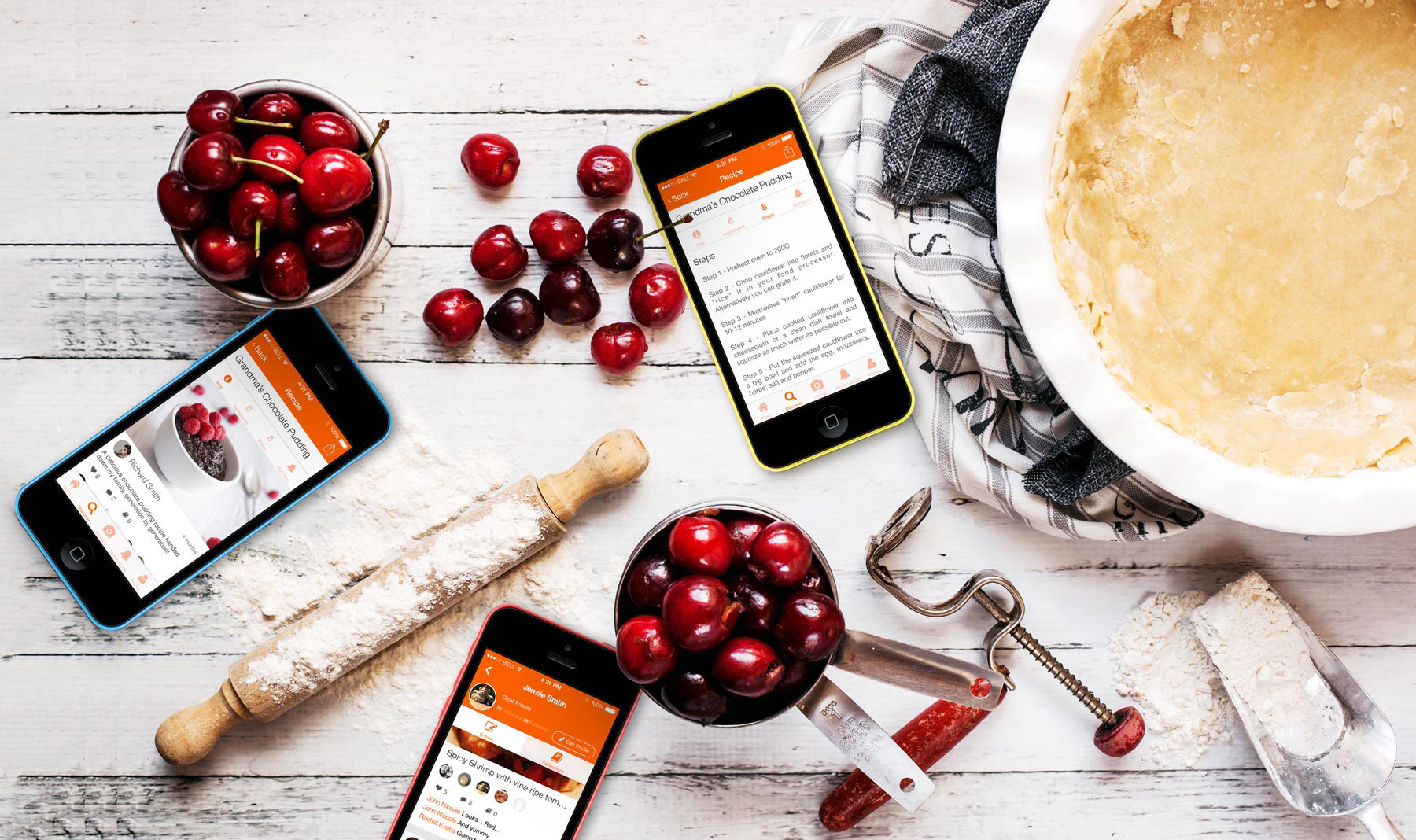 The free application Forq allows you to take a photo of the recipe (printed or handwritten) and convert the image into formatted and searchable digital recipe. All recipes are automatically integrated into your library. You can also make the schedule of dishes planned for a week or next month's party, share recipes with your foodie friends on facebook and even calculate the nutrition facts based on the ingredients you have used on the last meal. So you will know what you're eating with finer detail. Also it's easy to search for new favorite recipes using popular tags.
2. Pepperplate – all recipes in your hand!

Pepperplate is an app that doesn't contain its own recipes, but has access to a variety of cooking sites. Synchronized with your device it allows you to keep all of them at your disposal wherever you may be. In addition you can use the necessary grocery lists. Converesely, you can upload your own recipes on the web and make a calendar of your meals.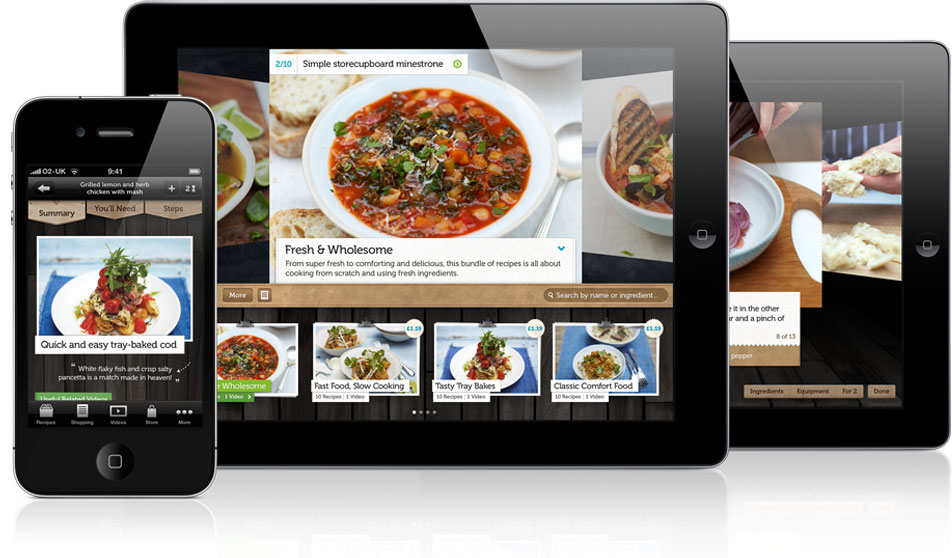 Jamie Oliver is an English celebrity chef, restaurateur and media personality known for his food-focused TV shows. His official site is visited by 10 million visitors every month. Every week Jamie adds new recipes into the app which can be subscribed to for some cost.
4. Panna – video-magazine for you!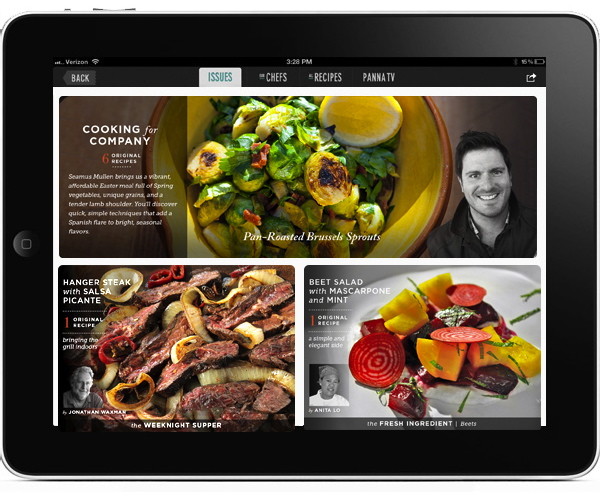 Panna is a video-magazine of recipes from celebrity chefs. New issue of the magazine with a list of recipes is published every two months. Only one dish from each room is available for free but, for the rest you have to pay after a free trial.
5. Green Kitchen – for 100% vegetarians!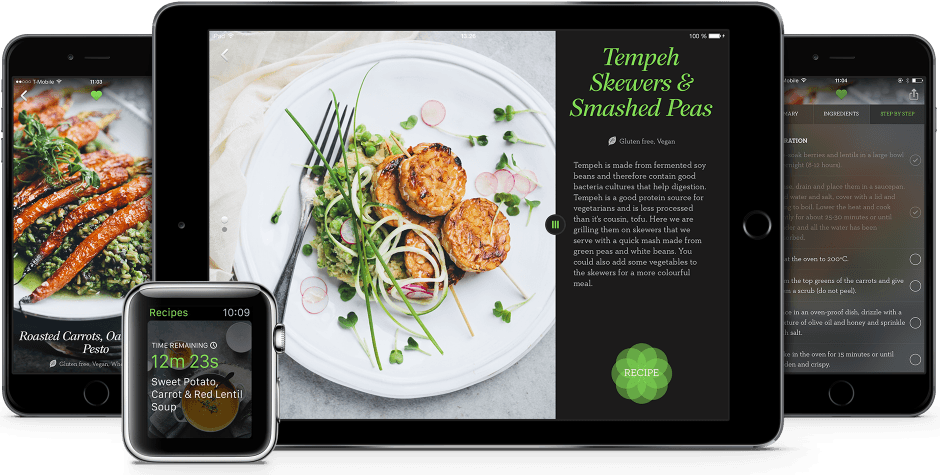 Green Kitchen is an application with vegetarian recipes. There are about 110 recipes, all of them are free. You have to pay only for the application, which itself is retailed for $4.36. The app gives a possibility to use smart timers of Apple Watch so you can follow a recipe on your iPhone. You can save your favorite recipes and make a shopping list too. All recipes are categorized and marked if they are vegan, raw, gluten free, sugar free or whole grain.
Business prospects
Experts have estimated that there are approximately 1.4 billion smartphones sold through the world each year. Among them, 350 million users actively search for new apps. Every fourth one is interested in cooking. That is 87 million users. 10% of them will do in-app purchase while 90% will just use the free version. That equates to nearly $9 million. Of course please keep in mind that this is a ballpark figure.
Also, experts have made the best-selling system, based on in-app purchase. The first step is that the customer gets the app for free. The second is that customer plays with it and tests it. The third is that customer pays for additional packs and options.
So we wish you the most delicious dishes and the best taste of life with new inventions and apps.

Romana Kuts
Content Marketing Manager at TechMagic. Mainly focused on content marketing, SEO optimization, and media relations.
View Profile