AWS for Healthcare: Solutions Examples for 2023

Delivery Manager, AWS Expert at TechMagic, big fan of SRE practices. Helps teams to improve system reliability, optimise testing efforts, speed up release cycles & build confidence in product quality.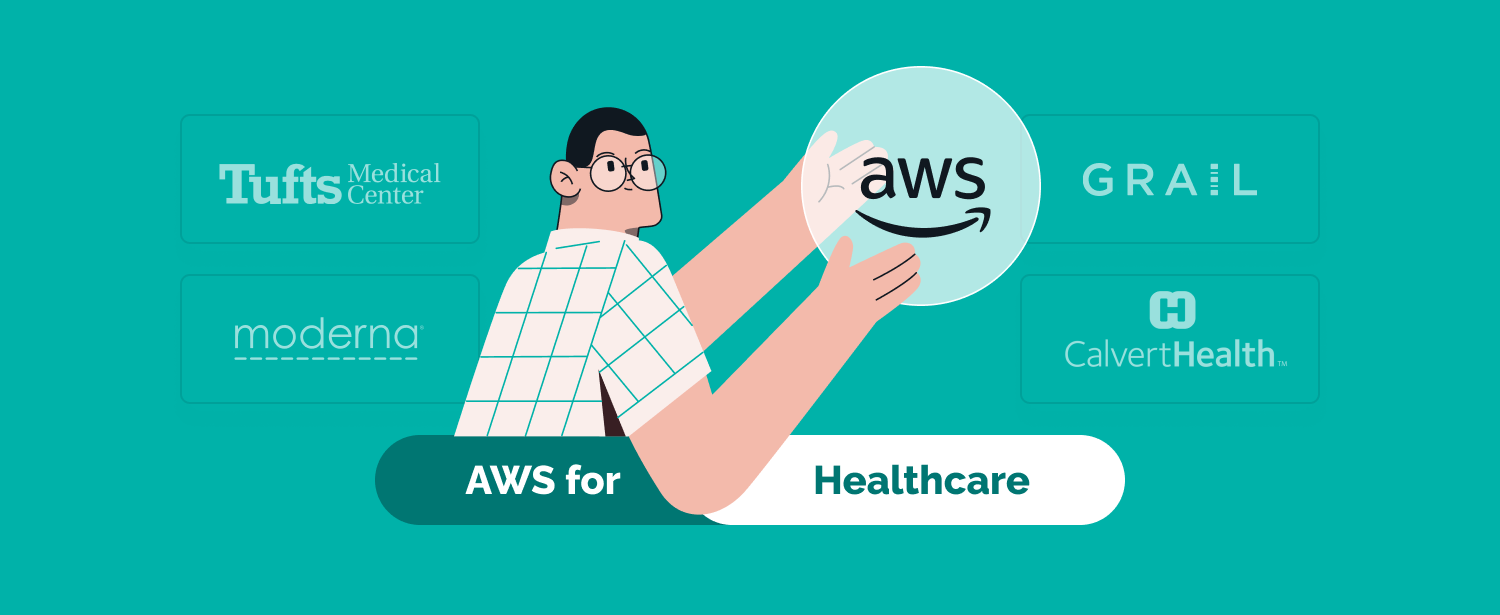 AWS constantly expend its services and opportunities for specific industries. Today we talk about healthcare and what can you get using AWS services for your business.
In the world of evidence-based medicine, clinical and operational decisions need to be made quickly and efficiently, based on real data. That is a common goal, and the next challenge is maintaining precision while minimizing costs.
Offering a range of services that we now consider to be everyday essentials, such as storage and backup, big data, social networking, and mobile apps, today AWS is used by some of the biggest names in business dealing with enormous data flow, including Netflix, Airbnb, McDonald's, NASA and many others.
But how can AWS be utilized for healthcare? Read on to find out.
AWS Solutions for Healthcare in Numbers
Let's start with some background and statistics. AWS's purpose-built healthcare solutions help healthcare providers to achieve their goals, both in terms of the service offered and financial efficiency. We see how wide the range of opportunities is, and how it constantly expands.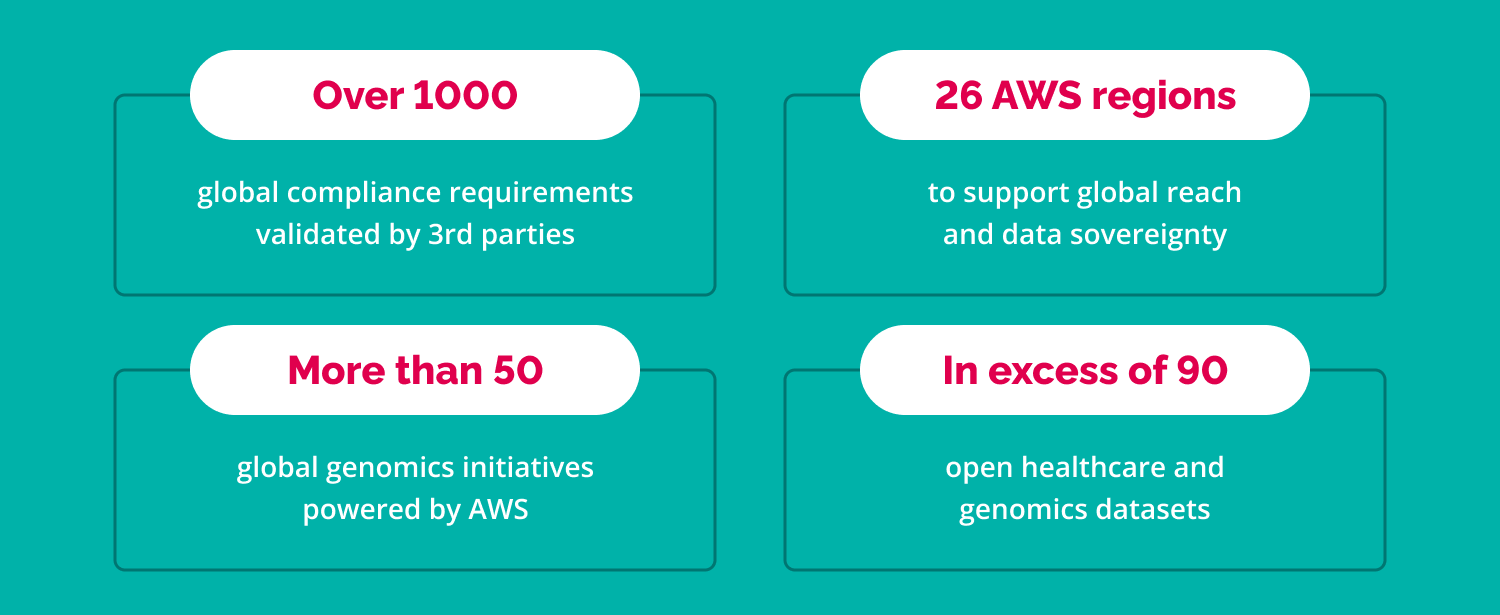 Why AWS for Healthcare?
In this part of the article, we'll give you a high-level understanding of the main AWS advantages for the Healthcare industry.
Optimization of the software solutions cost
It's not hard to see why cloud-based technology has exploded in popularity in the healthcare sector. Healthcare IT spending is big, and most of the money spent goes on running costs.
In 2021, IT spending in healthcare grew by 7.9%, to reach a staggering $128 billion. Based on earlier prognosis it is expected to reach $570.94 Billion by 2027, growing at a CAGR of 15.4% from 2020 to 2027.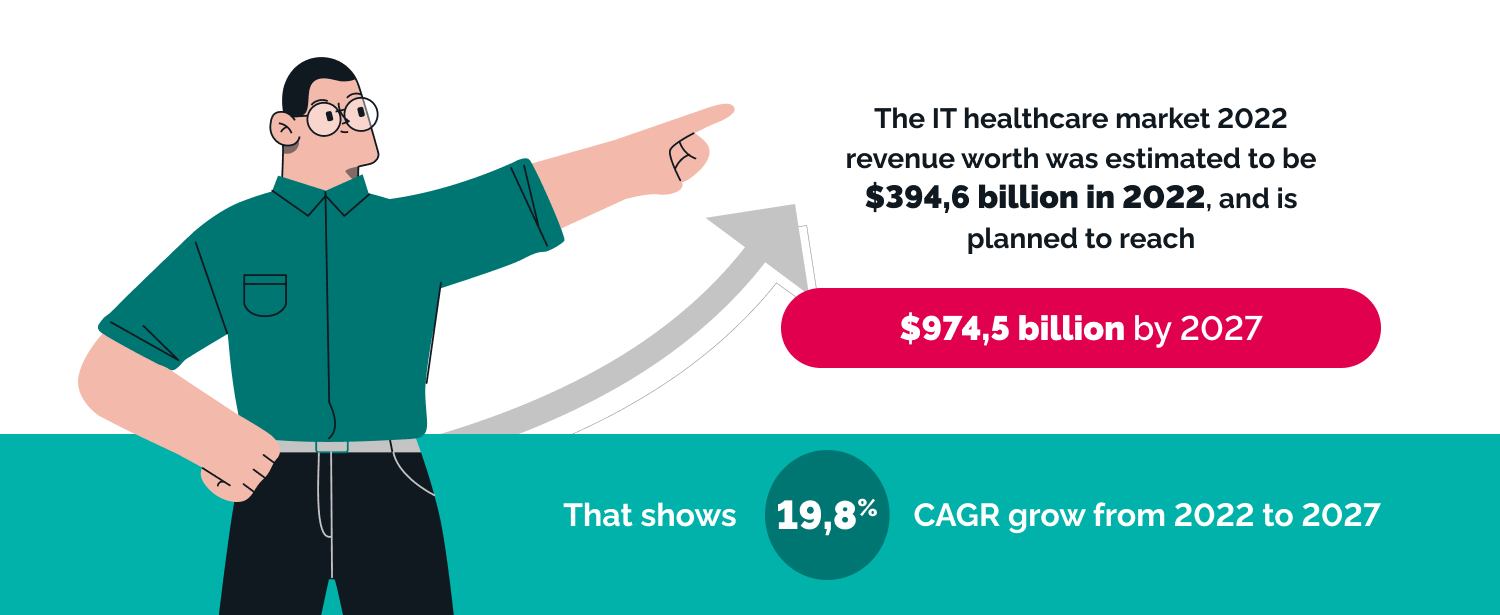 AWS offers a pay-as-you-go pricing model, which allows healthcare organizations to only pay for the resources they use. This eliminates the need for expensive upfront investments in hardware and infrastructure. Additionally, AWS provides a range of cost optimіsation tools to help healthcare organizations optimize their cloud spending and reduce costs even further.
Cloud technology gives companies the opportunity to optimize data usage, and therefore get much better value from their IT budgets.
AWS for Healthcare Helps You Make the Most of Your Data
These days, we have more data available to us than ever before. This is particularly so in the world of healthcare, where detailed data can help to optimize anything from direct patient care to the development of vaccines.
Whether improving patient outcomes or working on a ground-breaking pharmaceutical product, AWS healthcare solutions are revolutionizing the way that medical data is stored, accessed, and used in the field.
AWS Storage Gateway is a hybrid cloud storage service offering on-premises access to virtually unlimited cloud storage. Providing a standard set of storage protocols allows the usage of AWS storage without rewriting existing applications. It also provides low-latency performance by caching frequently accessed data on-premises, while storing data in Amazon cloud storage services.
Where Does Healthcare Data Come From?
As well as the Electronic Health Record (EHR) of every patient, healthcare data appears from the following clinical sources:
Genomic sequencers
MRIs, x-rays, and ultrasounds
Patient sensors
Mobile applications
In addition to this, useful data comes from non-clinical sources as well:
HR
Finance
Supply chain
Claims and billing
All of this is highly sensitive information that should be treated responsibly. Understanding the value of it, AWS offers a range of security and compliance services to help healthcare organizations meet these regulations. AWS has implemented rigorous security measures, such as encryption and access controls, to ensure that patient data is protected. Additionally, AWS provides compliance certifications, such as HIPAA, to help healthcare organizations demonstrate their compliance with regulations.
Data Management and Analytics
Healthcare providers are using AWS to create better experiences and outcomes for patients. AWS improves efficiency in archiving, saving physical space by backing up information on cloud servers. It also presents new ways of managing patient information.
AWS offers a range of data analytics tools that healthcare organizations can use to analyze and gain insights from their data. For example, AWS provides machine learning services, such as Amazon SageMaker, which can be used to develop predictive models for patient outcomes.
Another example is the usage of Amazon HealthLake - a service that meets HIPAA requirements is available to healthcare and life sciences firms, providing a chronological overview of health data for individuals or patient populations) which allows for large-scale querying and analysis. It enables a low-maintenance, still scalable solution for providing researchers with FHIR-based data for clinical research.
*FHIR is the standard way of exchanging information used by the National Health Service (NHS) in the UK.
Now, that we have an overview of the main advantages, let's see the specific solutions offered by AWS.
Core Health IT Solutions
AWS provides purpose-built solutions on the most trusted and secure cloud platform in the world. Healthcare providers can deploy disaster recovery plans, address fluctuating storage needs, access data from any point around the globe, and improve performance across their whole system.
Security and Regulatory
AWS provides IT infrastructure that is compliant with changing policies and regulations.
Interoperability
FHIR Works on AWS enables the unification of data for modern, personalized care.
Cloud migration
Migrating healthcare data to the cloud allows you to take advantage of the first-class infrastructure and best-in-industry security features while removing the headache of keeping a physical database.
Virtualization  
VMware Cloud on AWS allows for rapid scaling and remote work from anywhere with access to the network.
Disaster Recovery
Cloud endure Disaster Recovery protects you against such incidents as server corruption, data center failure, and security breaches.
AWS Healthcare Solutions Examples
Everything about AWS sounds great in theory. So let's take a look at some real-world usage, where AWS healthcare solutions made a real and lasting difference.
AI learning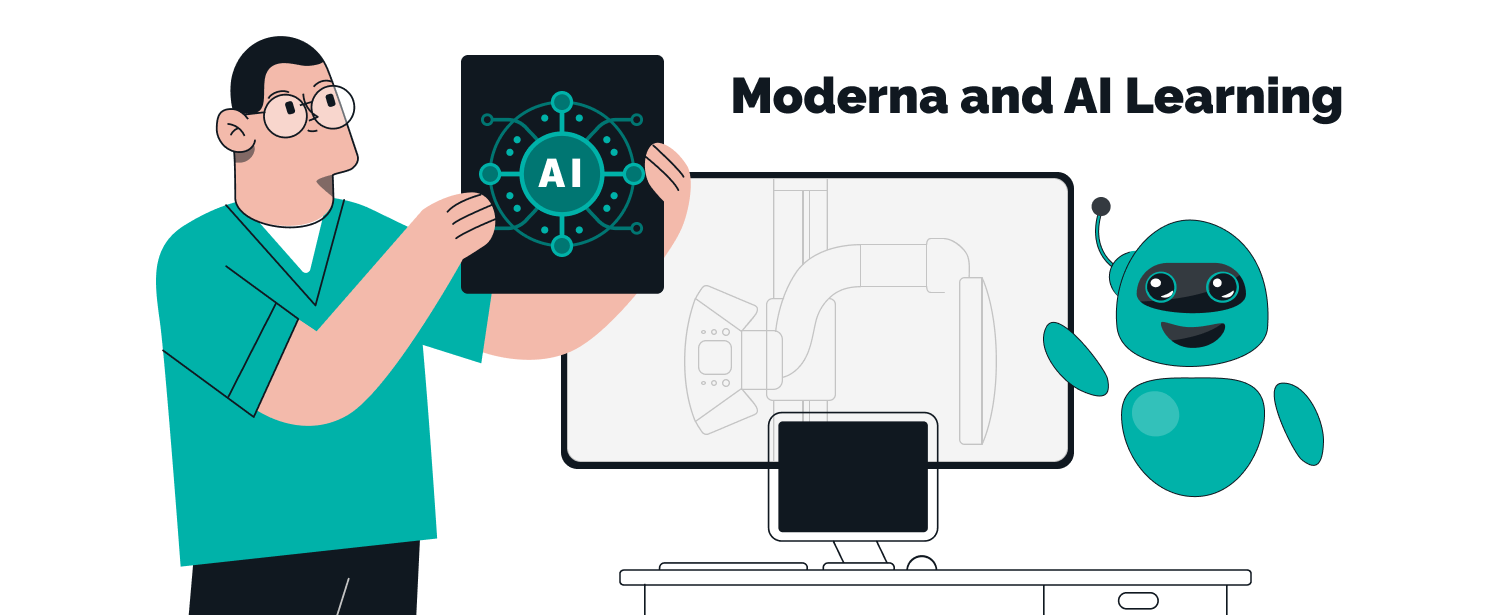 In a pandemic situation, time is of the essence. Moderna was able to complete the sequence for its COVID-19 vaccine in just two days, using machine learning built on AWS. The first clinical batch was released just 25 days later. Compare that with conventional vaccine development times, which could in the past be anything from 2 to 15 years.
AI algorithms enable the development of pharmaceuticals from rapid experimentation cycles. These help to automatically design and analyze mRNA and DNA sequences. This saves hours of time that would have been spent manually reviewing improvements across production processes and logistics.
The science behind mRNA has various applications, and Moderna is rapidly expanding into fields such as cancer research and autoimmune disease. Using the flexible, programmable nature of mRNA, powered by machine learning, they are revolutionizing the treatment of disease.
Electronic Health Records
AWS works closely with Electronic Health Records (EHR) to accelerate innovation around clinical, financial, and patient applications to make healthcare a more personal experience while taking into account security, reliability, and compliance.
By using reliable clinical systems to store EHR and medical imaging, providers can equip themselves with insights and tools to improve health outcomes. Clinical Information Systems solutions on AWS help clinical teams to aggregate, store, manage, and transmit healthcare data across the whole care system. This enables them to optimize costs, improve core processes, and make sure that doctors are in possession of the right data at the right time.
For example, Tufts Medicine, a leading healthcare provider and teaching hospital in Massachusetts, has migrated its entire digital healthcare ecosystem to create a digital platform on AWS. This platform consists of the infrastructure for Epic, as well as a complex integration of more than 300 supporting healthcare and business applications.
CalvertHealth is a non-profit community hospital in the rural settlement of Prince Fredrick in Maryland. They now use AWS Elastic Disaster Recovery and AWS Backup for their data storage. This system can recover any lost or corrupted data 97% faster than recovering data stored on local hard drives. It goes without saying that any long and drawn-out disaster recovery process can lead to significant revenue loss and reputational damage.
HealthTech Development
Learn about our expertise in the industry and what we have to offer
Learn more
Medical Imaging
AWS offers services and solutions with dynamic, scalable capacity for viewing, storing, and archiving many petabytes of medical imaging data. This means that instead of being a liability, your medical images become a valuable asset that is easy to store and view.  
With HealthLake Imaging, healthcare providers and their software partners can run their medical imaging applications in the cloud to increase performance, while also reducing infrastructure costs.
HealthLake Imaging helps providers reduce the total cost of medical imaging storage by up to 40%, by running their medical imaging applications from a single image stored in the cloud. This allows lightning-fast access to medical imaging data, powered by cloud-native APIs and applications from AWS partners.
AWS also gives radiologists and research teams the possibility to speed up innovation. This, in turn, unlocks the potential of imaging data, developing more personalized approaches to care delivery, and improving cost and operational efficiency. AWS offers AI healthcare solutions, which migrate images to the cloud cheaply and efficiently while taking into account fluctuating storage needs. Data is more accessible, meaning more speed and better value.
The teaching hospital at the University of California in San Diego works with AWS to help improve COVID-19 screening, creating a solution that uses machine learning to detect pneumonia in X-ray images and an AI solution to read the images in a secure cloud environment. It takes just ten days for the team to integrate the solution with clinical workflows, which provides critical information at the point of care.
Radboud University Medical Center, a public research institution in the Netherlands, runs the Grand Challenge, which is an online platform for the end-to-end development of machine learning solutions in biomedical imaging. As the number of users of the Grand Challenge platform grows, Radbound is working with AWS to migrate to the cloud in just two months, simultaneously increasing global accessibility by using AWS machine learning services.
Clinical Genomics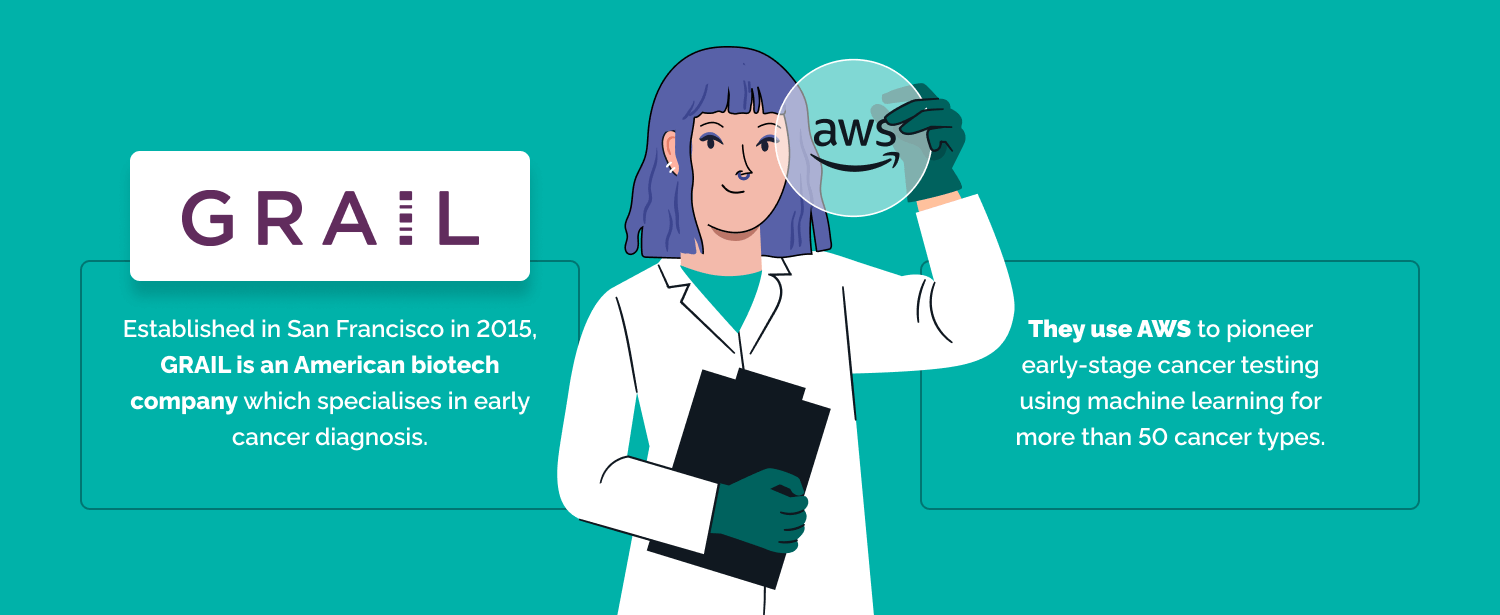 By using insights from a patient's genetic data, clinicians can take advantage of precision medical tools to make more informed diagnoses and more effective treatment decisions faster. AWS delivers the massive computing power and storage space needed to make Genomics a part of everyday healthcare.
Established in San Francisco in 2015, GRAIL is an American biotech company that specializes in early cancer diagnosis. They use AWS to pioneer early-stage cancer testing using machine learning for more than 50 cancer types.
Based in Ohio, Nationwide Children's Hospital is one of the largest and most comprehensive pediatric hospitals and research institutes in the United States. Using AWS, they process computer-intensive clinical genomics data securely and at scale to diagnose and treat patients as quickly as possible. This is especially important in oncology, where time is always of the essence.
Founded in 1848, the University of Wisconsin–Madison is one of the oldest and most prestigious teaching and research hospitals in the USA. Together with GE Healthcare, who specialize in data analytics & decision support tools to help in diagnosis and treatment, they are building an Imaging Protocol Manager on AWS. This AWS healthcare solution remotely standardizes imaging device protocols, delivering consistent image quality every time.
How AWS Can Help Your Finances
As we've already mentioned, optimizing healthcare services is not just about the clinical side of things. Good financial health and good patient health are intrinsically connected.
By optimizing your finances, the benefit will be felt by both your patients and your customers. Let's have a look at some cases where companies have reaped financial benefits by taking advantage of AWS healthcare solutions.
Enterprise Resource Planning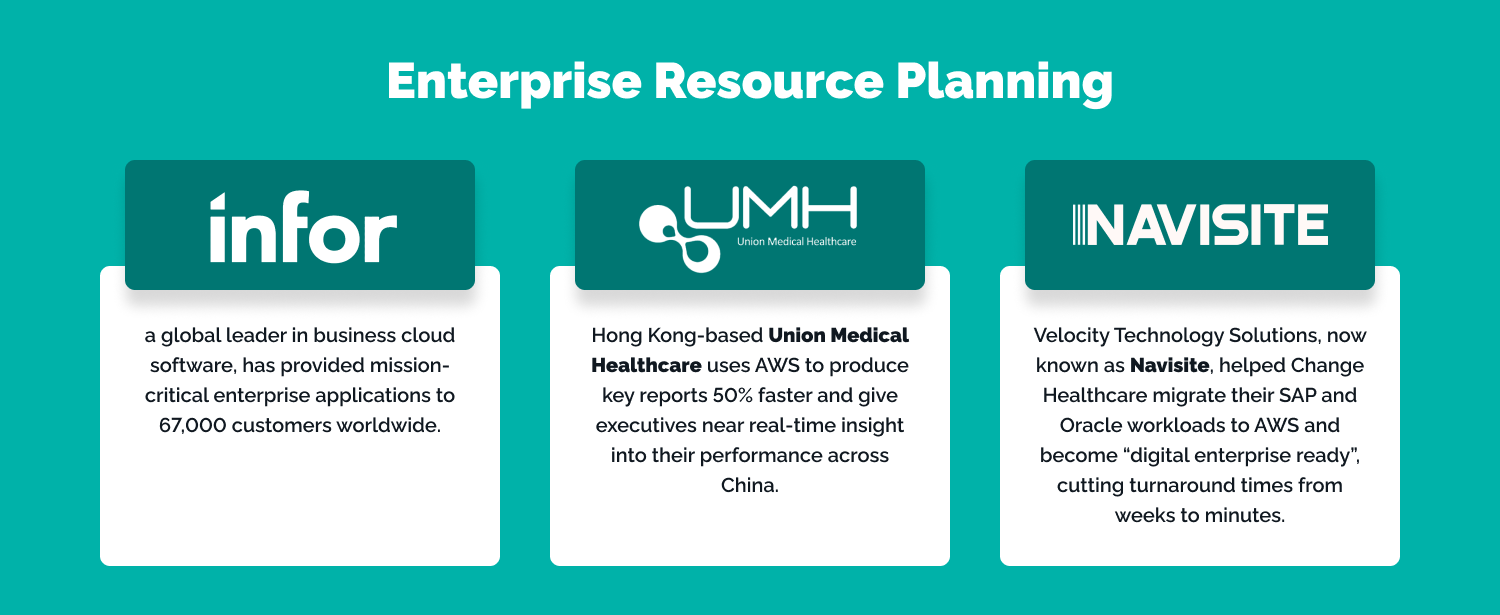 Infor, a global leader in business cloud software, has provided mission-critical enterprise applications to 67,000 customers worldwide.
Hong Kong-based Union Medical Healthcare uses AWS to produce key reports 50% faster and give executives near real-time insight into their performance across China.
Velocity Technology Solutions, now known as Navisite, helped Change Healthcare migrate their SAP and Oracle workloads to AWS and become "digital enterprise ready", cutting turnaround times from weeks to minutes.
Revenue and claims management
While more relevant in the USA than the UK, a growing number of healthcare providers are working with insurance companies on this side of the pond as well. The advantages of streamlining your data should be clear to any private healthcare provider who works with insurers.
With AWS, you can quickly make sense of the huge amount of data that is captured every day. This helps to quickly and accurately structure medical and claims data. AWS provides Innovative solutions for the collection and management of revenue support payment, member health, and claims processing.
AWS Initiatives in Healthcare
AWS has launched a new global program to help customers develop cloud solutions to make healthcare more equitable around the world.
The AWS Health Equity Initiative has committed $40 million to provide credit and technical expertise, in an attempt to reduce the disparities which continue to have a negative effect on underprivileged and underrepresented communities around the world.
The AWS Diagnostic Development Initiative provides technical expertise in the following areas:
Early disease detection.
Diagnostics.
Prognosis.
Public health genomics.
AWS Healthcare Accelerator is a four-week technical, business, and mentorship accelerator opportunity, open to healthcare startups who are working in particular with disadvantaged communities.
AWS Security and Compliances in the Healthcare Sector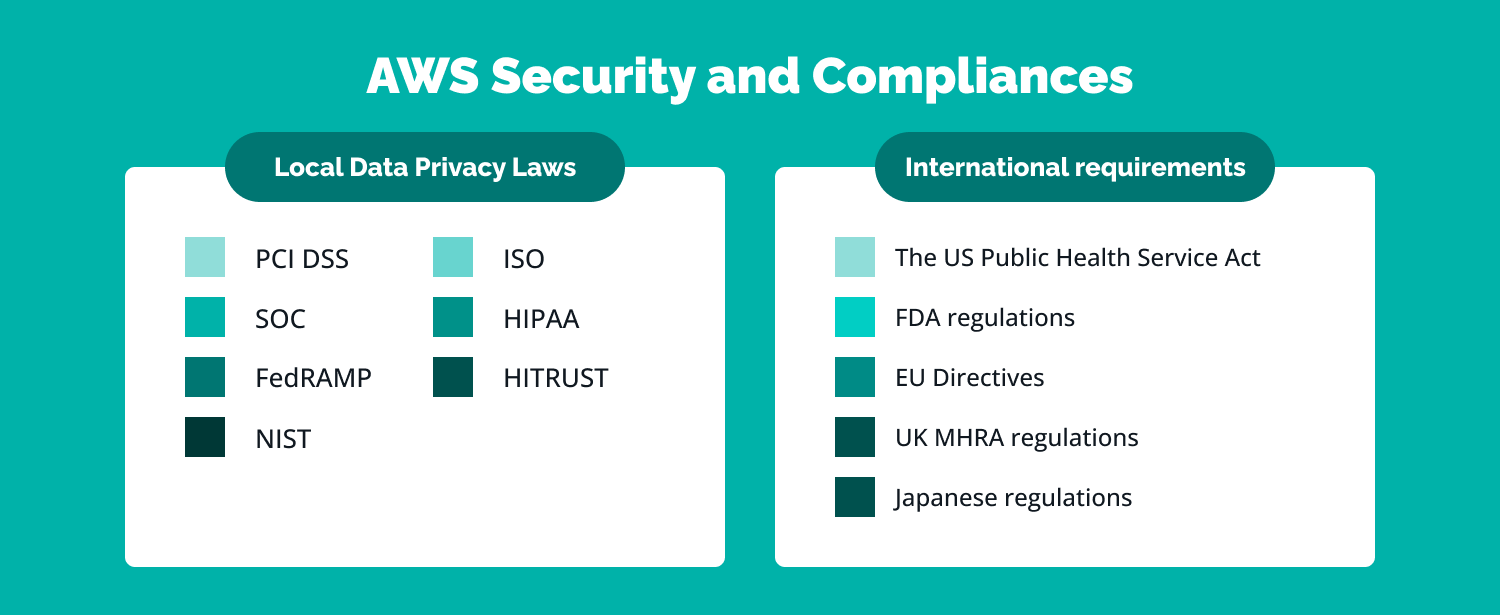 Using AWS gains you greater agility, and with greater agility comes better security. AWS has the ability to encrypt at scale to comply with local data privacy laws such as:
PCI DSS
SOC
FedRAMP
NIST
ISO
HIPAA
HITRUST
Supporting more security standards and compliance certifications than anyone else, AWS provides life science organizations with the tools, services, and visibility to move faster while remaining secure and compliant.
International requirements with which AWS complies include:
The US Public Health Service Act
FDA regulations
EU Directives
UK MHRA regulations
Japanese regulations
It's Time to Go Serverless in Healthcare
As we've seen, the cloud offers many benefits for the healthcare industry, including increased scalability, flexibility, and cost savings. However, another approach to cloud computing is gaining popularity in healthcare: serverless.
Serverless computing is a model where the cloud provider manages the infrastructure and automatically provisions and scales resources as needed, without the need for the user to manage servers or infrastructure. In healthcare, serverless can be particularly useful for:
handling large amounts of data and performing computationally intensive tasks, such as processing medical images or running machine learning algorithms
scalable and secure APIs that allow healthcare organizations to share data and collaborate more effectively.
If scalability, security, and efficiency are your priorities, then serverless architecture is something that you should be seriously considering.
How does Serverless Architecture Work for Healthtech?
Despite its name, serverless architecture still uses real servers. However, these servers are managed by third-party companies, meaning that server maintenance and all the associated issues are not your problems. Also, the server isn't always on, rather it is triggered by certain events. This means that if your workload is unpredictable - think of the Covid-19 pandemic and its impact on healthcare infrastructure around the world - serverless architecture can handle a sudden workload surge without any issues.
This flexibility is also extremely useful when it comes to building an app, especially if during the development process, you aren't completely sure what features will be needed. Serverless architecture allows developers to update the app quickly and efficiently without ill effects on its performance.
As data storage is scalable, the app will also continue to run smoothly even if large amounts of data are being uploaded at any particular moment.
Healthcare apps tend to be quite client-heavy as more and more healthtech organizations prioritize patient engagement and experience. This leads to more patient-orientated applications. With serverless architecture, the app can be run on local servers closer to users, which reduces latency and improves performance.
Building Your HealthTech Solution
In the modern healthcare industry, providers' digital needs are complex and diverse. That's why you're likely to need some healthcare app development expertise when choosing vendors building your app. TechMagic offers you our experience in health-tech solutions, from UX/UI design to web application development, and testing services, as well as ongoing post-launch support.
Interested to learn more about TechMagic?
Contact us
FAQs              
Why do we use AWS services for healthcare companies?

Modern healthcare is highly complex. A balance must be struck between sound financial management and patient care. Nowadays, we have more data than ever, which is crucial in optimising healthcare in terms of patient outcomes and controlling expenses. AWS allows you to organise and utilise that data in ways that were never previously possible.

How can I get started with AWS Serverless?

If migrating to serverless is something you're considering (and it certainly should be), then TechMagic can do the hard work, so you don't have to. They will walk you through the steps of how to choose and configure your cloud infrastructure, leaving you to the important job of running your business rather than worrying about maintaining servers and other data storage. Once you're up and running, you'll be able to take advantage of the scalability, ongoing development and cost optimisation that AWS serverless brings.

Which healthtech apps can use AWS?

The fields within healthcare which can benefit from AWS include:

1. Data management for hospitals and clinics Big data solutions
2.Custom healthcare apps
3.Data analytics tools
4.Health and fitness apps
5.Care home management
6.Hospital management services
7.Medical billing systems
8.Electronic medical records
9.Patient management tools

Healthcare is a diverse industry, but whichever area you are involved in, AWS cloud solutions will improve your efficiency in every area. The advantages of AWS healthcare solutions are clear. Anything that can give you a competitive edge in levels of care while simultaneously improving financial efficiency has got to be worth looking at. Indeed, the question you should be asking is "Can we afford not to?"