10 Best Low-Code Platforms You Need To Know About

by Artem Arkhipov
Web Expert at Techmagic, full-stack developer, coach and speaker. Passionate about JavaScript, Cloud Computing and Serverless.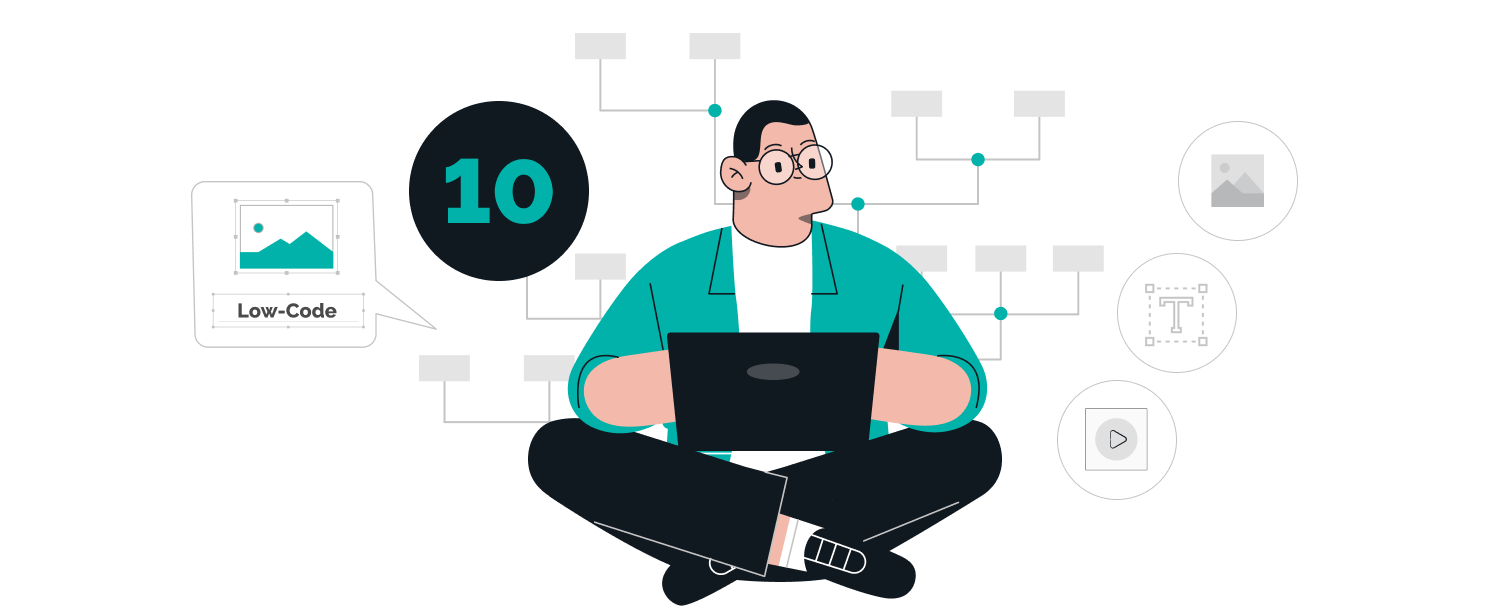 The market for low-code development platforms is expanding as businesses work to improve consumer experiences and hasten digital transformation. Platforms for low-code responsive app development allow businesses to swiftly and affordably benefit from the newest technology.
In this competitive environment, organisations that cannot recruit developers—or even those that have developers but want to free up more of their time—increasingly turn to low-code no-code alternatives. The more quickly you can create and roll out functional applications to fulfil a given activity or address a specific issue on a team or throughout your business, the more prepared you'll be to handle any challenges.
Companies have started to employ Low code no code app development services to make developing apps easier and faster for the IT department and, at the same time, more accessible to regular business users.
In thіs blog post, we share ten best low-code platforms for a seamless development experience in 2023.
What are low code platforms?
Traditional software development involves various software concepts, including for-loops, object-oriented programming, frameworks, package repositories, integrated development environments, and at least one acceptable programming language. Software development is made simpler by low code development by enabling drag-and-drop capabilities through a straightforward graphical user interface (GUI).
Low-code development platforms (LCDPs) let citizen developers build applications with less code than in traditional development. As a result, new developers may experience shorter learning curves faster.
Platforms for low-code application development use a visual approach with UI controls, reusable drag-and-drop components, and pre-built app templates to develop with drag-and-drop builders to construct apps. Instead of inputting a series of brackets, punctuation, and word strings in page-length codes, users may plug in the modules that best serve their needs.
How to benefit from low code application platforms?
Platforms for low-code development provide a lot of advantages. They make it possible for enterprises to create apps swiftly, faster and effectively without needing costly and drawn-out traditional software development.
Let's find out these advantages together!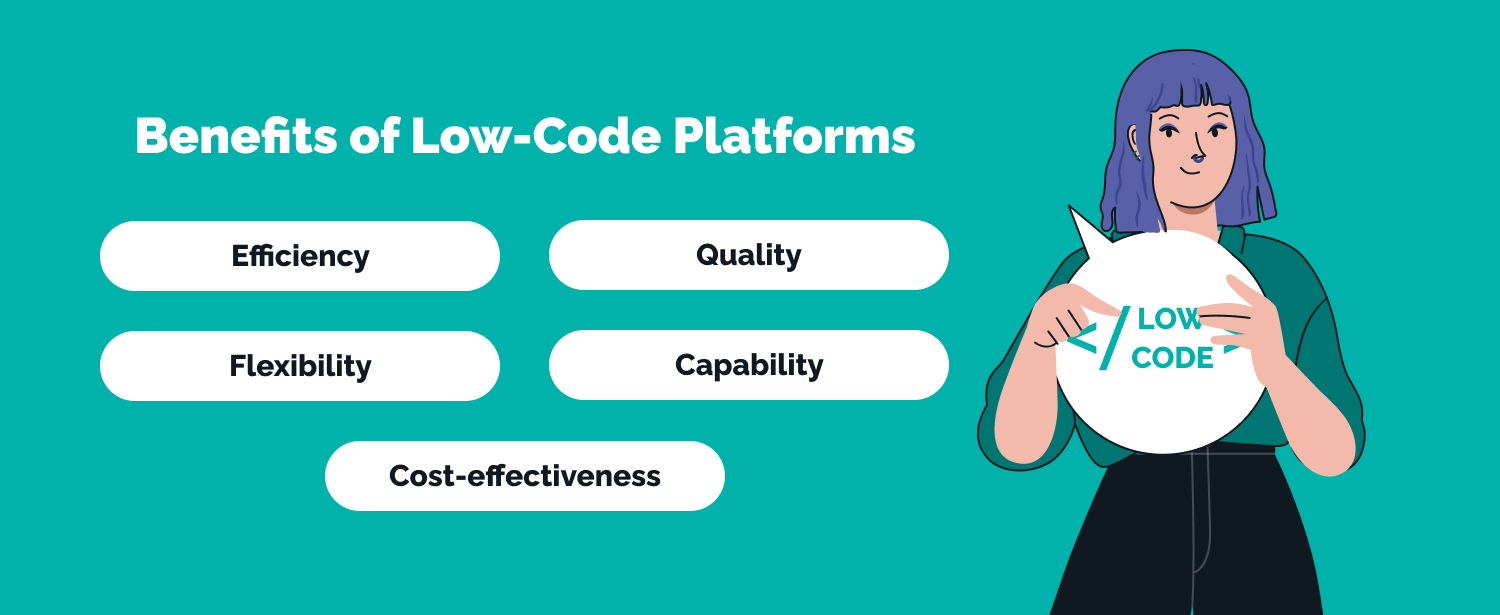 Efficiency
Low-code development platforms enable companies to create apps more quickly than conventional techniques. They need less coding and are simple to adapt and fit specific business requirements. As a result, employing a low-code platform to create their apps allows enterprises to save time and money.
Cost-effectiveness
Because low-code development platforms often demand less investment than traditional software development, companies can significantly save money. Furthermore, license costs for low-code platforms are frequently less expensive than those for traditional software development tools.
Looking for assistance in developing a robust low code application? TechMagic is a primarily full stuck development company that focuses on freeing up clients' time by creating scalable, secure and innovative tech solutions.
Flexibility
Low-code development platforms give enterprises more flexibility since they are simple to adapt to changing business requirements. New features and functionality may be introduced quickly and without spending much time to code or reconstruct.
Quality
Built-in quality assurance technologies on Low-code VS No-code development platforms guarantee that apps are built without bugs and adhere to all business and security requirements.
Capability
Since low-code technologies are widely available practically and symbolically, business data may be distributed around all departments within the organisation. This capability enables teams to cooperate across multiple business activities.
Low-code platforms come in a variety, each with unique capabilities. Think about the kinds of applications you want to build and the features that are essential to you before selecting the platform that will suit your needs the best.
10 best low code app development platforms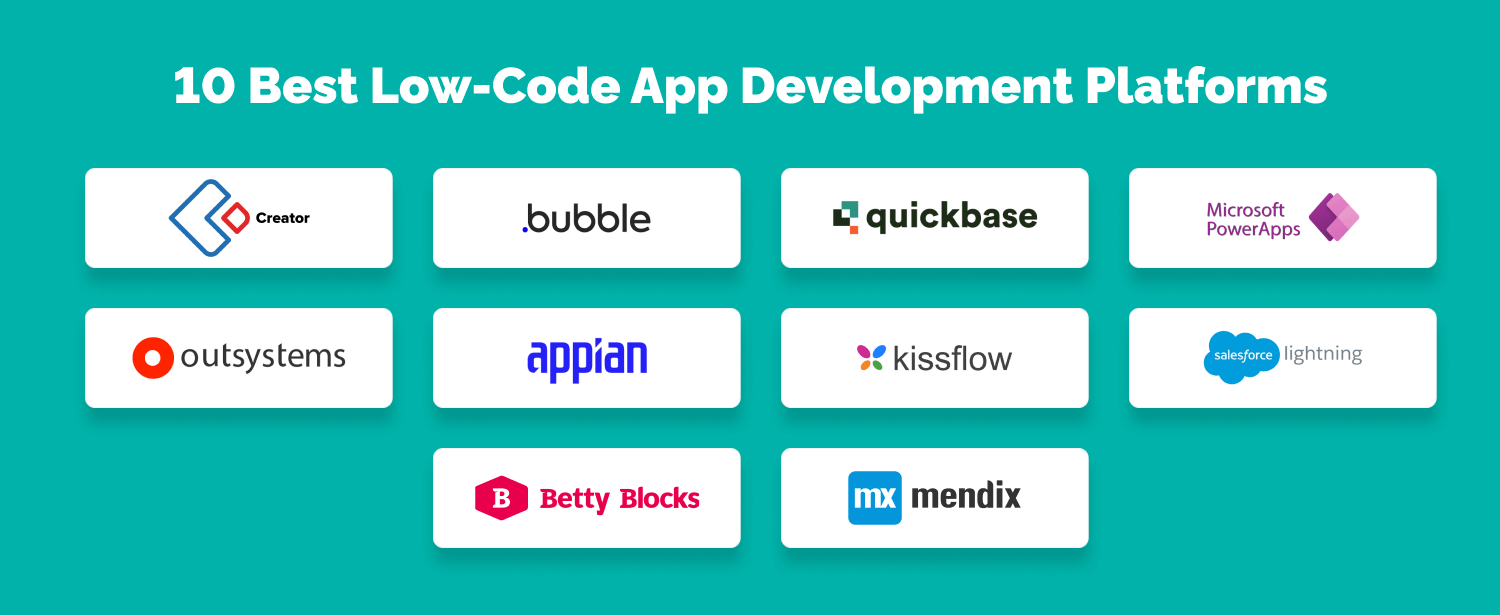 Zoho Creator
Marketers are familiar with Zoho thanks to its customer relationship management (CRM) solution with excellent visual capabilities. The platform combines a wide range of features with an appealing UI, making it adaptable and user-friendly.
Users of Zoho Creator may build useful apps by importing files, databases, and cloud storage information and use the built-in tools to adapt the user interface to their requirements.
Key features:
Speed and scalability
Inter-functional analytics
Automation and migration helped by AI
Applications adapt to mobile screen sizes
Connects to other Zoho applications
Strong range of templates for pre-built apps
Built-in connectors between Salesforce and QuickBooks
Bubble.io
Bubble.io is a low-code app builder that creates, hosts and develops mobile-friendly full-featured web apps and MVPs. Using APIs and JavaScript plugins, citizen developers may further customize their software's functionality and interface with a wide range of other programs and generate interactive content like conversations and news feeds or simple prototype apps for a marketplace or SaaS product.
Applications created in Bubble can be translated into more than 80 different languages. Also, you may manage search engine optimization, keep tabs on the app use restrictions, and link Stripe & Braintree to streamline payments.
Key Features:
Adaptes to mobile screen sizes
Range of fields and templates for pre-built apps
Built-in connectors between Salesforce and QuickBooks
1,000 plugins to connect to outside services
Social Media Logins
API Integration
Cloud Capabilities
Custom Reporting
Notifications
Payment Gateway Integration
Quick Base
Quickbase is the LCDP database and RAD (rapid app development) platform to construct data collection and storage apps. It links well-known cloud services like NetSuite, Salesforce, Box, and Gmail through prebuilt application connectors. Quickbase has security features, including granular roles, permissions, corporate user control, and a powerful user interface. Its automated procedures increase productivity and lighten workloads so employees can concentrate on other objectives.
Key features:
Data centralised
Payment tools
Effective as a CRM solution
Form-based interface for workflow and data management automation
Robust prebuilt app marketplace and third-party integrations
Microsoft Power Apps
Microsoft's PowerApps is a RAD (rapid app development) low-code solution.  The pre-built artificial intelligence components of the service play a significant role in its outstanding functionality. Over 200 connections are available in Microsoft Power Apps to merge diverse systems and data.
For businesses, it is advantageous to be able to preserve internal resources inside a single ecosystem. With Microsoft PowerApps, any company using Microsoft products may grow. Developed apps must be compatible with Microsoft platforms for clients utilising other systems.
Key features:
Individual branding
App templates to expedite the creation of apps
Strong feature set
Extensive selection of themes and user interface (UI) possibilities
Powerful mobile capabilities
OutSystems
OutSystems is a platform for RAD (rapid app development), which allows developers to build and maintain their apps. It accelerates the building of apps, enabling the cost reduction of the entire project. It is also simpler to maintain code, which makes it easier to offer superior customer support after launch. The platform's valuable features are real-time performance dashboards and robust security features.
Key features:
Live tracking and reporting of app performance and usage
Complete scalability through APIs
Fully protected functionality
Flexible integration capabilities
Comprehensive visual development
Automated DevOps
Scalable construction
Offline data archiving
Robust app store with pre-built connectors and components
Appian
Appian offers native deployment tools and DevOps integration options. Citizen developers may develop business process management (BPM) apps for organisations of various sizes. BPM software aids businesses in streamlining and improving company operations.
Appian is also a platform for business process management. It is widely employed and provides several case examples to demonstrate its dependability. Large enterprises can gain from it since it streamlines internal operations and makes working on development projects more efficient.
Key features:
Constant data updates
Quite simple to debug
Monitoring processes in real time
Integrated task management and team collaboration
Engine for making decisions in complicated logic
Local AI services for the platform
Integration of Google Cloud, AWS, and Microsoft Azure with AI/ML platforms

Mendix
Mendix is a cloud-native RAD platform that provides several tools for developing, testing, and deploying apps. It uses model-driven engineering (MDE), which emphasises abstract modelling.
Mendix is a vital instrument that depends on other robust systems. It becomes a potent instrument for corporate scalability as a result. Because of the integrated automation and machine learning algorithms that keep everything organised, this scalability won't degrade performance. Mendix also uses automation and artificial intelligence tools to ensure that apps function correctly.
Key features:
Compatibility check
Source monitoring
Reusable parts
Numerous connectors, prebuilt layouts, and an extensive app store
Built-in Scrum
Deployment with a single click and continuous integration
In-app analytics
Automated software testing
Kissflow
Kissflow is a cloud-based automation low code app development solution that streamlines business processes and monitors performance. The rule-based approach used by Kissflow does away with the requirement for coding and enables users to customise workflows.
Creating process requests, examining things that need user interaction, and approving outstanding tasks are all made easier with the help of Kissflow. Kissflow provides RAD users with a visually appealing drag-and-drop interface.
Key features:
Drag and drop functionality for adding and editing fields
Full access to ticket history
Tracking capability
Simple internet access due to cloud hosting
Portable access
Data synchronisation and security
Capacity to digitally submit forms and requests
Salesforce Lightning
With the Salesforce Lightning solution, RAD and data are combined. It means low-code app development is mixed with all of Salesforce's capabilities. The Salesforce Lightning Platform is an all-in-one platform that significantly accelerates software development by combining technologies like App Builder, Lightning Flow, SalesforceDX, and Heroku.
Companies who currently use the Salesforce Platform will benefit most from Salesforce Lightning. You might develop internal applications to assist teams in gaining access to particular resources or launch apps for the needs of a single client.
Key features:
Extensive AppExchange marketplace of pre-built apps and components
Reusable objects and elements in Lightning App Builder
Process Builder and Schema Builder for creating complex automated logic
Kanban boards built-in
Deep security and identity configuration features
Integration of business solutions across sectors
Reporting dashboards with easily trackable data
Betty Blocks
Betty Blocks is a drag-and-drop, no-code solution for building workplace apps that enable users to create processes for their apps. It supports rapid creation and flexibility by allowing for the reuse of some components in different projects. The platform is entirely web-based and doesn't require deployment.
Betty Blocks promotes itself as a platform for developing citizen applications. Its main objective is to enable citizen developers to build apps independently on its user-friendly platform.
Key features:
App logic definition tools and actions
Visual modelling and page builders
Combination of various online services
Integration of mailboxes
Mixed with a preexisting structure
Modelling data
Templates
How to choose the best low code platforms?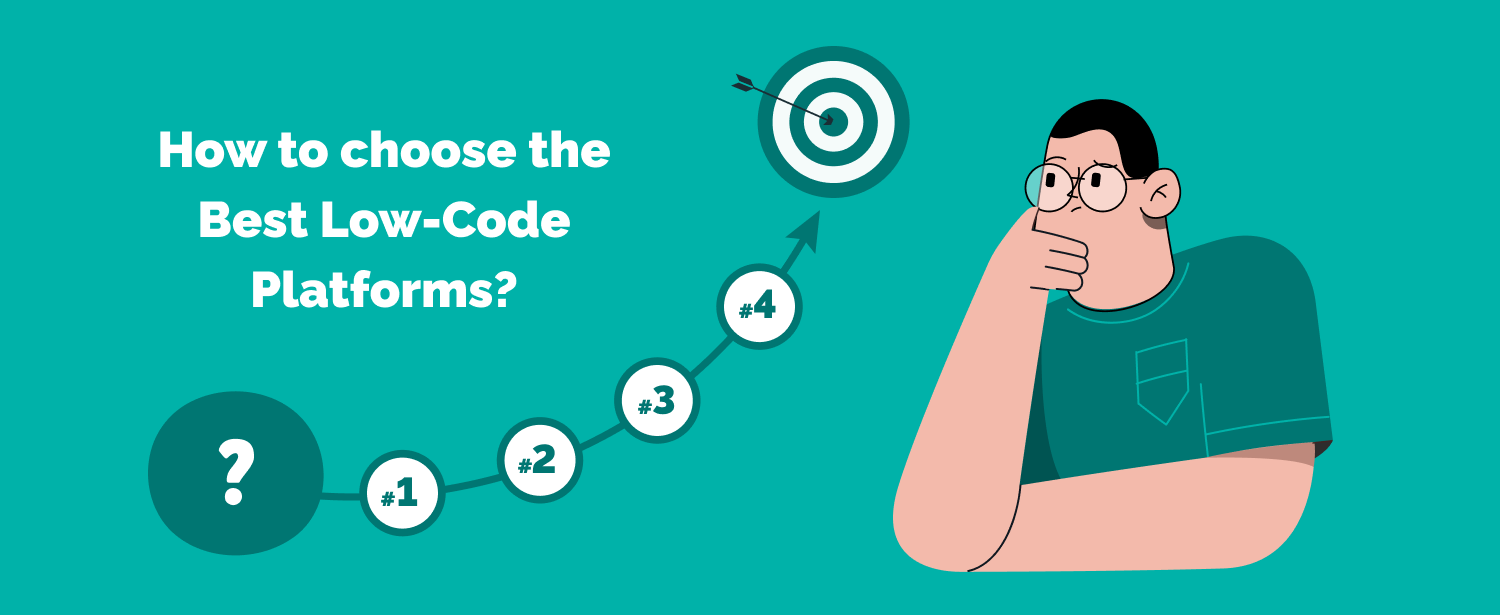 There are a variety of low-code platforms available on the market right now. They range from entirely cloud-based to ones that rely on integrated development environments (IDEs). Success with low app development depends on picking the right low-code application development platform to meet your objectives and needs.
What is the complexity of your application?
The amount of control you require over the development process and the team's skill set will determine which low-code platform is best. If you need a platform that gives greater flexibility and customizability, then you would have citizen developers on staff who can participate in the development process.
What is your purpose for using low code development platforms?
It's crucial to take into account a variety of use cases while assessing low-code development platforms. For instance, if you're seeking a platform to assist you in creating
mobile apps – pick one with powerful mobile app development skills
prototypes or proofs of concept quickly, choose a platform that simplifies building and iterating on prototypes
What budget do you have?
Most businesses are constrained by their budgets, particularly when they are about to begin their low-code journey or need an internal company app. That's why pricing is a crucial factor to consider when selecting a low-code platform.
Different low code app development platforms have various pricing models.
Subscription-based: with the option of subscribing monthly or annually for certain features
Platform specifics: when determining cost, including the number of applications that can be created, the number of users that can access them, support, and the number of integrations the apps may use
The more functionality you desire, the more you'll have to spend your money. Being cautious while analysing low-code platform prices is essential since a few platforms provide a pay-as-you-go feature access option.
How accessible is this platform?
For specific systems, you must install the software before developing applications. While this allows companies to have more control over the installation, it challenges getting started since your system may occasionally be unable to run the low-code platform's applications.
To use their web-based platform for development, you must have both software installed on your computer and a browser. This choice involves making a compromise with the first two possibilities mentioned above.
Does it cover the needs of your company?
Each company has a distinctive set of features and needs. Your low code platform should have it to get the most out of app development. Most common are:
Auto-scalability. The apps should increase under the organisation's scale and the user base as it grows. Scalability is a separate endeavour in traditional software development.
Built-in security. Unlike traditional development methods that need separate security coding, low-code app development platforms allow you to create secure applications simultaneously as you develop the app.
Stability. Low-code platforms protect often occurring application crashes from technological difficulties.
Continuous availability. Many low-code systems have above 99% uptime and availability, which is challenging to accomplish in conventional development without efforts.
What platforms for deployment does low code platform support?
Find out how to deploy your application, and what resources you need. Because many platforms can be deployed
on the web: Windows, Mac, iOS, and Android
on certain systems
To ensure that your apps are available to everyone, ensure that the low-code platform you select can be deployed across all platforms and meets your needs.
Employ low-code platforms with TechMagic

Choosing the best platform for your business can be challenging. Therefore, you must consider your company's needs and skilled software engineers to create a software solution in a low code platform. That's why low-code no-code app development companies like TechMagic focus on offering the expertise to move your business in the right direction.
Our competent specialists with an in-depth understanding of programming languages, low code no code platform-specific, server-side technologies, and security risks develop web and mobile applications that appeal to consumers and turn them into customers.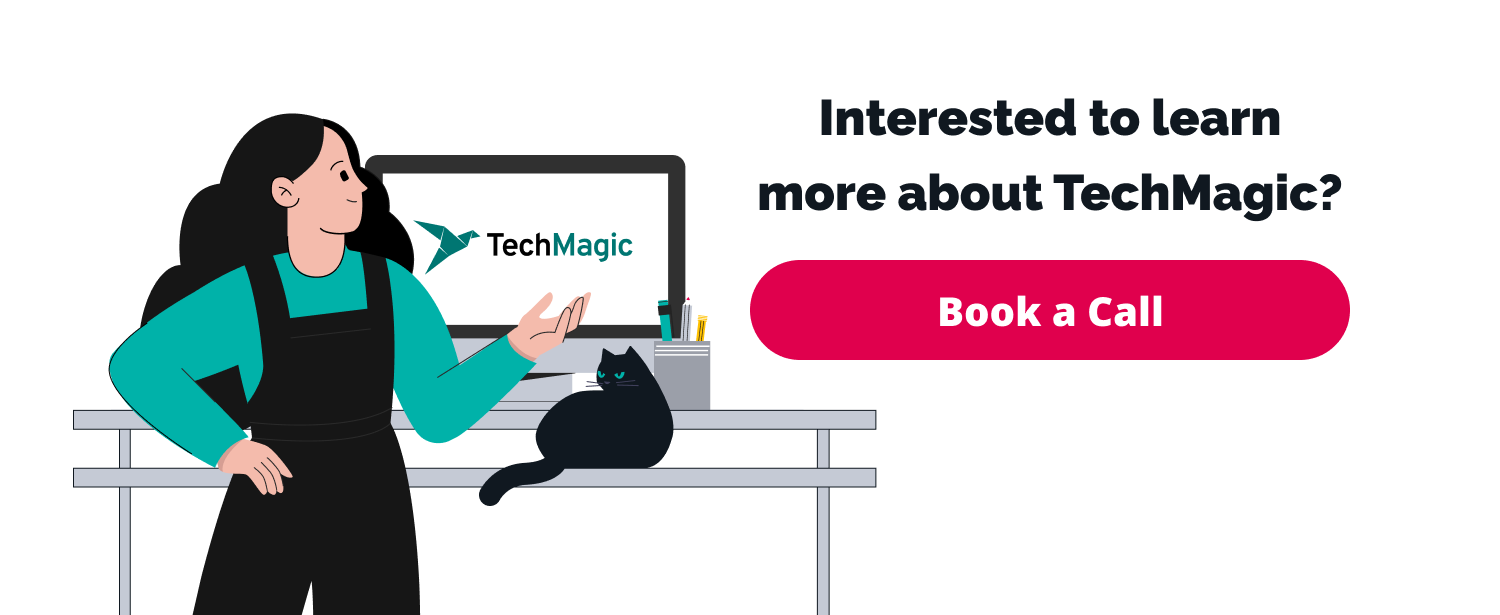 FAQ
What are low code platforms?

Low code app development platforms offer drag-and-drop visual models like graphical interfaces, integrations, data, and logic to develop apps instead of writing lines of code. All project elements, including configuration files, frontend and backend code, are produced automatically based on industry best practices.