Cloud Computing in Healthcare: How Technology is Improving the Industry

Lead Business Analyst at TechMagic, with a background in Project Management and QA, mentor, and speaker. Passionate about Business Analysis and Product Design.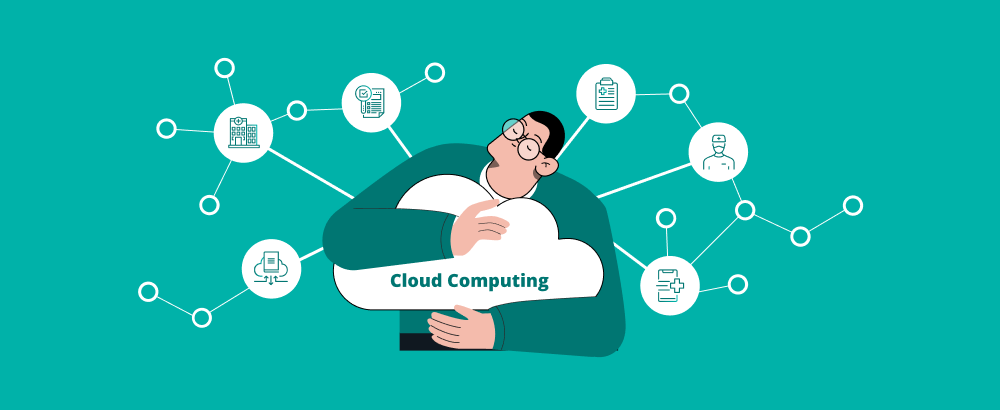 Cloud computing in healthcare provides a connected, accessible, and collaborative environment for patients and clinicians. In the long run, pivoting to a cloud environment ensures lower costs and more satisfaction among patients and medical staff.
The healthcare industry is one of the most complex regarding data management. According to MarketsAndMarkets' prognosis, the market of cloud computing in the medical field will reach $65 billion by 2025. Gartner predicts that global spending on cloud services will reach over $482 billion this year (2022), up from $313 billion in 2020.
Currently, according to the 2020 Enterprise Cloud Index Report by Nutanix 27% of healthcare companies run non-cloud data centers and business systems exclusively, more than any other industry. But the future of healthcare is shaped by the hybrid cloud.
Challenges Healthcare Companies Face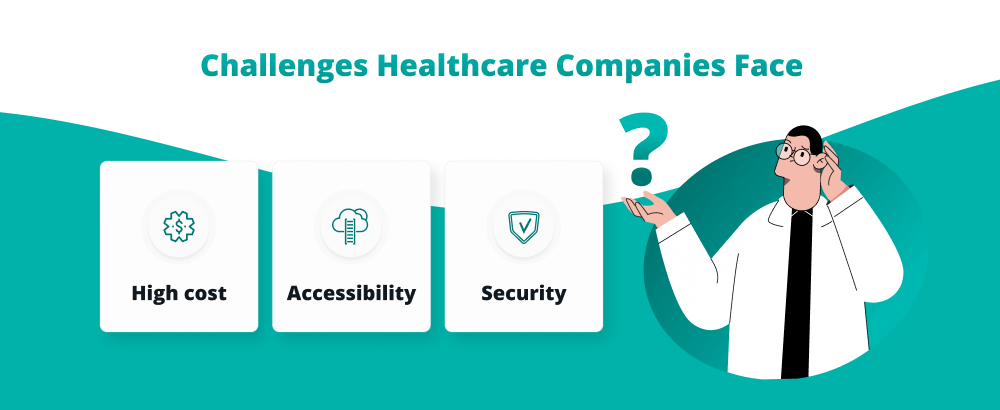 In the healthcare industry, vast amounts of data are utilized daily. The custom healthcare software development companies' main challenges are related to the security of this data, accessibility, and cost optimization.
Medical organizations store and process tons of data collected from different devices. Keeping them on hardware demands constant maintenance and doesn't come cheap. At the same time, cloud computing applications in healthcare take the load off and offer to scale when more space is needed.
Providers like Azure and AWS offer a pay-as-you-go approach for over 160 cloud services. This model gives organizations great flexibility since they pay only for the services they need and as long as they use them.
This is easier and saves the company significant funds, which means reducing the cost of services, improving medical equipment for diagnosis, etc.
According to a recent Thomson Reuters report, the US healthcare system currently wastes $600-850 billion annually due to administrative inefficiency and unnecessary treatments — problems cloud computing can solve.
If you're experiencing such major expenses, contact TechMagic expert and learn how you can benefit from moving to AWS.
Healthcare companies are complex organizations, and usually, more than one physician or team works with one patient. Conveying up-to-date patient data without additional communication is quite complicated and resource-intensive.
Thanks to cloud services, data can be updated in real-time, and each specialist can access and update it if they have permission. It dramatically simplifies everything for medical specialists and, consequently, patients. The latter can view changes in their prescriptions and appointments online without going to the hospital.
There is a considerable risk of breakdown and data loss with no chance to restore it in case of using hardware resources. Since the healthcare industry always deals with data like diagnostics, lab tests, medical history, billing records, and more, its loss can cause irreparable damage to the company.
In the case of cloud services, the provider assures backups since servers are located mainly in different geographical locations. Security is one of the points which cloud services providers emphasize and one of the main advantages of cloud computing in healthcare. It saves data even in case of natural disasters or similar events.
In addition, IoT-connected medical devices can be vulnerable to hacker attacks. The cloud offers better security than on-premises systems. Cloud servers are loaded with different security metrics like IDS/IPS, firewalls, end-to-end encryption, etc. Implementing these things will keep healthcare data safe.
How Can Cloud Computing Improve the Healthcare Industry?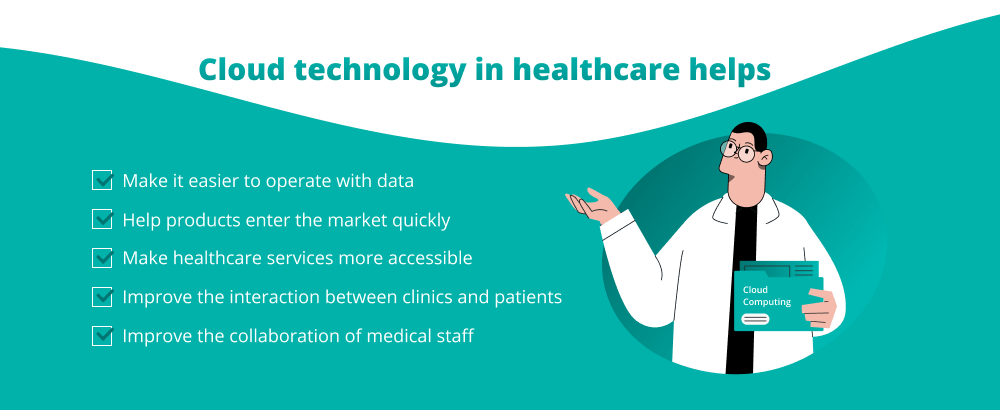 Cloud technology in healthcare helps deal with the above mentioned key risks. In addition, they:
Make it easier to operate with data
Healthcare companies operate with data like patients' contacts and personal information, medical and appointment history, info about the insurance company, payments records. It isn't easy to structure and process it manually. In turn, errors in a particular area are expensive both literally and figuratively. Cloud-based analytics tools make work more accessible, productive, and insightful.
AI and machine learning capabilities play a huge role in patient treatment and operational efficiencies as well. As more cloud platforms integrate AI and ML into their services, cloud computing in the healthcare industry can help users manage immense amounts of data.
Help products enter the market quickly
This benefit can be well seen from pandemic experience. In 2020, when Spoedtestcorona was working on providing safe and affordable testing chains in the Netherlands and Belgium, they faced the challenge of delivering a cross-platform web app on a very tight schedule. The app would minimize human interaction and make testing safe for patients and medical personnel.
By choosing Amazon Web Application services, they managed to deploy the app within the 2-week deadline and met high compliance requirements for handling personal and medical data.  
Make healthcare services more accessible
One of the modern healthtech trends is telemedicine which allows receiving medical care remotely. It's become an essential tool during the Covid pandemic. Still, even without it, remote consultations enable people with disabilities and from remote areas to avoid the need to visit brick and mortar clinics.
The possibility to handle regular communication with a health professional, especially after surgery or operation is one of the most significant benefits of cloud computing in healthcare. The same could be said about a timely reminder for medicine consumption, and many other things. Physicians can even monitor patient vitals from their homes with the help of cloud-connected wearable devices. This particular feature helps doctors make quick decisions and saves patients' lives.
Improve the interaction between clinics and patients
Healthcare cloud computing helps doctors and medical staff provide patients with the highest quality services and communication. They can obtain tests and analysis results online, track treatment dynamics, and get notifications of any update.
Additionally, it offers a new level of safety and keeps patients from being overprescribed, as doctors can access the history of medical records.
Improve the collaboration of medical staff
Storing data in cloud services allows specialists from different companies to access it any time without extra communication or involving patients. Thanks to this, the accuracy of the diagnosis increases, and the risk of misinterpretations drops.
Examples of Applications and Companies Using Cloud Computing in Healthcare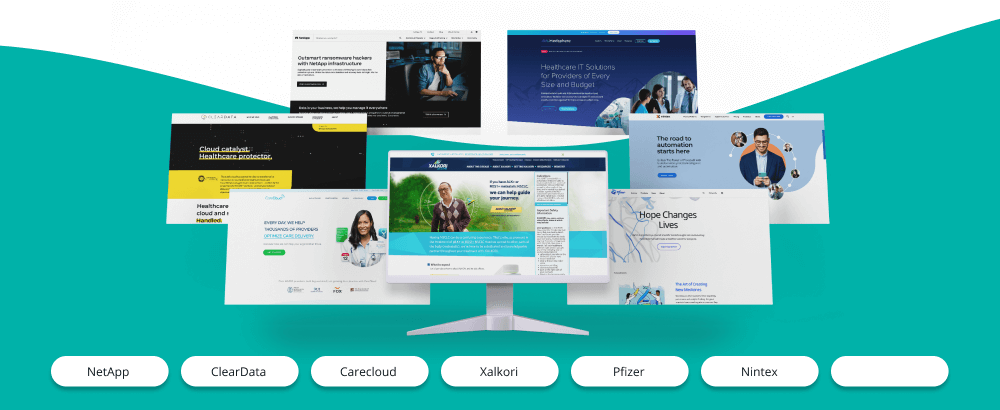 Many leading healthcare organizations have already started to adopt cloud computing in healthcare management processes to deliver quality care, reduce operational costs, and improve the overall administration process. Here are the most prominent examples of cloud services for healthcare companies.
NetApp is a hybrid cloud data services company. It delivers data in real-time to make clinical processes faster and more efficient through quicker backup and restoration and easier adaption of data growth.
Medsphere is a healthcare IT services company that provides service to multiple clinical, financial, accounting, nursing, and other companies.
ClearData is a cloud computing company with a primary goal to shift medical data and apps into the cloud to enable the users to retrieve it over a private and secure internet connection.
Nintex simplifies the manual processes, especially with documentation. It strengthens the overall patient experience and provides automation services to healthcare industry experts.
Carecloud — practice management and EHR software help healthcare providers to improve their efficiency and enable them to connect directly with patients.
Pfizer is an excellent example of using cloud computing in medicine for better communication and collaboration among all parts of the process. It involved the technology in Xalkori — a lung cancer drug developed for the particular patient category with the ALK gene mutation.
The invention of this treatment couldn't be possible without prior analysis made by cloud computing. Moreover, the cloud technology accelerated the project — the timeframe took three years, including the time needed for FDA approval.
Conclusion
How does cloud computing impact the healthcare industry? Massively. From reducing the cost of care to improving communication with patients and the quality of treatment — the importance of cloud computing in healthcare is huge; they make a massive positive impact on companies and clinics. The latest reports show that adopting cloud solutions is undoubtedly on the table for medical organizations. The main obstacles are either security concerns or a lack of internal technical resources.
As we are custom healthcare software development company, developing healthcare apps is one of the most active spheres. Let us know if you have an idea — book a call with a manager, and we'll find the best ways to implement it.