Tips How to Create Crowdfunding Platform: Kickstarter Example

Lead Business Analyst at TechMagic, with a background in Project Management and QA, mentor, and speaker. Passionate about Business Analysis and Product Design.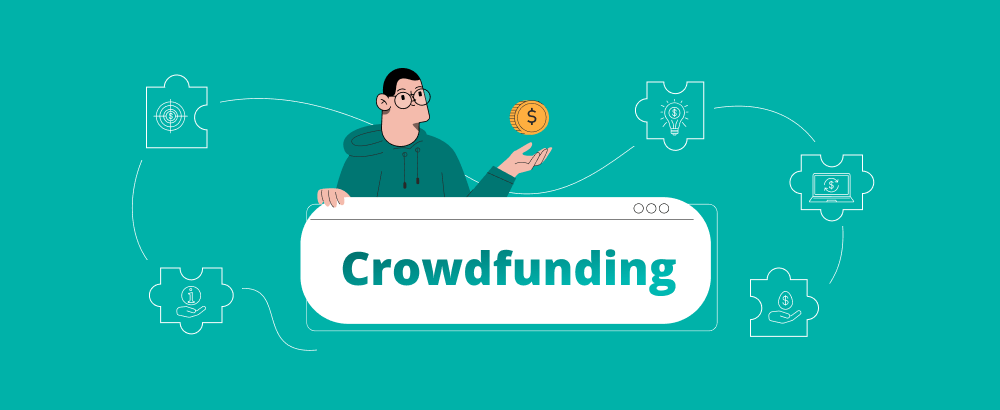 Explore the basic structure that you need to keep in mind while starting a crowdfunding platform. Learn how to create a competitive crowdfunding solution using an experience of the most successful-ones existing.
A crowdfunding platform is a marketplace with numerous projects and all the convenient features for fundraisers and supporters to help startups collect needed funds. This article focuses on the main features of those platforms. Here's what you need to know starting a crowdfunding website.
Fundraisers Section
To learn how to develop a crowdfunding platform,  first of all, you need to understand a customer's path throughout. And fundraiser section is a place to start. Create a crowdfunding platform following your future users step by step. Let's go.
1. Campaign creation
The beginning should be easy and non-time-consuming. For a starter, the platform collects some basic information:
Project title, description, category, location, images, video, duration
Required amount
The reward for donation (if it's not charity)
Risks and challenges
Information about the owner(s)
Payment details, documents
Crowdfunding is about money, so the security question is acute. The platform verifies all provided information and, if needed, asks for some more (photos of documents, additional contacts — it depends). The owner can't change or edit any information when the campaign is created. Consider this while planning to build a crowdfunding platform.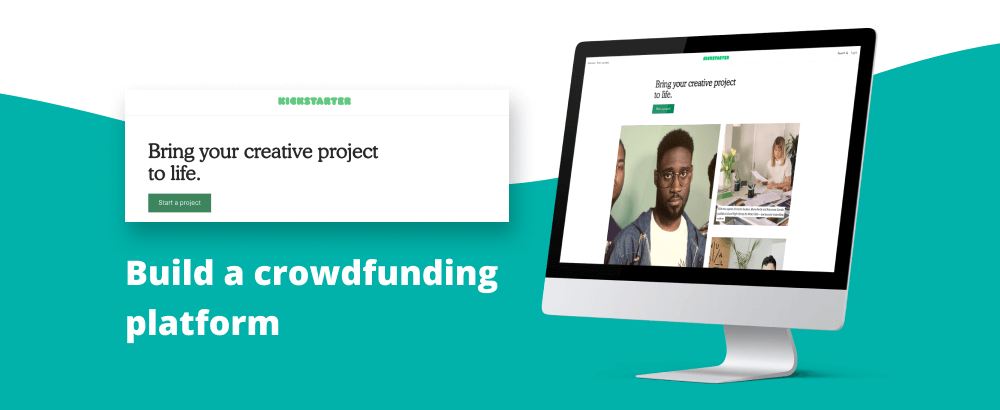 2. Profile managing
When successfully registered, you create a Fundraiser's Profile. It includes all the essential information like:
Campaigns list
Payment details
Chat
Updates
3. Share options
When you develop a crowdfunding platform, It's vital to make it possible to share campaigns via social media. They should have as big a distribution as possible. When people share campaigns with their friends, the latter will likely repost via their profiles, and word of mouth will do its best work. Social media sharing options should be added to each project page; it's a must.
4. Payments
Different crowdfunding platforms offer different payment methods.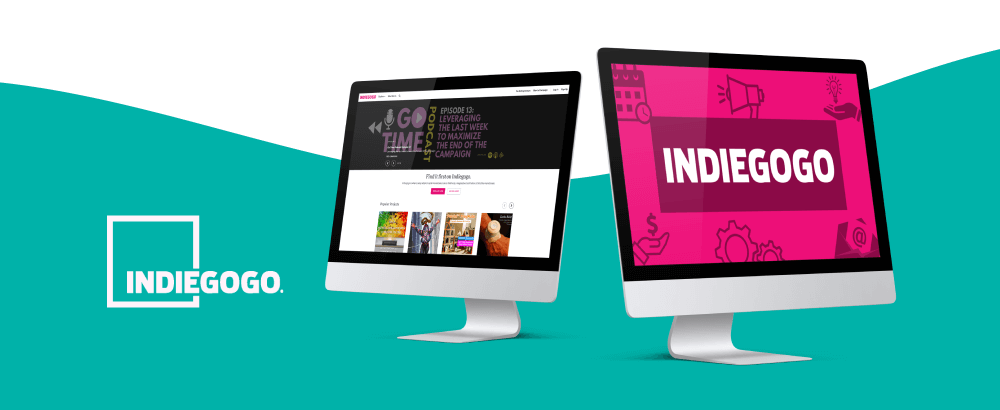 There are two common types to consider when you start to develop a crowdfunding website:
All-or-nothing. This model means that only projects that reach their financial goal can get payment. It's either 100 percent win or 100 percent lose — no third option. The platform keeps track of deposits, and once the goal's been met, the fees can be called. On the other side, fundraisers may not be paid in the end if they run out of time before meeting their goal. Kickstarter works like this.
Partial payment. The project can call the funding even if the financial goal hasn't been met. This method is more encouraging for fundraisers, but investors like it less. Naturally, they are not likely to give money to doubtful projects. This is a model Indiegogo uses.
5. Dashboard
Creators need to track the progress to get the latest updates and make decisions on keeping or closing the campaign, involving advertising resources, etc. A dashboard visualizes actual statistics and progress showing the current balance of funding, sources, reward popularity, average deposit amount, and other analytical data you can use to promote the current campaign and work with your following ones. These are hints on motivating people to invest more.
Backers Section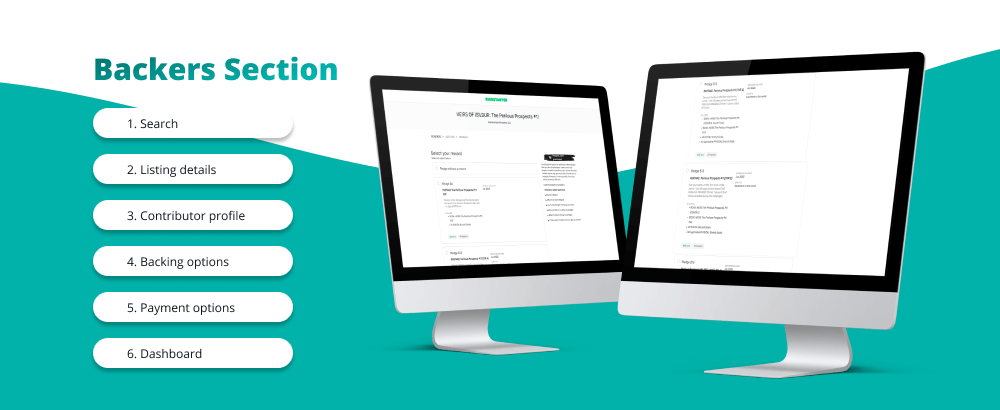 1. Search
The search option with intuitive filters will help backers find specific projects or choose options and make the perfect match with one or more from the list.
2. Listing details
Inside each listing, investors can get detailed information about the campaign: project description, info about creators, the total amount to be collected, the amount raised to date, days remaining, number of investors, rewards. This is when people decide to back the project or close the page.
3. Contributor profile
You can register via email or even social media pages with some platforms and start backing immediately.
In general, anyone 18 years old can buy a share in a company. Nonetheless, you should pay time and energy to investigate particular laws of each country; the regulations may differ.
Some others may ask for more detailed registration, especially when talking about the equity-based crowdfunding model. Also, the platforms related to business and innovations protect their fundraisers from fraud and ask for more detailed verification.
4. Backing options
When patrons want to support a project, they choose the most suitable contributing options. Kickstarter and Indiegogo offer ready-made proposals that project owners can go for, but they have total freedom to add other options.
5. Payment options
When a backer invests in a project, the bank holds the money until the end of the campaign. When the goal is reached, the fundraiser claims for money and investors are considered owners of the rewards they've chosen.
The best payment gateways support multiple currencies and payment methods and immediate conversion to get donations from different countries.
Kickstarter, for example, uses Amazon Payments and Stripe. Indiegogo also goes for Stripe and also PayPal.
6. Dashboard
Investors usually support two and more projects, and it's great to have all the latest information about those. The dashboard helps to track them and see how the campaigns evolve.
You want to know how to start a crowdfunding site? Learn more about the Best crowdfunding websites  to get inspired.
Admin Section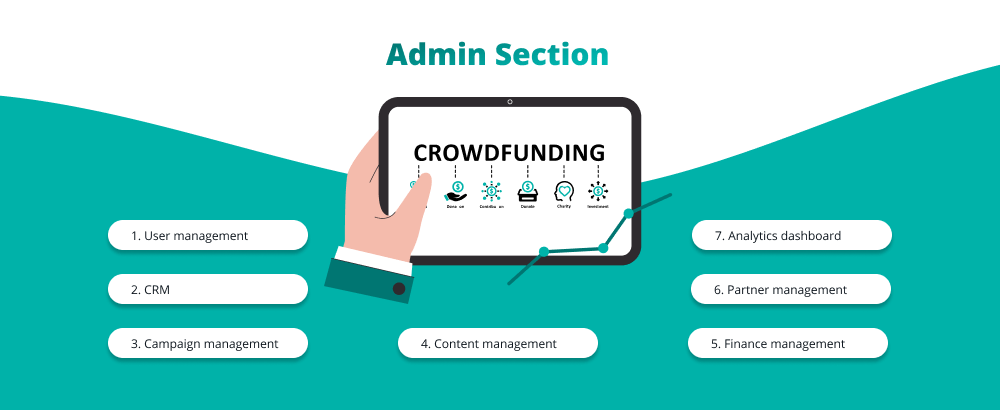 1. User management
The page to manage all the registered profiles. Admin should have the possibility to update, add, or change details and status.
2. CRM
All users are platform customers, so it's crucial to keep their contacts, payment history, and valuable notes beneficial in sales and marketing campaigns.
3. Campaign management
Here's the place to list all created campaigns. Admins approve or deny them when needed, and it's easy to find a needed one while working with any problems if those appear.
4. Content management
To update the content on the website, Admin does this from the back office fast and efficiently.
5. Finance management
It collects all transactions made on the website: payments from investors, fees, subscription charges, etc.
6. Partner management
As a rule, crowdfunding platforms are merged with third-party software that helps with payment processing and user verification. On this page, you can find all the information about this partnership.
7. Analytics dashboard
Admins should have a chance to quickly update the website's content from the back office.
Extra Features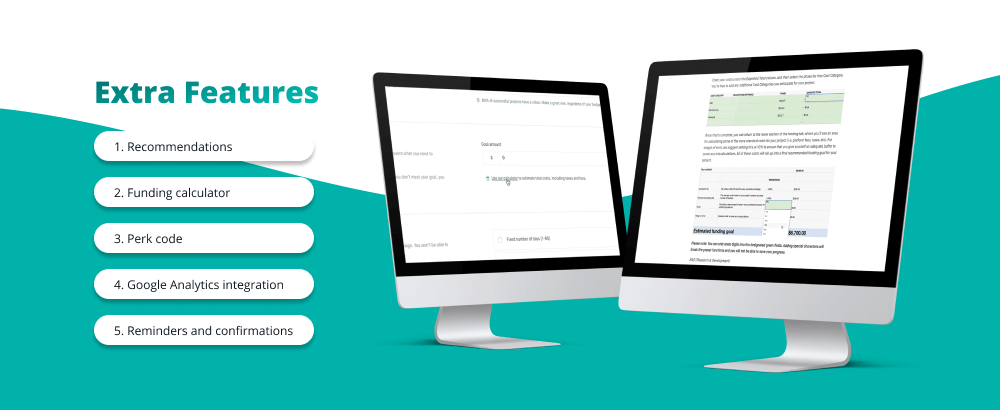 Some additional features can help you stand out among the competitors and help your creators successfully raise funds. The most popular and easy to implement ones are:
1. Recommendations
It can be challenging for investors to find that one and only project, even with search filters. Recommendations analyze previous views, donations, and user preferences and suggest similar campaigns. Kickstarter actively uses machine learning to pick projects that can match with investors.
2. Funding calculator
Fundraisers may have difficulty understanding how much they need to raise when considering taxes and fees. An automatic calculator on the website helps them reach total accuracy while setting their goals.
4. Perk code
This feature allows unique benefits and additional perks for the community. For example, a creator sets conditions for getting the bonus, and with the help of the website, the feature issues a code. This code can be shared on networks with specific associates via SMS, emails, etc. Donors can then apply this code to contribute to the campaign and get the perk. It helps to attract more investment.
5. Google Analytics integration
It gives the fundraisers the power to track their campaign: visitors, conversations, sources of backers. It gives them insight into how to improve performance.
6. Reminders and confirmations
A platform can send out emails asking for donations to increase activity. For example, when the deadline's closed, someone visits a project page and abandons the payment process halfway. The platform can send a reminder to encourage the patron to take that final step. Sometimes it might be enough to push the campaign over the top.
How Much Does It Cost to Build a Crowdfunding Website?
The cost of a Crowdfunding platform mainly depends on your requirements and the list of features you want to include. For estimating the expenses keep in mind this list of processes required:
The platform designing and development
The number of features
The advanced functionality
The technology platform of the mobile app (Android or IOS)
The complexity of the mobile app
Wrapping Up
Thanks to the vast crowdfunding opportunities, people can learn about your project and become a part of it. It's also about creating a space where your startup can build and maintain relationships with the community.
To launch a crowdfunding website like Kickstarter, you need to choose the niche and audience, build a business and monetization model, define the list of features, and we'll do the rest. Fill the contact form, and we'll provide you with free consulting and calculation.