Top FinTech Companies in the UK to Know About in 2023

Director of FinTech at TechMagic. Ex-VP of Goldman Sachs. Blockchain and Web3 expert. Experienced engineering manager and CTO.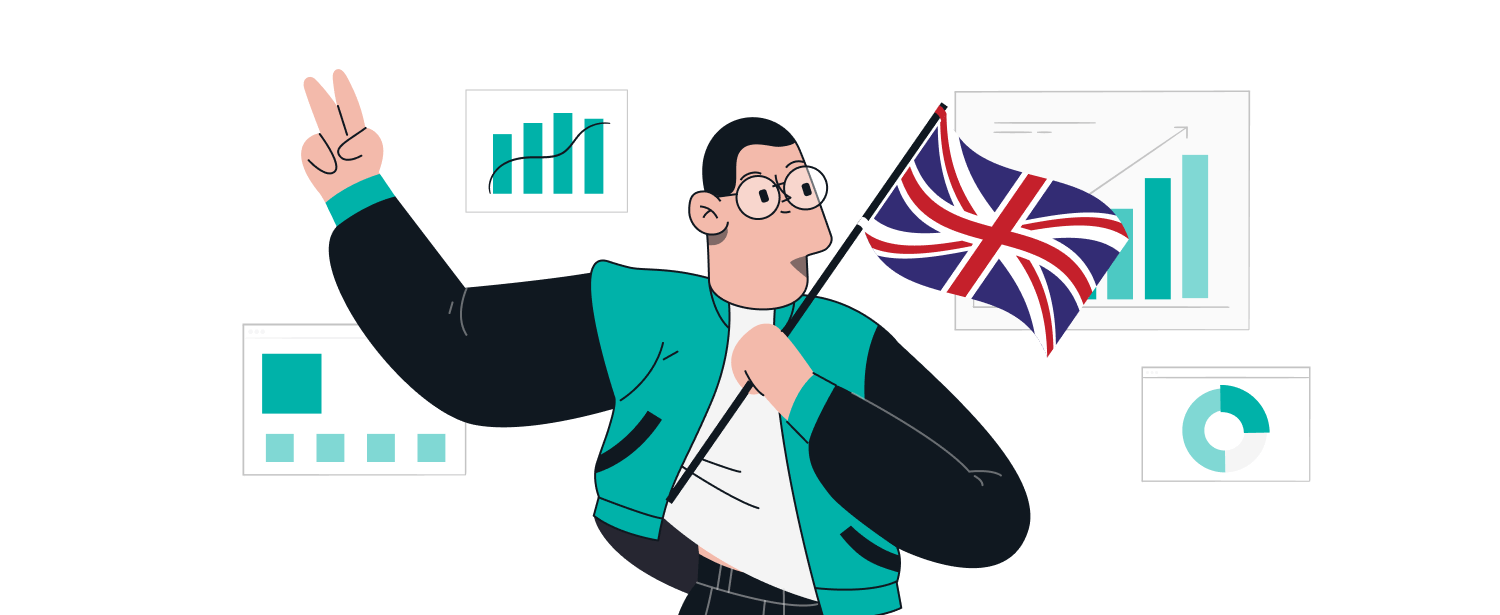 Fintech industry in the UK is growing at an unprecedented rate, with more than 10% of global fintech unicorns being based in a country. In this blog post, we explore top fintech companies UK to look out for and their top features.
The UK comes second only to the US regarding impact and numbers, its fintech industry offers various innovative solutions disrupting the traditional financial services sector, from digital banking and investment platforms to payment gateways and insurance companies.
Whether you're a decision-maker from the fintech industry looking for new ideas, or an investor seeking the next big thing, this post will provide valuable insights into the UK's fintech landscape.
So let's have a closer look at the UK's top fintech companies that are on top of the industry right now. But before that - shell we see what's going on in the financial technology market overall?
Fintech Market in the UK
Fintech industry increases of 217% compared to 2020 - nearly half of all investments in Europe. London leads the way as a FinTech "superhub," with 9 other high-growth FinTech clusters quickly catching up. In 2019, the city received £3.3 billion in fintech investment, making it the top fintech destination for wealthtech and payments in Europe, and the third-largest globally, behind only San Francisco and Beijing.
The FinTech industry in the UK aims to create over 50,000 jobs and uplift GVA by £2.4-£3bn in the next three years.

But what is driving this growth?
One major factor is the UK government's support for the fintech industry. The government has introduced several initiatives to promote innovation and growth, such as the Fintech Delivery Panel and the Fintech Sector Strategy. These initiatives aim to make the UK the best place in the world to start and grow a fintech business.
The UK has emerged as a global leader in fintech for several reasons:
Supportive regulatory environment for fintech companies, with many initiatives and programs encouraging innovation and growth. For example, the Financial Conduct Authority (FCA) has set up a regulatory sandbox to help fintech companies test their products and services in a controlled environment. In contrast, the Bank of England has launched a fintech accelerator to support new startups.
Highly skilled and diverse talent pool, with many universities and research institutions focused on fintech and related areas such as artificial intelligence, cybersecurity, and blockchain. This has helped to create a vibrant ecosystem for innovation and collaboration, with many fintech companies partnering with universities and research institutions to drive new advances in the field.
Strong tradition of entrepreneurship and innovation, with a culture that values risk-taking and innovation. This has helped create a dynamic and fast-moving fintech UK industry, with new startups constantly emerging and established companies continually evolving to stay ahead of the curve.
Overall, combining these factors has helped create a highly conducive environment for fintech companies to thrive in the UK, making it one of the most exciting and dynamic fintech hubs in the world.
What Are the UK FinTech Specialisms?
Fintech UK companies have diverse specialisms, contributing to their success in recent years. From digital banking and investment platforms to payments and insurance, the UK fintech landscape offers a variety of innovative solutions that cater to different needs.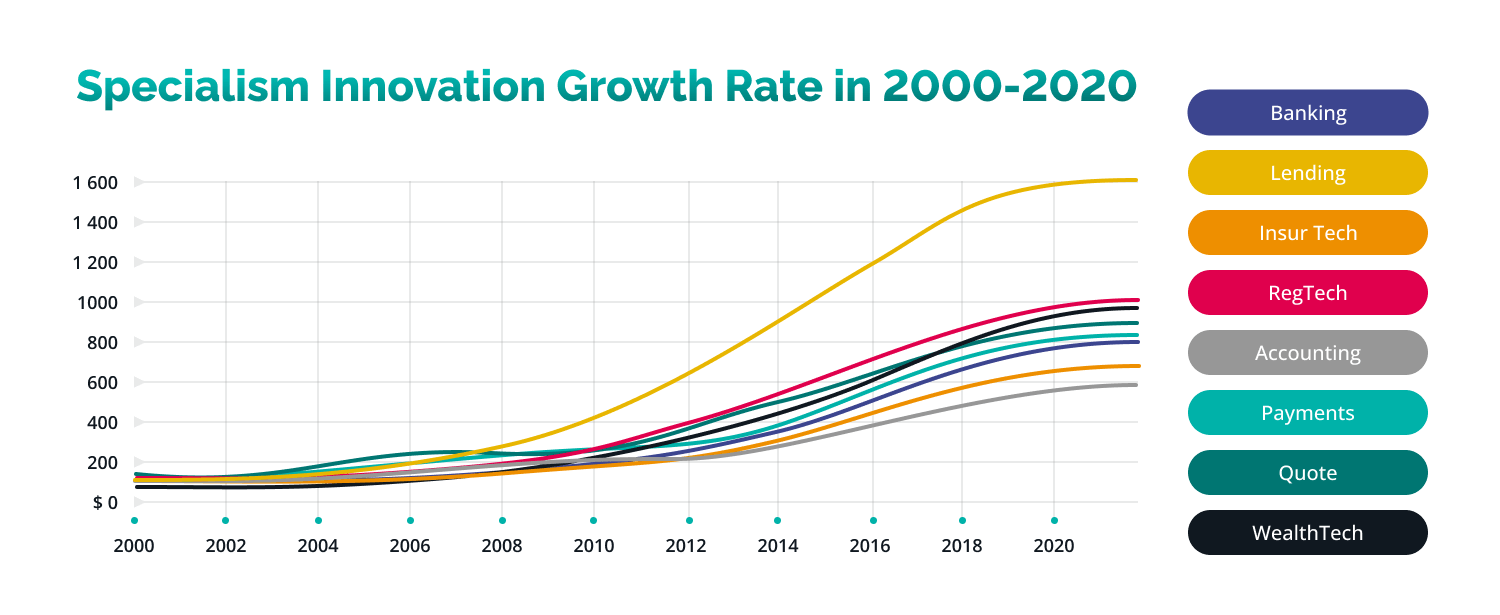 The UK is a leader in the global FinTech industry, with around 2,500 FinTech companies operating in the country. These companies are involved in 23 different specialisms, which fall under eight broad categories:
Digital banking
RegTech
InsurTech
Lending
Payments
WealthTech
Quote aggregators
Accounting, auditing, and cash flow management
Among these specialisms, WealthTech and payment technology are the UK's clear strengths, accounting for more than 50% of all UK FinTechs. WealthTech, which includes personal finance management and cryptocurrencies, is primarily driven by London, where 77% of WealthTech businesses are based.
Build your custom WealthTech solution with us
Learn more
Lending has also experienced double-digit growth over the past 20 years, with many notable players in the industry today. Business banking, mainly invoice and cashflow management, has had a lower growth rate than other specialisms in recent years, suggesting that the market has become more saturated.
The growth of these specialisms is driven by various factors, including regulatory support for new banking licenses and legislation facilitating innovation in FinTech and banks future such as open banking. These drivers have led to the rise of neobanks and innovative products in personal finance management, such as Moneybox.
New Features of FinTech in the UK
With the UK growth comes the opportunity to explore new features and services that can give customers more value.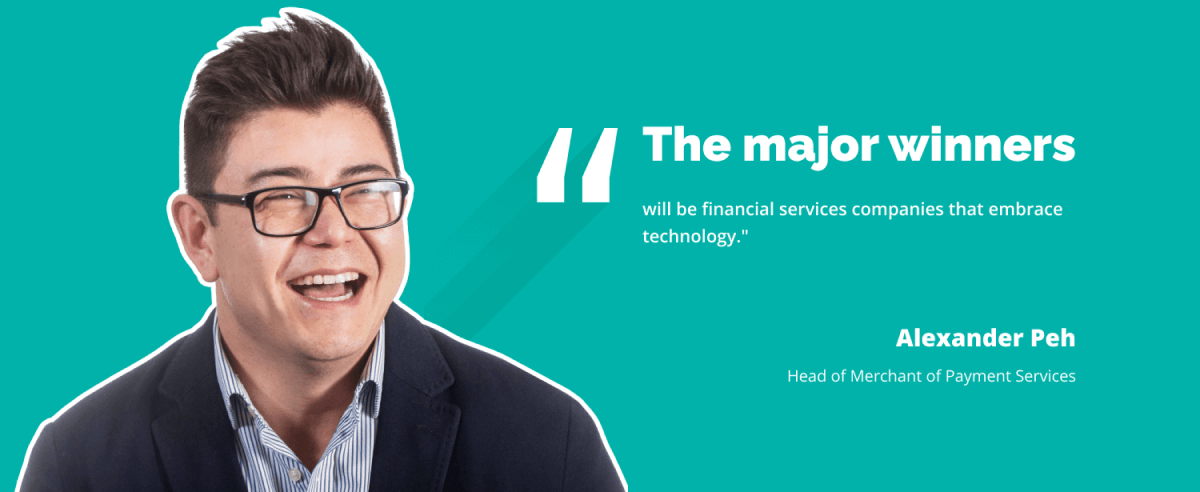 One area that has seen significant attention in recent years is open banking. According to research by Accenture, 69% of UK consumers are interested in using open banking to access new financial products and services. This presents an opportunity for fintech companies to develop new features that leverage open banking to provide customers with personalized and data-driven financial advice and new investment and savings products.
Another area ripe for innovation is using artificial intelligence and machine learning in fintech. A study by PwC found that 72% of financial services professionals believe that AI will be the most significant technology to shape the industry in the next five years. Fintech companies can leverage AI and ML to provide more accurate and personalized risk assessments, fraud detection, and even robo-advisory services that use customer data to recommend investment strategies.
In the payments space, there is potential for new features that provide greater security for consumers. For example, biometric authentication technologies such as fingerprint and facial recognition can make payments more secure and faster.
Top-100 Biggest FinTech Companies From the UK
Now that you have a context about the market and its growth let's go to the examples. You'll see some great names here and some new ones worth knowing. Let's take a look at the top players.
We prepare a list of companies leading the UK's financial technology industry. You can download a PDF with the complete list while continue reading how we dive deeper into the first ten.
Who's in the First 10 of the FinTech Companies in the UK
The UK has established itself as a leader in the global fintech industry, with many innovative companies making their mark in recent years. Here are some of the top fintech companies in the UK to look out for:
Checkout.com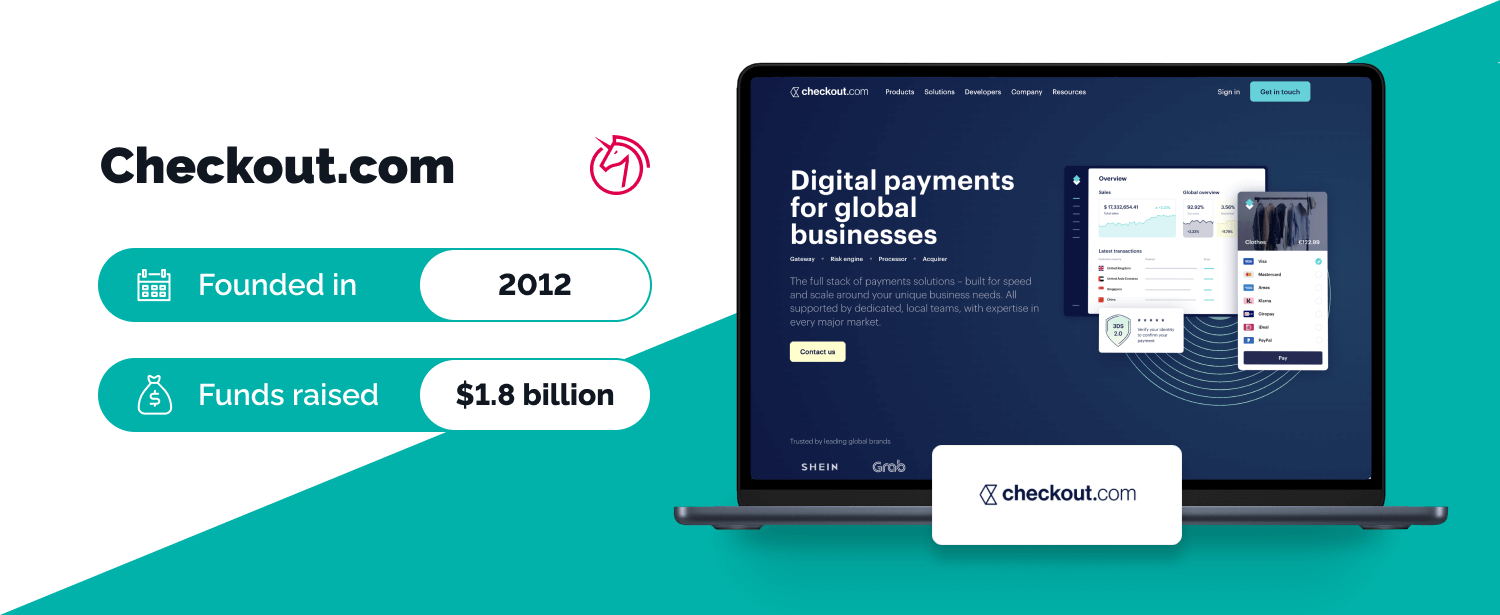 Checkout.com is a leading global payments solution provider that empowers businesses to accept payments from customers worldwide. The company provides payment solutions for e-commerce businesses, fintechs, and other industries, offering seamless, secure, and reliable transactions.
Founded in 2012
Funds raised: $1.8 billion
Checkout.com features are:
Global coverage: With a presence in over 50 countries and the ability to accept payments in over 150 currencies, Checkout.com provides global coverage for businesses of all sizes.
Advanced fraud prevention: Checkout.com uses a range of sophisticated tools and machine learning algorithms to prevent fraudulent transactions, reducing the risk for both merchants and customers.
Real-time insights and analytics: The platform provides real-time data and insights into transaction data, allowing businesses to optimise their payment strategy and make informed decisions.
Customizable payment options: Checkout.com offers a wide range of customizable payment options, allowing businesses to tailor their payment experience to their specific needs and preferences.
Seamless integration: The platform is designed to seamlessly integrate with a wide range of e-commerce platforms, making it easy for businesses to start accepting payments quickly and easily.
Revolut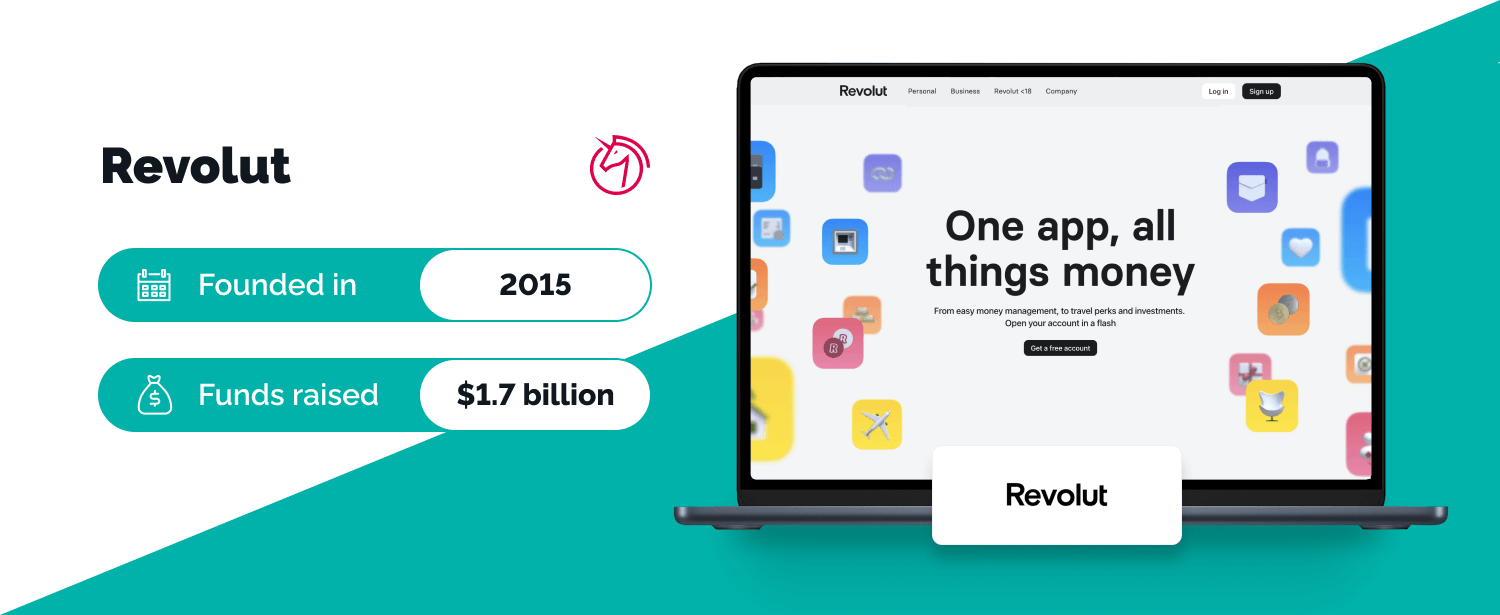 Revolut is a London fintech company that offers banking and financial services through its app. The company has grown rapidly, with over 16 million customers worldwide. Revolut offers a range of features, including mobile payments, currency exchange, and budgeting tools, all accessible through its user-friendly app.
Founded in 2015
Funds raised: $1.7 billion
Revolut features are:
Multiple currency accounts: Revolut allows users to hold and exchange multiple currencies at the interbank exchange rate with no hidden fees.
Budgeting and saving tools: The app helps users to track their expenses, set budgets, and save money with features like round-ups and Vaults.
Cryptocurrency trading: Revolut allows users to buy, sell, and hold cryptocurrencies within the app, including Bitcoin, Ethereum, and Litecoin.
Insurance and investment products: The company offers various insurance products like travel, device, and medical insurance. It also has a trading platform for stocks, commodities, and other assets.
Premium accounts: Revolut offers premium accounts with additional features like exclusive card designs, higher ATM withdrawal limits, and travel insurance.
Revolut is about flexibility and convenience in managing finances, making it a popular choice for digital-savvy users who want to manage their finances on the go.  
Wise
Wise is a UK fintech company that has revolutionized how we send and receive money across borders, in other words, international money transfers. Since its founding, the company has had over 10 million customers worldwide.
Founded in 2011
Funds raised: $1.7 billion
Wise features are:
Low fees: Its fees are typically much lower than traditional banks or other money transfer services. This is achieved by using mid-market exchange rates and charging a small percentage fee on top.
Fast transfers: Wise offers fast international transfers, often delivering funds within a few hours. Its extensive network of local bank accounts in different countries makes this possible, allowing for direct transfers without intermediaries.
Multi-currency accounts: These allows users to hold and manage multiple currencies in one account. This is especially useful for people who regularly transact in different currencies, as it eliminates the need to convert funds constantly and incur exchange fees.
Debit card: Company recently launched a debit card that allows users to spend money abroad with low or no transaction fees. The card supports multiple currencies and can be managed directly from the Wise app.
Business solutions: Besides its consumer services, Wise also offers business solutions. These include international payments, currency exchange, and a multi-currency account for small and medium-sized enterprises.
Its services are especially valuable for people and businesses that frequently transact in different currencies, making it a popular choice among ex-pats, freelancers, and international companies.
SumUp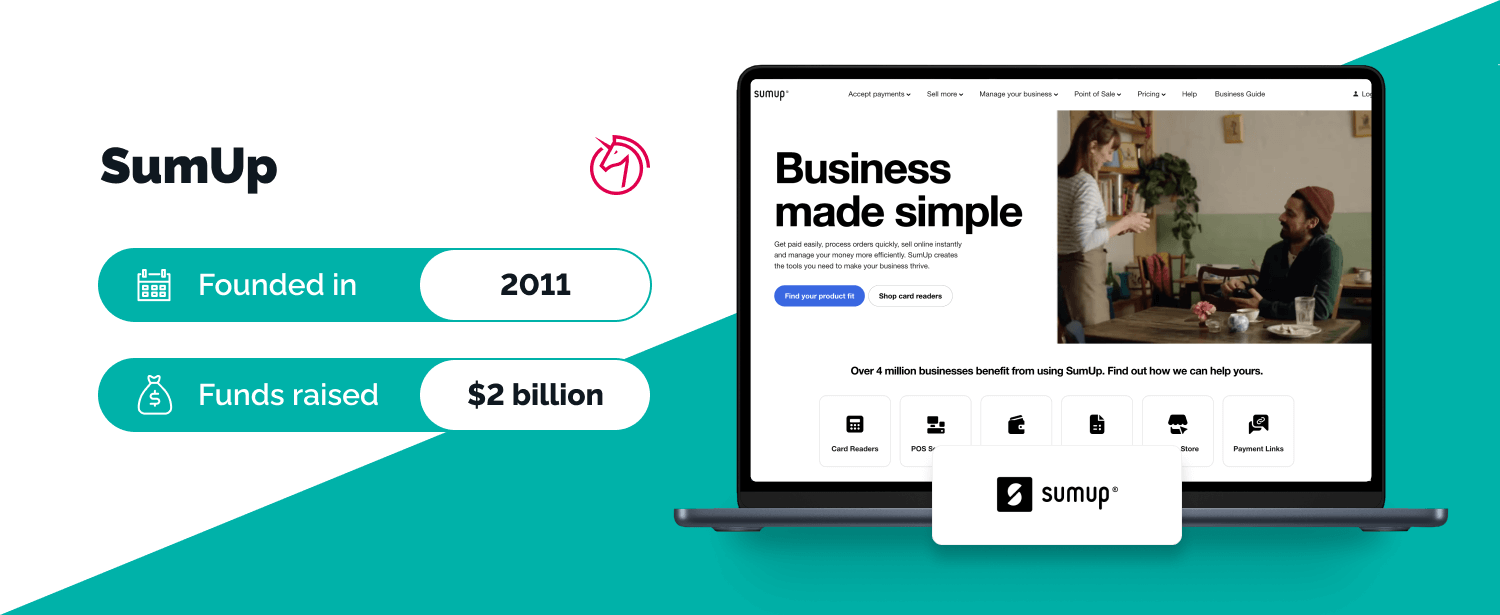 SumUp is a UK fintech company that provides payment solutions for small businesses, enabling them to accept card payments through their mobile devices. Its products are designed to be easy to use and affordable, making it an attractive option for small businesses looking to expand their payment options.
Founded in 2011
Funds raised: $2 billion
SumUp features are:
Global reach: SumUp operates in 33 countries, making it one of the largest mPOS providers in the world. It offers local language support and local currency settlement and accepts payments in various currencies.
Integration with other business tools: The platform can be integrated with various other business tools, such as accounting software, inventory management systems, and e-commerce platforms, streamlining business operations and improving efficiency.
Mobile point of sale (mPOS) technology: SumUp's main product is its mobile card reader, which allows merchants to accept card payments anywhere using a smartphone or tablet.
Simple pricing model: Company offers a transparent and easy-to-understand pricing model with no monthly fees, minimum transaction amounts, or hidden costs. Merchants only pay a flat fee per transaction, making it easier to manage their finances and understand their costs.
Security and compliance: It is certified as a Level 1 PCI-DSS compliant provider, ensuring all transactions are secure and encrypted. It also adheres to strict data protection regulations in each country, protecting merchants' and customers' data.
LendInvest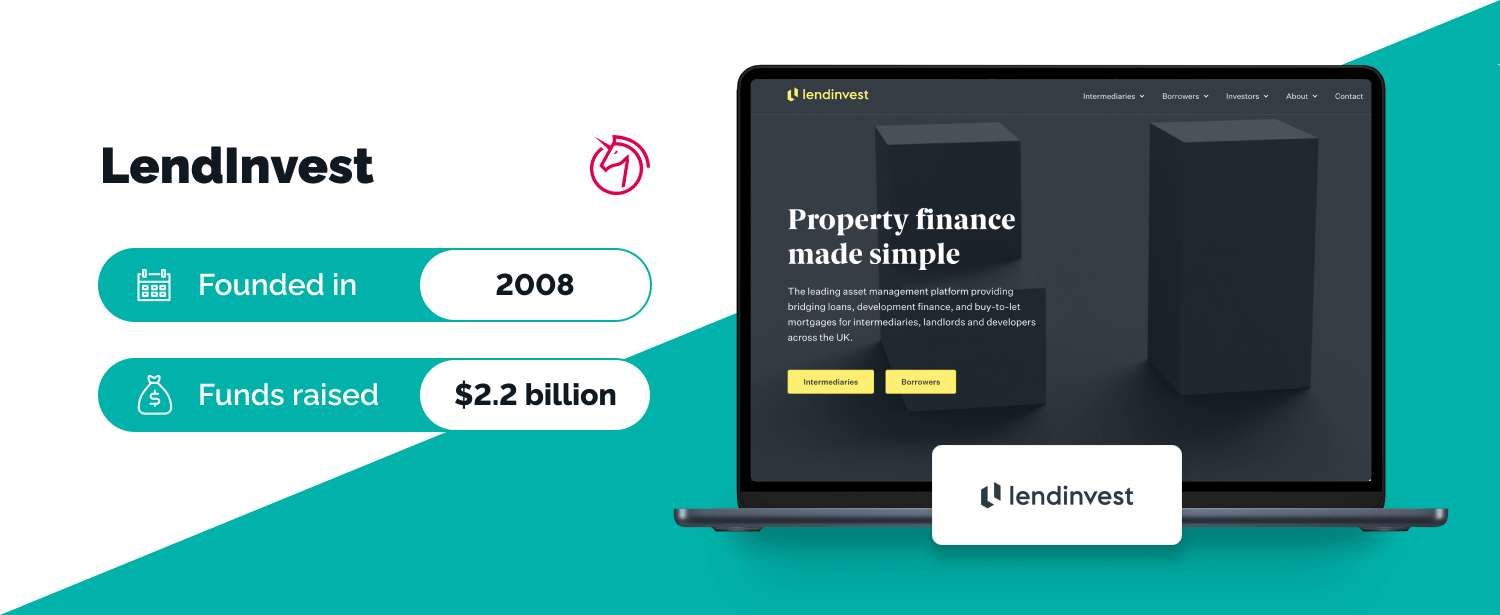 One of the fintech companies in London LendInvest, is a digital property lending and investing platform that allows borrowers to access property finance and investors to invest in secured property loans. It uses technology to streamline the lending process, making it faster, more efficient, and more accessible than traditional lenders.
Founded in 2008
Funds raised: $2.2 billion
LendInvest features are:
Quick loan processing: LendInvest has a streamlined system that enables borrowers to apply, receive approval, and receive funds quickly.
Diverse loan products: Company offers a variety of loan products, including bridging loans, development finance, and buy-to-let mortgages, all tailored to the needs of property investors and developers.
Tech-driven platform: It leverages technology to offer innovative solutions to property finance, such as its online mortgage application portal, which allows customers to track the progress of their application in real-time.
Strategic partnerships: Platform has strategic alliances with industry leaders such as the National Association of Commercial Finance Brokers (NACFB) and the UK Crowdfunding Association (UKCFA), which help to enhance its offerings and reach.
Innovative funding: LendInvest is also unique in its funding model. It operates a peer-to-peer lending platform, connecting individual investors with borrowers, creating a win-win scenario for both parties.
Prodigy Finance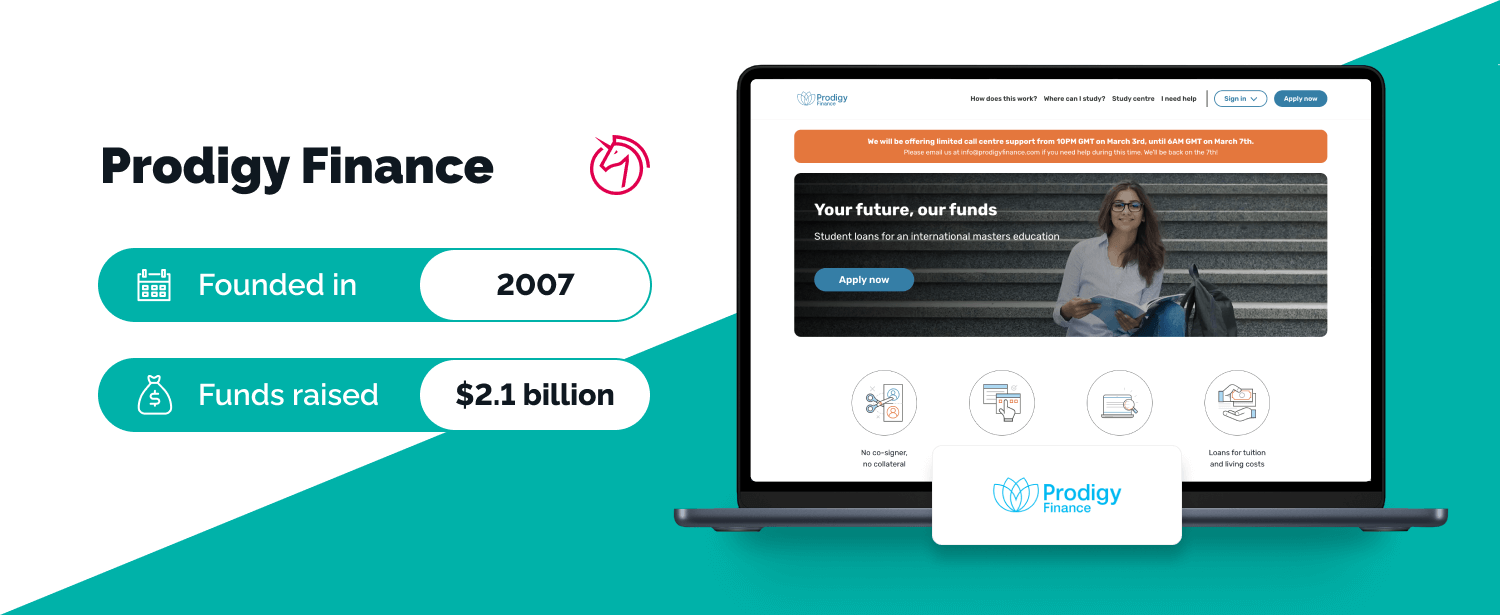 Prodigy Finance is a UK fintech company that provides loans to over 20,000 students international students studying abroad. It uses crowdfunding to fund its loans, enabling investors to support students and earn a return on their investment.
Founded in 2007
Funds raised: $2.1 billion
Prodigy Finance features are:
Cross-border financing: Prodigy Finance offers to fund students from over 150 countries, allowing them to pursue their education at leading universities in the UK, US, and other countries.
No collateral required: Unlike traditional lenders, Prodigy Finance does not require collateral or a co-signer for its loans, making it more accessible for students who may not have these resources.
Competitive interest rates: It offers competitive interest rates on its loans, based on the student's future earning potential.
Career support: The company provides career coaching and job placement support to its borrowers, helping them to secure employment after graduation.
Income share agreements: Besides traditional loans, Prodigy Finance offers income share agreements (ISAs), which allow students to pay back their loans based on a percentage of their future income after graduation.
Curve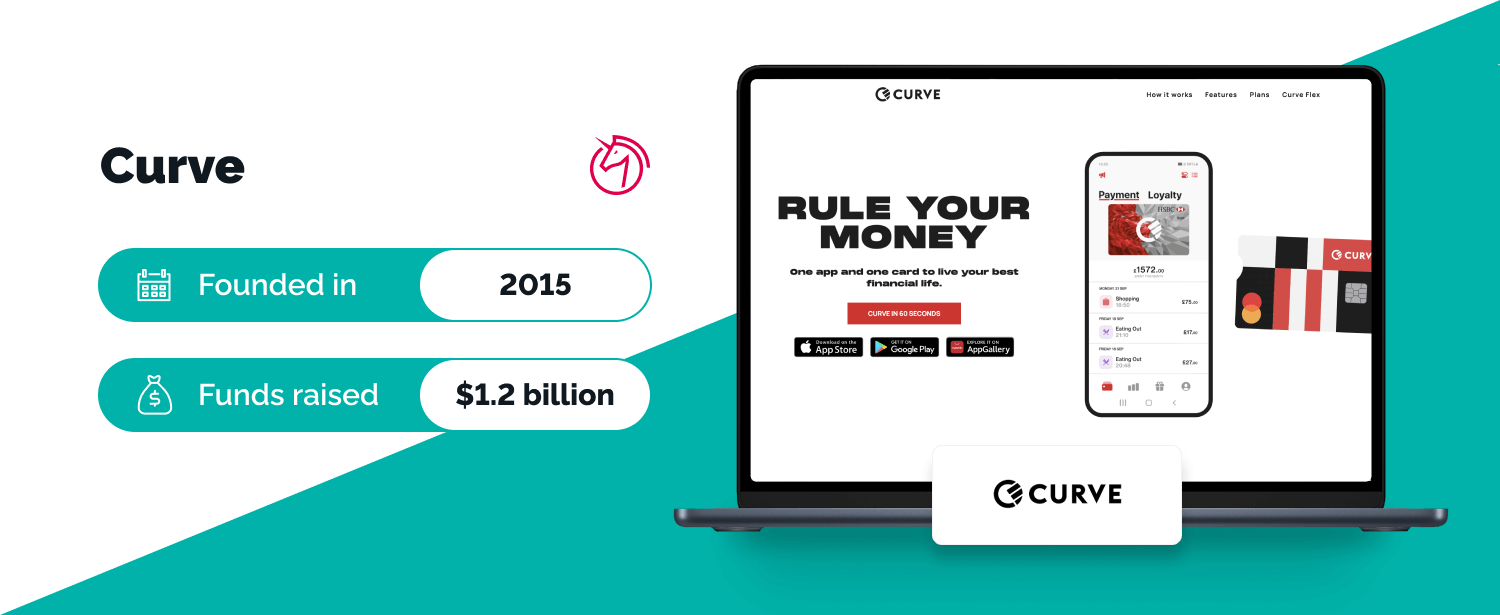 Curve is a mobile banking platform that allows users to link all their accounts and cards in one place, making it easier to manage their finances and track their spending.
Founded in 2015
Funds raised: $1.2 billion
Curve features are:
All-in-one card management: Curve allows you to link all your cards (debit, credit, and prepaid) to a single Curve card, giving you the freedom to choose which one to use at the point of purchase. You can also switch between cards after a transaction has been made.
Real-time alerts: With Curve, you receive instant notifications each time you use your card, including how much you've spent, where you made the purchase, and which card you used.
Go back in time: This feature allows you to switch the card you used for purchase after it has already been made, up to 14 days later. This is especially useful if you've accidentally used the wrong card or need to take advantage of a better rewards program.
Fee-free foreign currency transactions: Curve allows you to spend abroad without foreign transaction fees or hidden charges. You get the interbank exchange rate and no additional fees for ATM withdrawals or point-of-sale purchases.
Curve rewards: Curve offers a loyalty program that rewards you with Curve Cash for each transaction you make with your Curve card. You can use Curve Cash to pay for purchases with your Curve card or transfer it to your bank account.
Lendable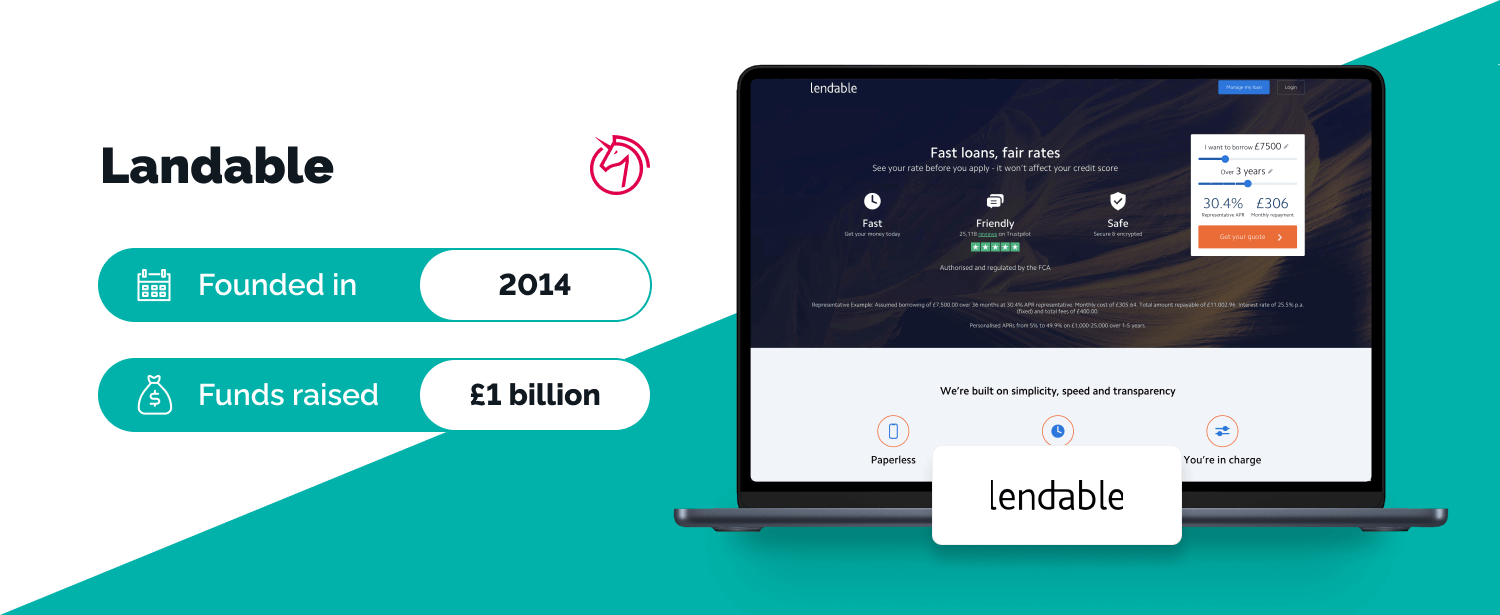 Lendable is a UK fintech company that provides loans to individuals through its online platform. It uses technology to streamline the loan application process, making it faster and more accessible than traditional lenders.
Founded in 2014
Funds raised: £1 billion
Lendable features are:
Data-driven credit: Lendable leverages machine learning algorithms and data analytics to assess creditworthiness and make real-time lending decisions. This enables the company to provide customers with faster loan approvals and better interest rates.
Flexible loan products: It offers flexible loan products to suit various borrowing needs. Customers can borrow from £1,000 to £20,000, with repayment terms ranging from 12 to 60 months.
No hidden fees: Platform is committed to transparency and charges no hidden fees on its loans. Customers only pay interest on the amount borrowed, with no prepayment penalties.
Personalized loan offers: The company uses data analytics to provide personalized loan offers to its customers. This means borrowers are offered loan amounts and interest rates tailored to their credit profiles and financial circumstances.
Landbay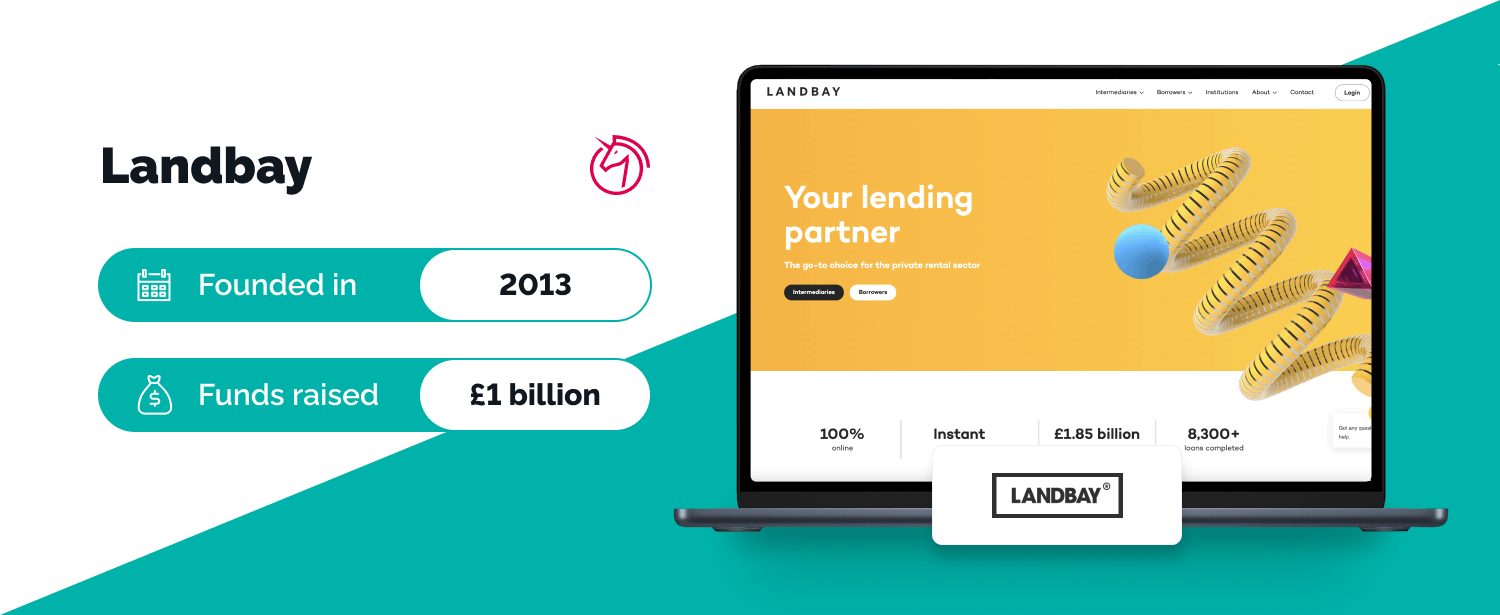 Landbay is a UK fintech company that provides buy-to-let mortgages to property investors. The company uses technology to assess the risk of each loan and tailor its rates to individual borrowers, making it an attractive option for property investors.
Founded in 2013
Funds raised: £1 billion
Landbay features are:
Easy and fast access to buy-to-let mortgage finance: Landbay offers competitive rates and efficient access to mortgage finance for buy-to-let investors, with a fully online application process.
Innovative risk management: Landbay uses a proprietary algorithm to assess the risk of each mortgage application. The algorithm considers factors such as location, rental income, and borrower creditworthiness to determine the likelihood of default.
Transparent fees: Landbay is known for its transparent fee structure, which includes no hidden fees or charges. Investors can see exactly what they are paying for and how much they can expect to earn.
Diverse investment opportunities: Investors on the platform can diversify their portfolio with a range of buy-to-let mortgages, helping to spread risk and maximize returns.
Expert underwriting and risk management: The platform's underwriting and risk management are led by experienced mortgage industry professionals, who assess every borrower and property before approving a mortgage.
Strong regulatory compliance: Landbay is authorized and regulated by the Financial Conduct Authority in the UK, providing peace of mind for investors and borrowers alike.
FNZ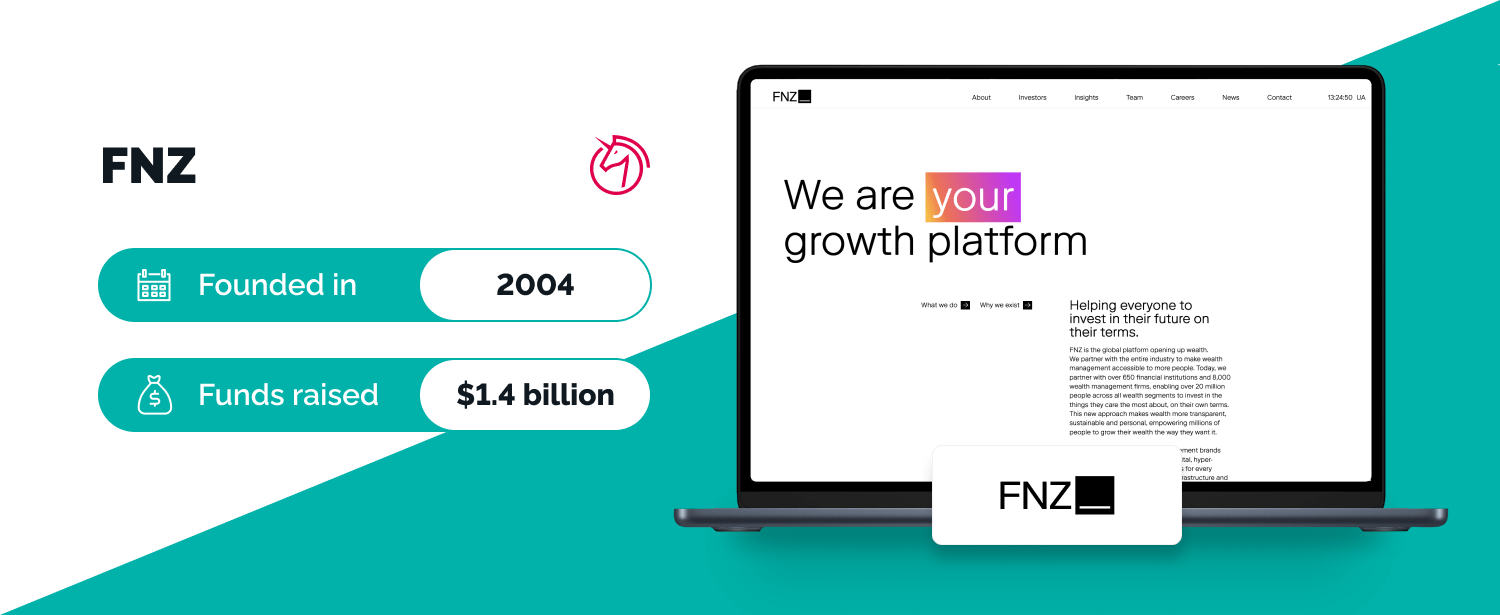 One of the UK fintech unicorns FNZ is a wealth management platform that provides technology and investment solutions to financial institutions globally. Its platform allows financial advisers and institutions to offer customized investment solutions to their clients, helping them achieve their financial goals.
Founded in 2004
Funds raised: $1.4 billion
FNZ features are:
B2B2C focus: FNZ operates a business-to-business-to-consumer (B2B2C) model, which means it partners with financial institutions to offer investment solutions to their clients.
Global reach: With a presence in Europe, Asia-Pacific, and the Americas, FNZ has a global reach that enables it to offer investment solutions in multiple currencies and languages.
Customized investment solutions: FNZ's platform allows financial advisers and institutions to offer customized investment solutions to their clients based on their individual needs and goals.
Scalable technology: Platform is built on a scalable technology that can handle large volumes of transactions and data. This enables financial institutions to grow their client base without worrying about infrastructure limitations.
Innovative solutions: It is known for its innovative solutions in the investment management space, including robo-advisory and digital wealth management. This enables financial institutions to offer cutting-edge investment solutions to their clients.
These ten companies represent the best of UK fintech, each bringing its unique approach and specialism to the industry. By keeping an eye on the latest trends and innovations within these companies, decision-makers in the fintech industry can gain valuable insights into what's driving success in this fast-paced and constantly evolving sector.
Bamboo
Learn how we built macro-investing app with its own token and reward system
Learn more
Wrapping Up
The UK is a global leader in the fintech industry, with a vibrant ecosystem of innovative companies pushing the boundaries of what is possible in finance. From mobile payments to wealth management, peer-to-peer lending to transaction processing, the UK fintech market is diverse and dynamic, offering something for everyone.
We have explored some of the top fintech companies in the UK, highlighting their unique features and specialisms. While many more companies could be added to this list, the featured ones represent some of the most exciting and innovative players in the market.
Whether you are looking for new ideas and inspiration or simply someone interested in the latest trends and developments, the UK fintech market will surely offer something of value. As the industry continues to grow and evolve, it will be fascinating to see what innovations and breakthroughs emerge and how they will shape the future of finance.
TechMagic offers finTech app development services, starting from digital wallets to banking, and trading platforms to blockchain development services for any size business. If you're seeking assistance realizing opportunities for your organization and achieving business objectives - contact us.
FAQs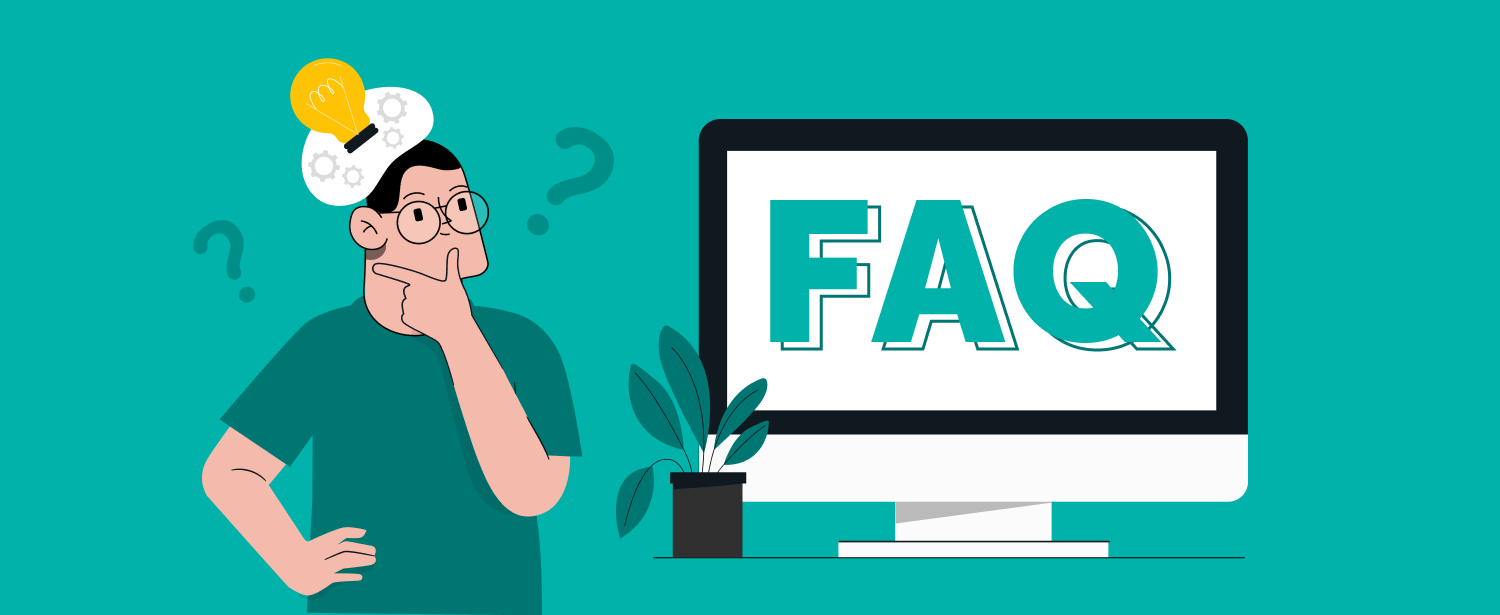 How many FinTech companies does the UK have?

The UK is home to many fintech companies; the exact number constantly changes as new companies emerge and existing ones evolve. According to the latest data from Innovate Finance, more than 2,500 fintech companies are operating in the UK as of 2021.

Which FinTech sectors have the most FinTech companies in the UK?

The UK fintech industry is highly diversified, with companies operating across various sectors. However, some sectors are particularly well-represented, such as payments and lending. According to Innovate Finance, these two sectors alone account for over 50% of all fintech investment in the UK.

Is fintech in demand in the UK?

Yes, fintech is in high demand in the UK from consumers and businesses. With its robust regulatory environment, world-class talent pool, and supportive ecosystem, the UK is an attractive location for fintech companies to establish themselves and grow. As a result, the industry is rapidly expanding, with new companies constantly emerging and existing ones evolving to meet changing needs and preferences.