HIPAA Compliance Checklist For Healthcare Software Development 2023

by Artem Arkhipov
Web Expert at Techmagic, full-stack developer, coach and speaker. Passionate about JavaScript, Cloud Computing and Serverless.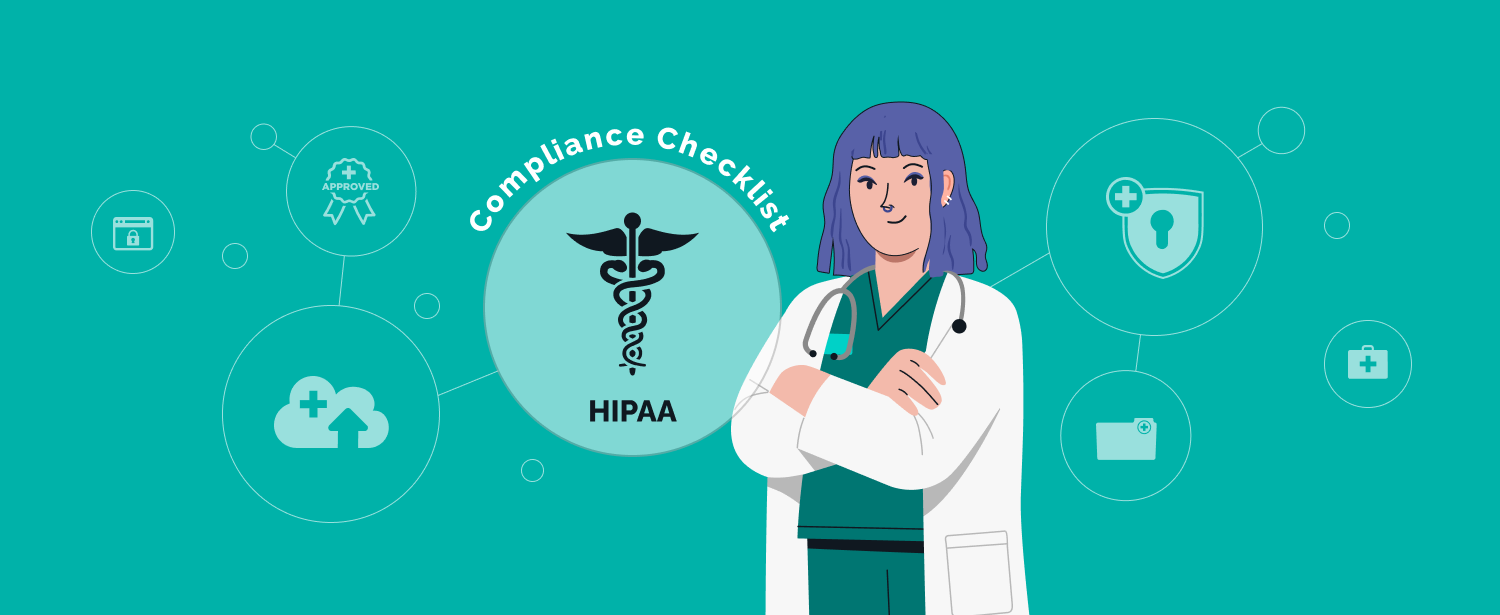 HIPAA compliance requires securing protected health information by healthcare organizations.
Companies must prevent unauthorized access to Social Security numbers, medical record numbers, health plan beneficiary and account numbers, and the identities of patients, family, or employers and protect PHI's confidentiality, integrity, and availability.
When it doesn't happen, companies strive for strict penalties and fines for HIPAA infractions, reaching fines of up to $25,000 per violation category each year.
Creating healthcare software, we understand HIPAA compliance might be complicated, but maintaining your compliance strategy ensures the company data's security and protection.
HIPAA compliance checklist 2023 helps an organization to be HIPAA compliant, which paves the way for success. We created the software HIPAA technology checklist to help you understand what to look out for and how to keep compliant with regulations building healthcare software.
Let's get started!
HIPAA Compliance

HIPAA compliance is the process of safeguarding the privacy and security of health information, providing individual access to their healthcare data, and maintaining sensitive patient data, often known as protected health information, or PHI.
Protected Health Information (PHI) is healthcare data that belongs to you, me, or everyone. PHI is the information that HIPAA attempts to preserve and keep private. The Safe Harbor Rule specifies what data types must be removed to declassify PHI. So what information does PHI include?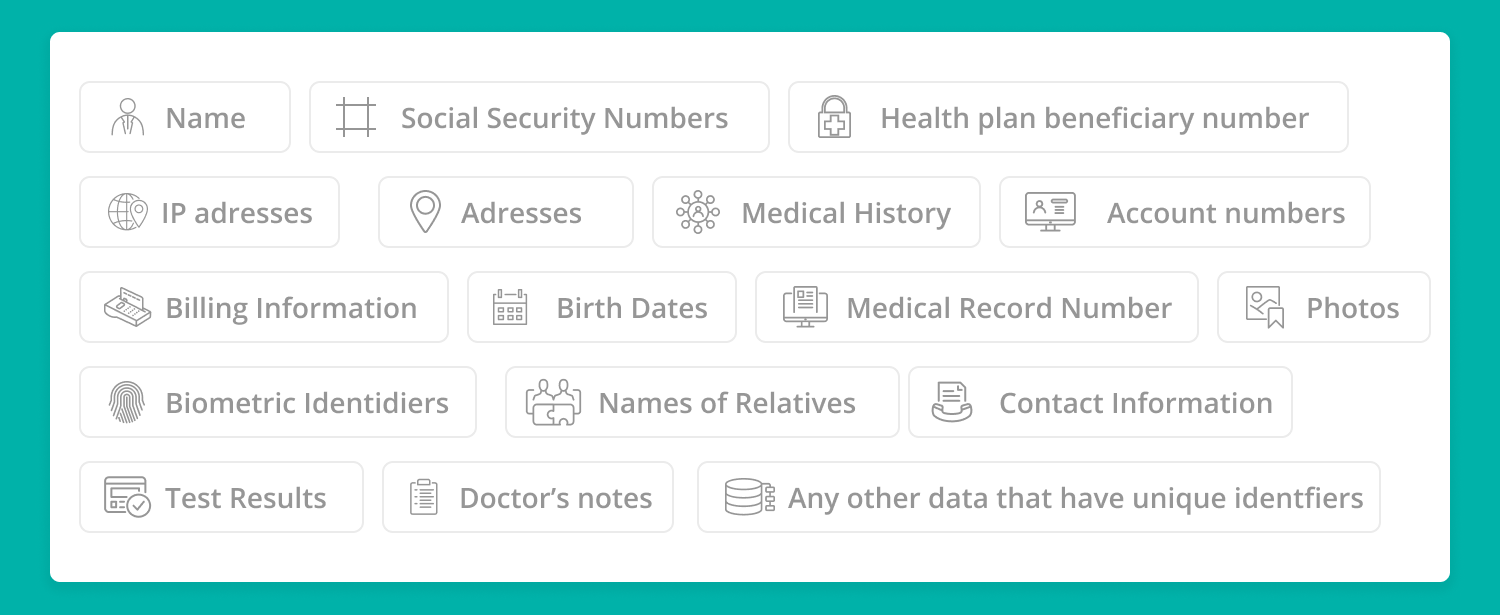 HIPAA compliance is a continuing process that implements robust protections for data security, encryption, employee training, risk assessments, reporting, and other things. In other words, HIPAA compliance ensures that your organization is doing everything possible to protect the privacy of the individuals it serves.
In 2021, data breaches cost Lifetime Healthcare Companies $5,100,000, the highest penalty of the year based on the Compliancy Group. This is just one of the millions of dollars in penalties levied by the Department of Health and Human Services (HHS) Office for Civil Rights year after year.

"The HIPAA requirements apply to all healthcare firms, whether large or small, Covered Entities, or Business Associates," says Marc Haskelson, CEO of Compliancy Group. "It is given to these organizations to secure sensitive health information in an orderly manner. The Seven Elements contain this systematic management and are the minimum, the non-negotiable skeleton of any compliance program."
You must ensure that your product is HIPAA-compliant if you:
design custom healthcare software,
implement IT systems in medical organizations,
create an EMR/EHR (electronic medical/health records) system,
or give any service to healthcare companies, even with HIPAA eligible services AWS.
Otherwise, you risk losing millions of dollars, your reputation, and maybe even your company.
Who has to be HIPAA-compliant?
HIPAA's goal is to regulate the healthcare business. According to the US Department of Health and Human Services, compliance standards apply to three categories of organizations in general.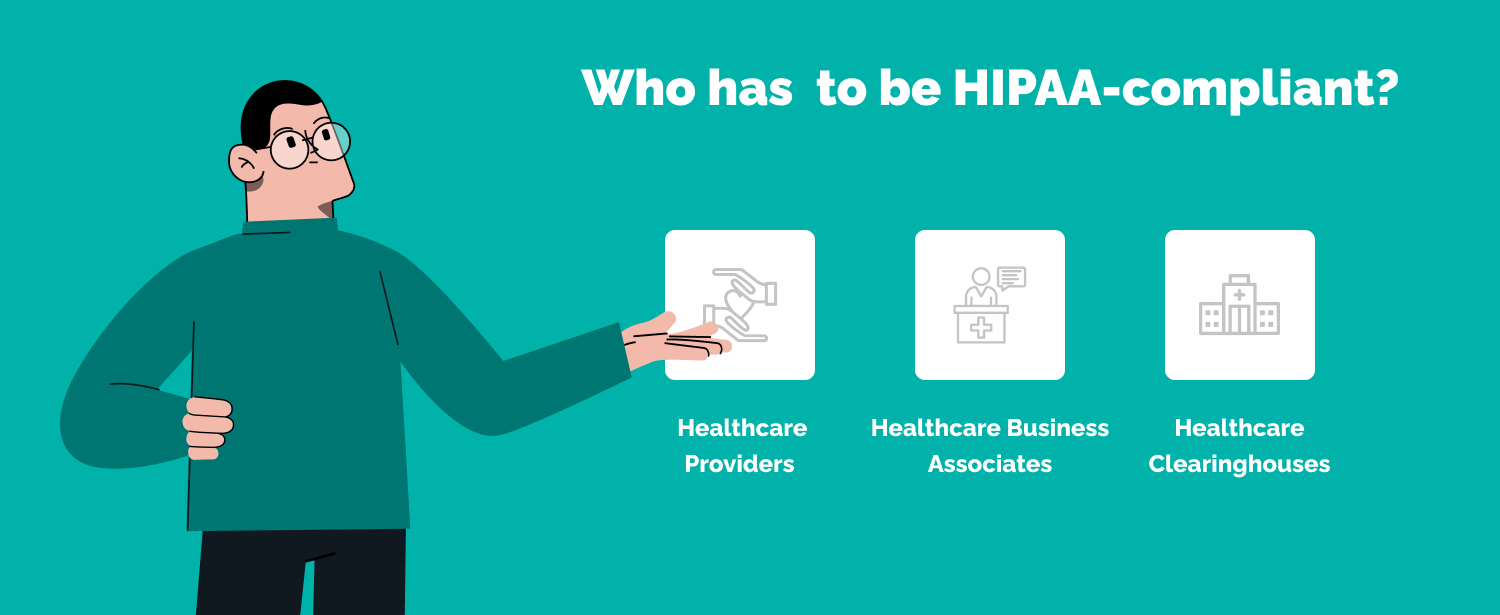 Providers or covered entities are individuals in the healthcare industry who use and have access to PHI.  They are directly engaged in creating and transmitting PHI through the performance of the treatment or other procedures and the acceptance of HIPAA compliant credit card processing. These companies must comply with all HIPAA standards.
Examples of covered entities:
Doctors
Clinics
Psychologists
Dentists
Nursing Homes
Pharmacies
Health insurance firms
Individuals and services operating with a covered entity in a non-healthcare role are also responsible for HIPAA compliance are business associates. These organizations come into contact with protected health information (PHI) from covered companies but are not engaged directly. This category includes several businesses that provide services to the healthcare industry.
Examples of business associates include:
Data storage firms,
IT providers
Accounting companies
Consultants
EHR platforms
Third-party consultants,
Billing companies
Administrators
Cloud service providers
Attorneys
CPA firms
Clearinghouses or subcontractors are firms that business partners contract to assist with certain specialist jobs. Because it also implies that they may have some PHI access, HIPAA also applies to them.
Examples of subcontractors are:
cloud hosting services,
shredding firms
How to become HIPAA compliant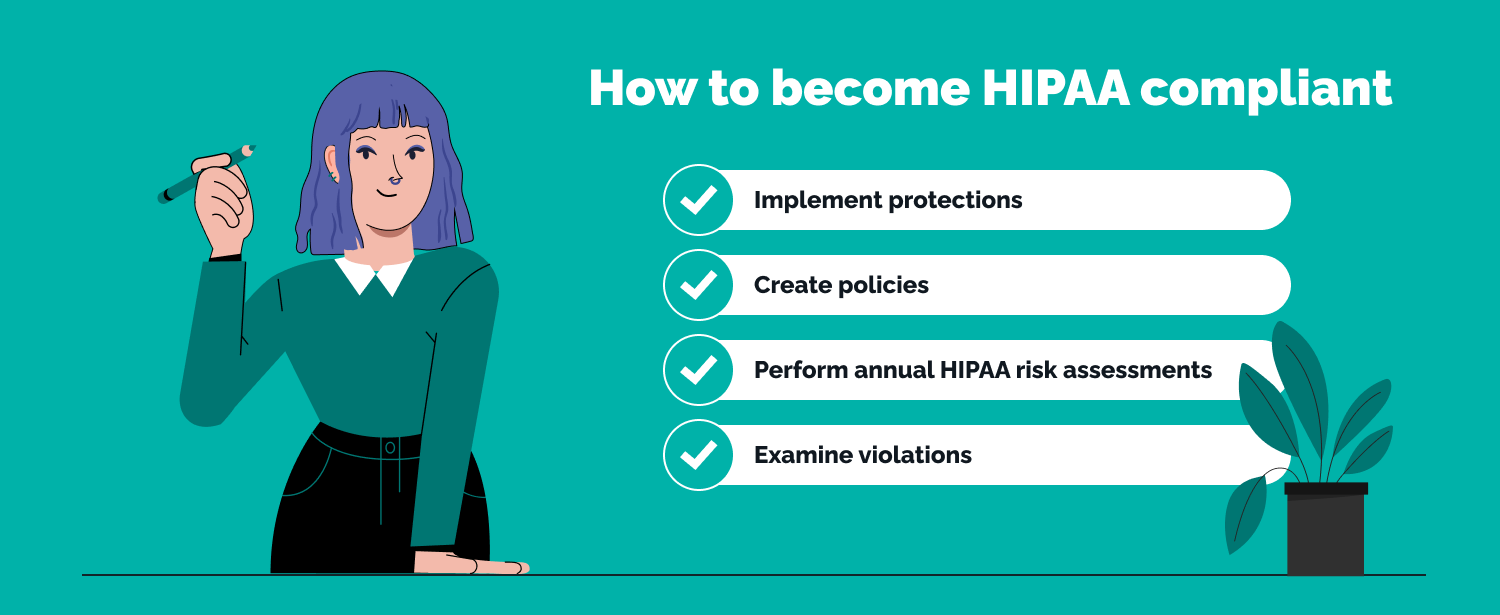 Meeting all HIPAA regulations needs a mix of internal procedures, appropriate technology, and strategic external relationships. Before discovering the rule's specifics, consider how to become HIPAA compliant from a strategic standpoint.
Implement protections: HIPAA compliance requires robust PHI safeguards, both physically and digitally. Physical PHI storage facilities should only be accessible to authorized people. Strong password and login safeguards should also be implemented.
Create policies: The next step is to create and execute robust cybersecurity standards, policies, and procedures. Your administrative systems and processes should all be HIPAA compliant, as should your workforce. Also, ensure that your policy is well-documented and widely distributed within the organization.
Perform annual HIPAA risk assessments: If you haven't already begun planning for 2023, now is the moment. Risk audits should encompass all administrative, physical security, and technology security measures your firm has implemented to ensure HIPAA compliance.
Examine violations: Mistakes happen, whether you discover them, an auditor, or authorities. If a violation is discovered, have systems in place to undertake root cause analysis and remediation so that the problem does not reoccur.
HIPAA Compliance Checklist 2023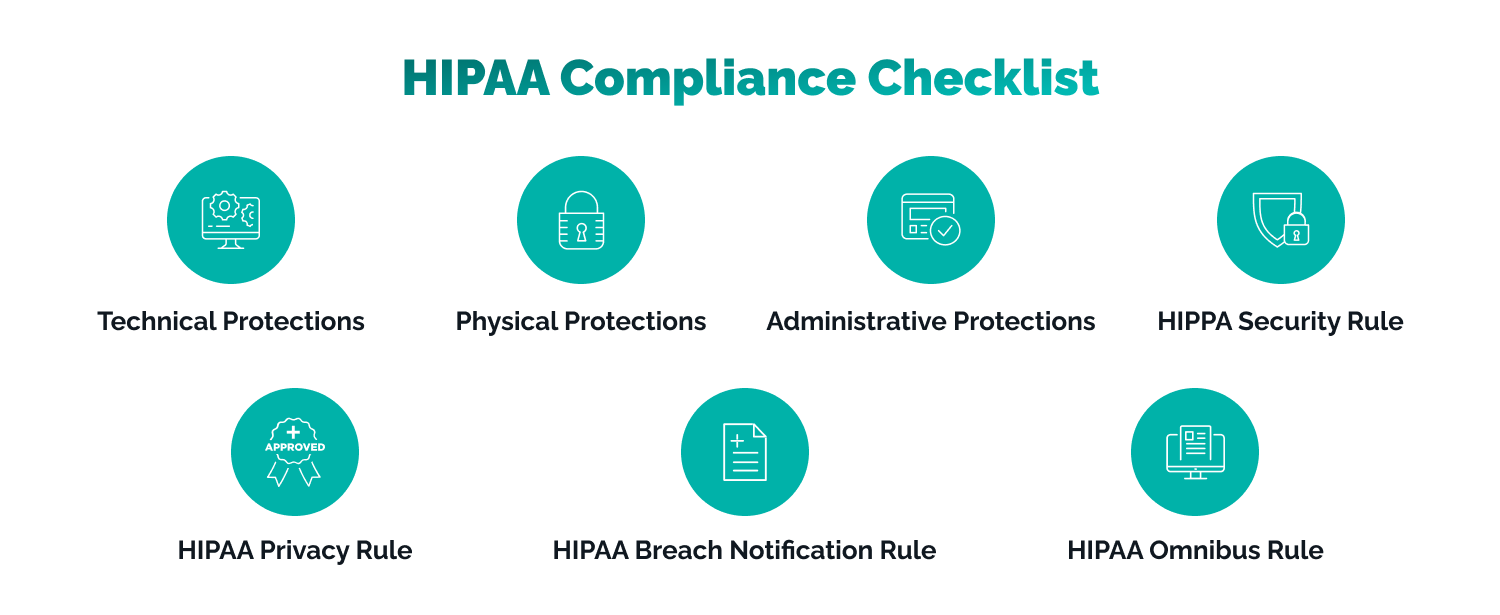 Step 1: Create standards for security management.
First, a privacy officeholder should oversee the HIPAA compliance process. This individual should also manage the rules and processes outlined in the Privacy and Security rules. Another important part of HIPAA compliance audit checklist is documentation. Each policy and process to protect PHI should be documented in your company.
Step 2: Assign who will be responsible for HIPAA compliance.
HIPAA compliance is simple to handle when assigned to a responsible person or department. A smart approach is to assign a HIPAA compliance officer to supervise all compliance aspects, as it presents a company with a clear responsibility.
Step 3: Create a HIPAA compliance management strategy.
HIPAA includes several regulations the organization must follow to be compliant. They involve following several internal processes and requiring personnel training. If you work in the healthcare business, your long-term organizational plan should include HIPAA-related topics.
Step 4: Conduct HIPAA risk evaluations.
You must also do a HIPAA risk review. This is necessary for HIPAA compliance since it allows you to detect flaws and vulnerabilities to avoid data breaches or any other top cyber threats.
These evaluations also ensure that administrative, technological, and physical protections are effectively implemented and that all relevant controls are in place.
Step 5: Check if your IT infrastructure fulfils the necessary standards.
PHI or ePHI cannot be stored anywhere; it must be kept safe. There are two sorts of protection: technological and physical. Technical support is provided for the hardware and software of the machine that stores PHI. Monitoring logs to see who accessed what data is an excellent example. Physical protections regulate who has access to PHI storage locations. It controls who has what credentials and how much data they can access.
Step 6: Maintain PHI handling technology.
A company is responsible for PHI security throughout transmission, usage, and repose under HIPAA. Incorporating cybersecurity technology into your setup is necessary to guarantee that your security procedures are not readily circumvented. Outdated systems let hackers in, so schedule security update pushes regularly.

Step 7: Determine the current degree of risk.
HIPAA-compliant firms conduct security audits regularly, making risk assessment a continuous process. In addition, your audits should include all administrative and technological policies. The only way to remain compliant is to conduct frequent audits.
Step 8: Investigate violations.
Common infractions in healthcare software development may include unauthorized PHI use and disclosure unauthorized PHI use or disclosure of more than the minimum required PHI.
If a breach occurs, your business should investigate to determine why it happened. It is a chance to tighten controls or update processes to ensure that such an occurrence does not occur again.
Step 9: Keep track of violations.
Everything HIPAA-related and its activities must be registered and recorded. At TechMagic, we practice having it all in one place to make HIPAA compliance regulations more apparent and beneficial in case of a breach.
Each report of a discovered HIPAA violation must provide guidelines and a timetable for correction. This phase is usually taken following your audits to fix each detected violation before it will be completely HIPAA-compliant.
Step 10: Learn about the four HIPAA regulations.
HIPAA compliance security checklist specifies four standards for protecting a patient's medical information's privacy and security. Let's have a look at the first one - HIPAA Privacy Rule.
HIPAA Privacy Rule is a set of national standards to prevent unauthorized access to individuals' PHI and medical data. It provides people with primary control over their health information. The rule applies to health plans, healthcare clearinghouses, and providers facilitating electronic healthcare transactions. These organizations must have adequate constraints and conditions on using and disclosing PHI.
Rule break example:
After a steal of a laptop containing 1,391 individuals' ePHI from an employee's vehicle, a wireless health service provider agreed to pay $2.5 million to address suspected HIPAA Privacy Rules breaches.

At the time of the theft, there was insufficient risk analysis and management systems, according to the inquiry. Furthermore, the organization's HIPAA Privacy Rule policies and procedures were in draft form. The organization could not develop definitive policies or processes for safeguarding ePHI, including mobile devices.
HIPAA Privacy Rule requires the following guidelines:
Implement documented policies, procedures, and behavior standards: Ensure you have written training requirements and written punishments that staff is aware of in case of a violation.
Put in place BA agreements: When doing business with a BA, ensure you have detailed, up-to-date agreements to shield your company from liabilities if the BA violates HIPAA regulations. Maintain administrative, technological, and physical protections to monitor PHI usage or disclosure.
Procedure for filing complaints: Implement mechanisms that allow patients to register a complaint with the CE about its HIPAA compliance and remind patients that concerns may also be addressed to HHS.
Retaliation: Retaliation against patients who use their rights under the Privacy Rule is prohibited. Patients may not be forced to submit their Privacy Rule rights to get treatment, payment, or enrollment.
Paperwork and record retention: Records of all privacy policies, privacy practice notifications, complaints, remediation plans, and other documentation must be kept for six years after they are created.
Despite the fact that the Privacy Rule's purpose is to protect PHI, it also allows for information among providers who need to use it to deliver the best patient care possible using HIPAA IT compliance checklist.
HIPAA Security Rule provides precise restrictions to prevent breaches in the production, distribution, storage, and disposal of electronically protected health information (ePHI). Since its implementation, the rule has been utilized to manage patient confidentiality in the face of evolving technologies. With the rise of cloud computing and online and distant document exchange, protecting ePHI is more vital than ever.
Rule break example:
The OCR examined a health insurance company in 2020 after hackers accessed the PHI of roughly 10.5 million people. The hackers accessed the provider's computer system with a phishing email containing malware. The malware provided the organization with access to ePHI and was undiscovered for 9 months.

The corporation was penalized $6.85 million by the OCR for breaching the HIPAA Security Rule.

A multi-state case was also resolved for $10 million, as was a class action lawsuit for $74 million.
Read also: AWS HIPAA Compliance Best Practices Checklist
These safeguards each have various requirements that must be met to be considered completely compliant. Because the legal verbiage surrounding each precaution and standard might be perplexing.
The HIPAA Security Rule requires covered organizations to keep reasonable and necessary administrative, technological, and physical protections in place to secure electronic protected health information (ePHI), including:
Ensure the confidentiality, integrity, and availability of all ePHI created, received, maintained, or transmitted;
Identify and protect against reasonably anticipated threats to the security or integrity of the information;
Safeguard against reasonably anticipated illegal uses or disclosures; and ensuring workforce compliance.
To maintain the confidentiality, integrity, and security of electronically protected health information, the Security Rule in the HIPAA compliance list for software development requires sufficient administrative, physical, and technological protections.
1. Administrative protections in HIPAA relate to rules and processes that clearly illustrate how the company will comply with HIPAA. This section connects the HIPAA Privacy Rule with the Security Rule. These precautions necessitate the following:
Perform risk evaluations
Implement a risk management policy
Third-party access to ePHI should be restricted
Create a backup plan in case of an emergency
Evaluate the backup plan
Employee cybersecurity training is available
Report any security issues
2. Physical protections concern the security of devices such as computers and mobile phones. Workstations and even data centres that hold ePHI are likewise subject to HIPAA's physical protections.
Make policies for the use and placement of workstations
Create policies and procedures for mobile device use
Make a list of all the gear
Put in place facility access controls
3. Technological protections pertain to the technology used to preserve and access ePHI. The most pressing concern for health organizations is using NIST-standard encryption to secure PHI at rest or in transit.
Put in place access control mechanisms
Implement activity logs and audit controls
To authenticate ePHI, use a method
Implement encryption and decryption technologies
Create a tool that will automatically log off PCs and gadgets
HIPAA Omnibus rule, one of the most recent amendments to HIPAA, broadens the scope of regulated companies beyond Covered Entities. As a result of the present outcome, covered entity will be held liable for any possible breaches committed by its business partners and subcontractors. It made blaming the partners for upping the safety requirements more difficult.
Rule break example:
A city of New Haven reported a data breach in 2017 after a terminated employee used their login credentials to access a work computer and transfer ePHI data onto a USB drive.

According to OCR, the city failed to protect HIPAA omnibus rule in various ways. At the time of their termination, the city had not deactivated the former employee's login credentials. Employees were also not provided individual login passwords to track their system activities and contacts with ePHI.

In addition, the company failed to conduct a risk assessment to identify possible risks and vulnerabilities to the confidentiality, integrity, and availability of ePHI. As a result, the city committed to a remedial action plan and paid over $200,000 in financial penalties.
The Omnibus Rule states that any unauthorized use or disclosure of protected health information is a breach. This has undoubtedly increased reported data breaches each year.
HIPAA Breach Notification Rule outlines the steps to take in a data breach. This guideline considers that no system is completely secure and that it is preferable to have a clear strategy for what to do in an emergency. It specifies how affected patients should be notified and what efforts should be taken to reduce the damage. They are also needed for everyone reasonably thought to have been impacted by the breach.
Rule break example:
A specialist clinic agreed to pay $150,000 to address suspected HIPAA breaches. An unencrypted thumb drive containing the ePHI of around 2,200 people was taken from the car of a clinic employee.

The inquiry discovered that, as part of its security management approach, the clinic had not properly or completely examined the possible threats and vulnerabilities to the confidentiality of ePHI.

In addition, the clinic failed to meet the Breach Notification Rule's requirements for documented rules and procedures and personnel training.
The procedure of the HIPAA Breach Notification Rule follows:
Plan for notifying affected persons: Affected patients must be notified in writing about what has happened to their data.
Plan for public transparency: In most circumstances, the impacted organization is required to make a public statement through key news media outlets.
Deadline in two months: The legislation requires that the results of a data breach be disclosed within 60 days.
Notify the Secretary of Health: If the event impacts more than 500 or more persons, covered entities must inform the Secretary as soon as possible and no later than 60 days after the breach. If it impacts less than 500 persons, the deadline is extended until the end of the year or annually.
Each healthcare institution that stores, uses, or transmits PHI is responsible for ensuring that the appropriate HIPAA IT compliance controls are in place and that its policies and procedures are recorded and updated to comply with HIPAA requirements.
Use case of HIPAA Compliance from our practice
In this part, we describe our client's success story that increased the product's effectiveness and security.
Our client is a USA-based connected healthcare pioneer with over 60 speciality care locations that provide complete injury treatment to patients injured in accidents. Putting the patient in the centre stage, our client uses an advanced online platform to close the communication gap between the doctor, the patient, the insurance company, and the lawyer.
Initial context: For 15 years, we have been working and scaling up together. Since then, we've steadily shifted from paper to digital document flow, putting together all information about patients and related accidents.
We assemble a team of .NET and Vue.js tech specialists consisting of three software engineers, two QA specialists, an architect/CTO and a project manager. In regular meetings, we discuss future improvements and new features development and track and manage their development progress in Jira.
Our team concentrated on platform development to give users - both doctors and patients - the possibility to record, store and exchange any information, starting with patients' data and ending with a detailed treatment plan after the accident, billing and payment details, and documents for the insurance company and employer. Step by step, our engineers add innovative features for a multi-functional platform, such as a built-in calendar for appointments, an application to fill in initial patient information and integrate the platform with third-party providers, like telecom or transportation providers.
Challenges
The system operates with an immense volume of data, including appointment details, diagnosis clarifications, treatment plans, medical and insurance reports, recipes, medical certificates on sick leaves, and patient personal information. A lot of data is interdependent. The major challenge with the further growth of the platform is to manage it correctly between the users and to arrange it in clear and readable documents for other end users and state authorities.
For product security, we followed the HIPAA security compliance checklist:
Restricted the extent of critical PII/PHI data's exposure;
Limited the number of devices that may currently login to a single account and configure the session expiration time;
Managed data transfer between users and the server;
Managed permissions for different roles - doctors, back office employees, call-centre staff;
Isolated database access with role-based authentication that only accepts connections from the internal network;
Applied e-signature authentication;
Detected unknown application login attempts and access limiting for suspect users;
Strengthened password guidelines;
Conduct regular long-term storage backups and stringent access controls for sensitive data to keep track of activities;
With the team's proficiency in developing integrations, EHR systems, custom healthcare solutions, and competence in building HIPAA-compliant software, we successfully handled all project challenges.
Conclusion
One of the most important aspects of bespoke healthcare software development is compliance with HIPAA and other industry rules, regulations, and standards.
"Every Covered Entity and Business Associate that has access to PHI must ensure the technical, physical and administrative safeguards are in place and adhered to, that they comply with the HIPAA Privacy Rule to protect the integrity of PHI, and that – should a breach of PHI occur – they follow the procedure in the HIPAA Breach Notification Rule."
It's important to know how your organization may be affected. HIPAA compliance software checklist will help you stay aware of what's important in protecting patient health information and the privacy, security, and breaches rules.
As you can see, many steps are involved in the HIPAA compliance technology checklist. And needless to say, staying up to date on the latest HIPAA requirements is critical. Even with a HIPAA compliance summary, acquiring complete compliance is a lengthy process—where the HIPAA provider comes in.
For 8+ years, TechMagic deliveries healthcare software development services to help healthcare startups become HIPAA compliant and meet all HIPAA regulations. If you plan to have a healthcare software development product that may be subject to HIPAA requirements, contact us and we will guide you across all security standards and software development.
HIPAA compliance resources
And if there's one thing we've learned about HIPAA compliance, you should always stay up-to-date on the latest requirements. So there is a list of HIPAA compliance resources to monitor regularly updates on HIPAA compliance in 2023:
FAQs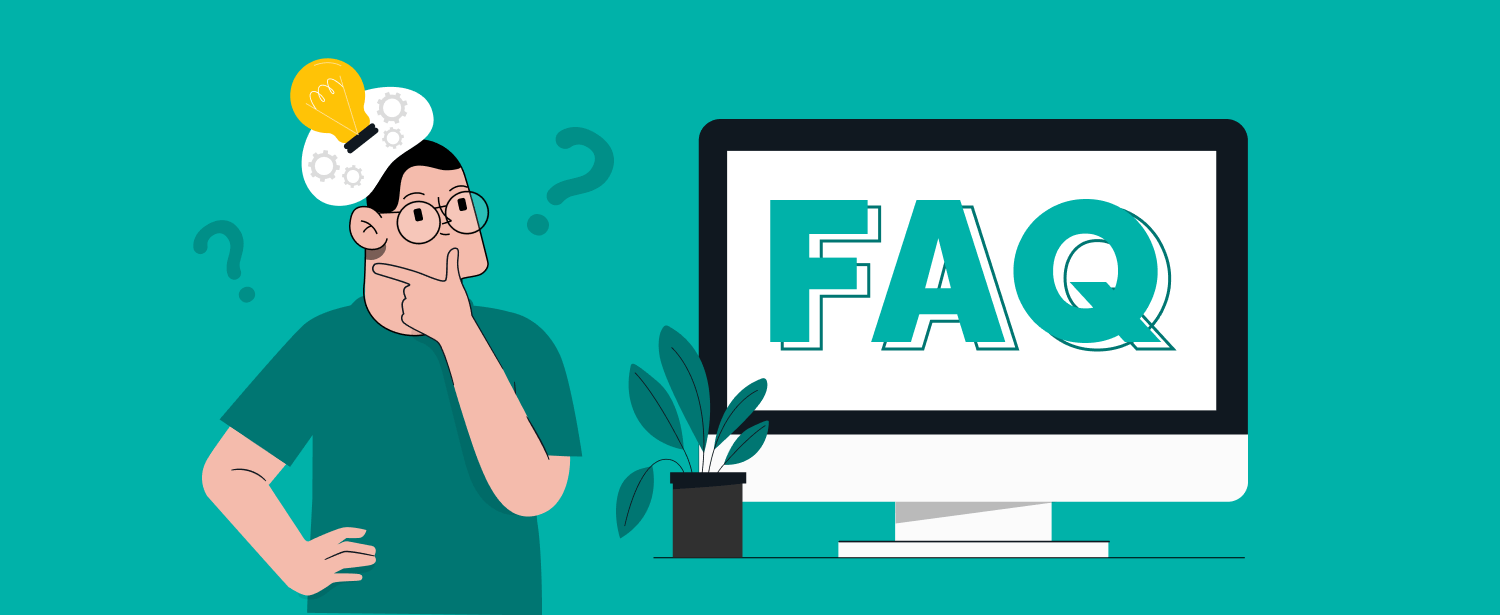 What is HIPAA compliance checklist?

The Health Insurance Portability and Accountability Act (HIPAA) Privacy Rule addresses how covered entities collect, use and disclose individually identifiable health information.
HIPAA checklist is a document utilized by hospitals and clinics that helps them keep track of patients' records (such as name, address, and demographics), patient medical histories, information about their family members or caregivers, and health insurance information.

How to follow the HIPAA compliance checklist?

Ensure that data security measures are compliant and follow the HIPAA compliance checklist with all technical, administrative and physical protections, Security, Privacy, Breach Notification and Omnibus Rules.