8 Most Successful Healthcare Startups in Europe to Watch in 2023

Lead Business Analyst at TechMagic, with a background in Project Management and QA, mentor, and speaker. Passionate about Business Analysis and Product Design.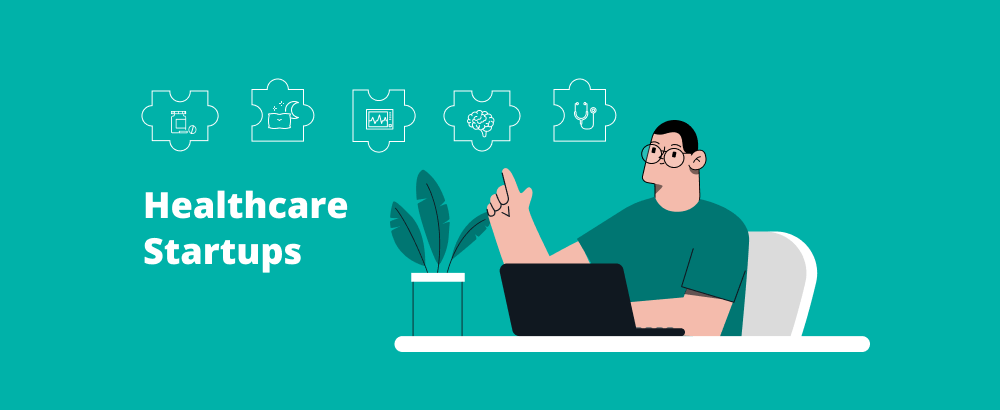 Custom healthcare software development started to gain momentum during the COVID-19 season and will continue to improve, changing the future of medicine.
According to the HIMSS report, around 80% of health systems plan to increase their investment levels in digital healthcare in the next five years. We identified and listed the most innovative healthcare companies in Europe to watch in 2023, from sleep monitoring devices to neurorehabilitation systems.
List of Top Healthcare Startups in Europe

MindMaze (Switzerland)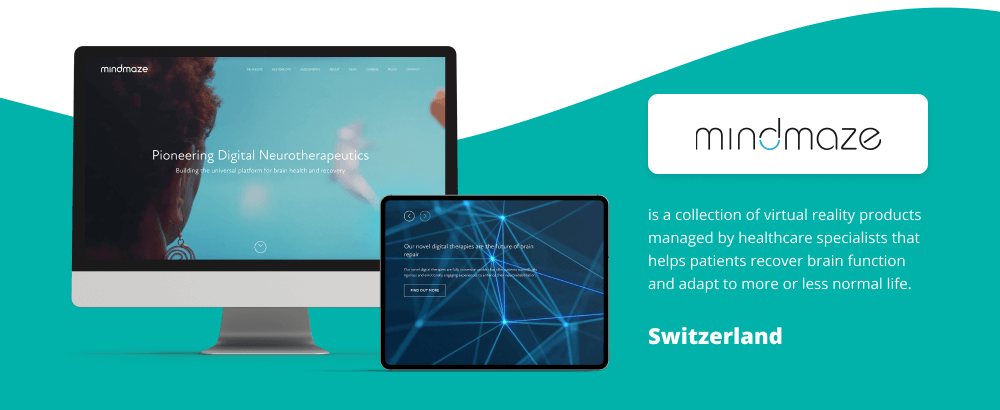 MindMaze is one of the top healthcare startups and known as the global leader in digital neurotherapeutics. It's a platform for neurorehabilitation and recovery of brain function after injury, stroke, and similar illnesses.
Mind Maze delivers seamless digital assessments and therapeutics in more than twenty countries, with thousands of patients suffering from neurological illnesses. The platform allows them to obtain complex and high-quality neurorehabilitation in the safety and comfort of their homes. Needless to say, how important it is in COVID-19 pandemic conditions when people with chronic illnesses form a separate group of risk.
In simple words, MindMaze is a collection of virtual reality products managed by healthcare specialists that helps patients recover brain function and adapt to more or less normal life. It's most widely used in rehabilitation patients after traumatic brain injury and stroke, with Alzheimer's and Parkinson's, and in those suffering from various phobias.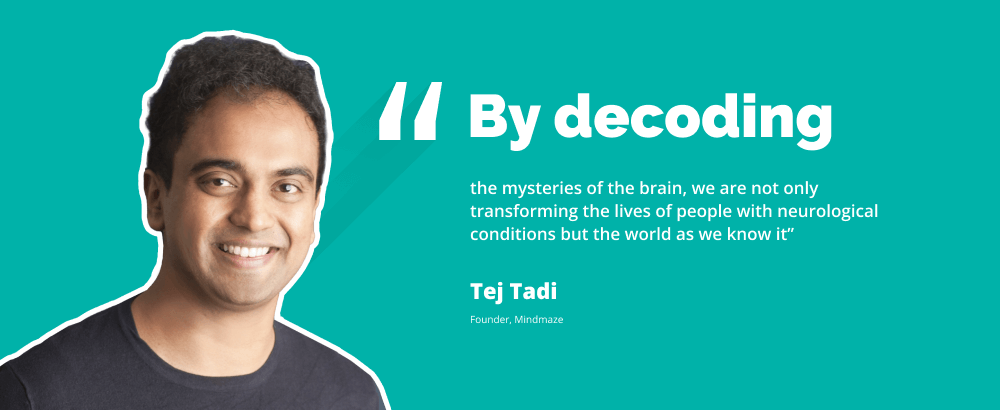 Today, MindMaze is a part of rehabilitation programs at such institutions as Mount Sinai Abilities Research Center, John Hopkins, Royal Buckinghamshire Hospital, and over 74 clinics and centers worldwide, and one of the top healthcare technology companies in Europe.
Although the project was launched in 2016, on October 7, 2021, MindMaze announced the closing of a $ 125 million investment round that will be used to drive the continued growth of its SaaS-based digital neurotherapeutics platform. It makes it one of the top healthcare startups to watch in 2023.
Read also: Top Health Tech Trends for 2023
Onera Health (Netherlands)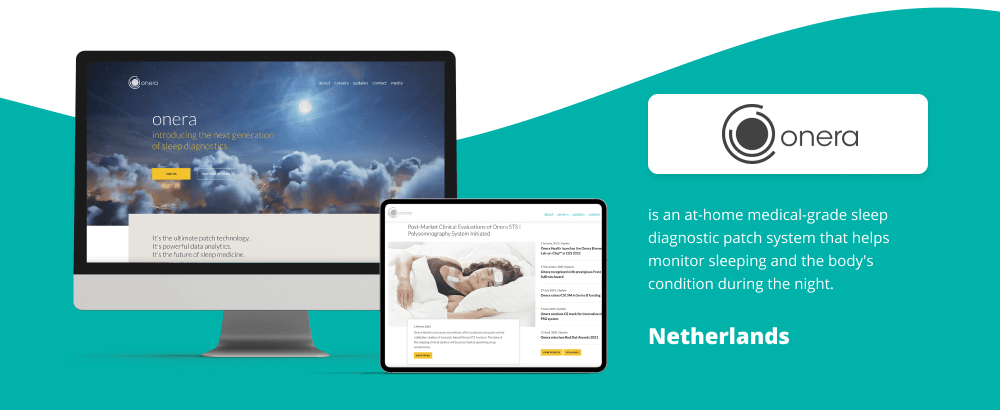 The creators of Onera Health modestly call their brainchild the future of sleep medicine. The purpose of the application is to analyze and gradually improve sleep quality.
One in five people struggles with sleep. The odds of being sleep deprived (less than 6 hours a night for adults) has increased significantly over the past 30 years as digital technology has firmly become part of our lifestyles and blurred the line between home and work. National data shows that poor sleep health is a common problem, with 25 percent of US adults reporting insufficient sleep or rest at least 15 out of every 30 days.
The Covid-19 pandemic has made the problem of sleeping disorders even more critical. The post-covid sleeplessness and insomnia were included in the list of factors increasing the likelihood of depression.
Onera is an at-home medical-grade sleep diagnostic patch system that helps monitor sleeping and the body's condition during the night. It's accurate, comfortable, wireless, intuitive, and as simple in use as possible. It singles it out among other digital health startups to watch related to sleeping problems. The system's main benefit is replacing some intimidating examinations and lab tests with its functions.
Awards and achievements confirm Onera's success. This year alone, it raised €10.5 million in Series B funding, was recognized with Frost & Sullivan Award, won two Red Dot Awards 2021, and received a € 2.5 million EIC grant to transform sleep medicine post-pandemic remote monitoring.
Oura Ring (Finland)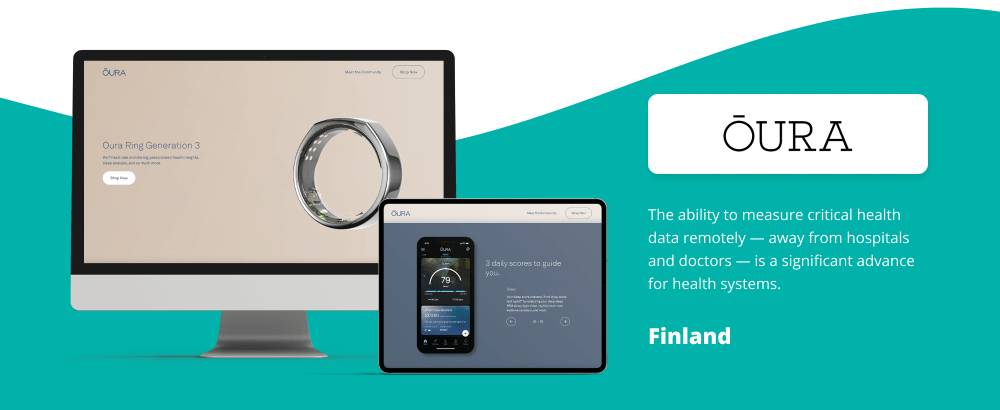 Oura is one of the promising Finnish public health startups, most widely known for the Oura Ring — a small wearable device the user places on their finger. It uses sensors to provide real-time health insights. The infrared technology monitors temperature and blood flow, calories burnt, and heart rate. The ring connects to the mobile app, so all the data is conveniently visualized and explained.
The ability to measure critical health data remotely — away from hospitals and doctors — is a significant advance for health systems. Such data increases convenience for users and means conditions can be detected earlier, which improves outcomes and protects vital centralized healthcare resources.
Gadgets created by Fitbit and Garmin have hugely impacted the sports and well-being markets. Oura enables consumers to wear comfortable, non-invasive, and affordable devices which provide real-time data on their health, solving a whole range of problems all at once.
Patchwork Health (UK)

Currently working with dozens of NHS partnerships throughout the UK, Patchwork Health seeks to tackle one of the major modern problems — healthcare workforce burnout.
The company's portal allows users to build up so-called staff banks users can call on to register staff shifts according to demand. At the same time, this approach gives workers more flexibility in choosing working shifts and improving their work-life balance.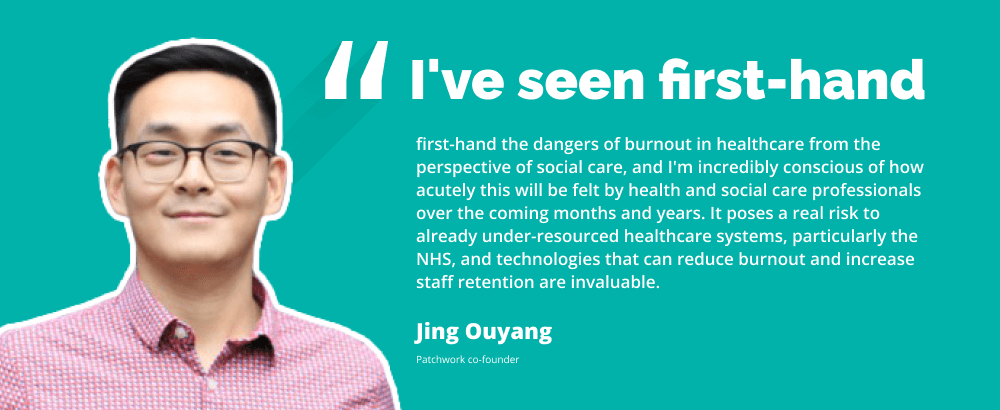 Kheiron Medical (UK)

Kheiron Medical uses advanced AI to help doctors diagnose breast cancer earlier on and with greater accuracy. Now, it's the most common cancer there is. The breast cancer screening process is vulnerable to human error; the recall rates are high, and a shortage of radiologists becomes more noticeable. Kheiron has developed and introduced MIA (Mammography Intelligent Assessment) to help doctors spot cancer in mammography scans.
Last year, this project won the UK Government's first AI in Health and Care Awards and received a share of £ 50 million to roll out MIA at selected NHS hospitals. That's an incredible accomplishment for health tech startups in Europe.
Read also: Cloud Computing in Healthcare: How Technology is Improving the Industry
ComeBack Mobility (Ukraine)
ComeBack Mobility is a system of smart nozzles with sensors for crutches, specific pads, and a mobile app to help people recover faster after leg injuries. The gadget reads the load level and helps control it while walking.
ComeBack Mobility measures the weight that user puts on crutches. Then it transmits the data to the smartphone app, which analyzes the pace of recovery and in real-time tells you how to regulate the load on the injured leg. The device is designed for approximately 850 hours of active use — up to 1 million steps or 760 km.
The physician sets the parameters of the recommended loads and pace in the app. In the course of recovery, they may vary, and smart nozzles will speak if you go too fast or too slow. According to tests with patients, following the instructions can reduce the rehabilitation period for patients after major surgeries to six weeks.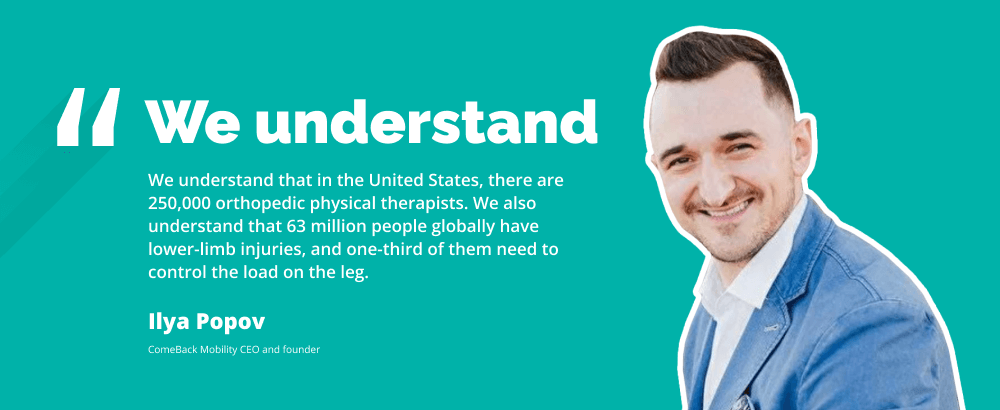 ComeBack Mobility also plans to release devices for rehabilitation after hand injuries.
Comeback Mobility has already become one of the most promising medical startups in Europe and entered the US market. Its founders speak of its development as a need to improve solutions for inclusive people.
NAOMI (Croatia)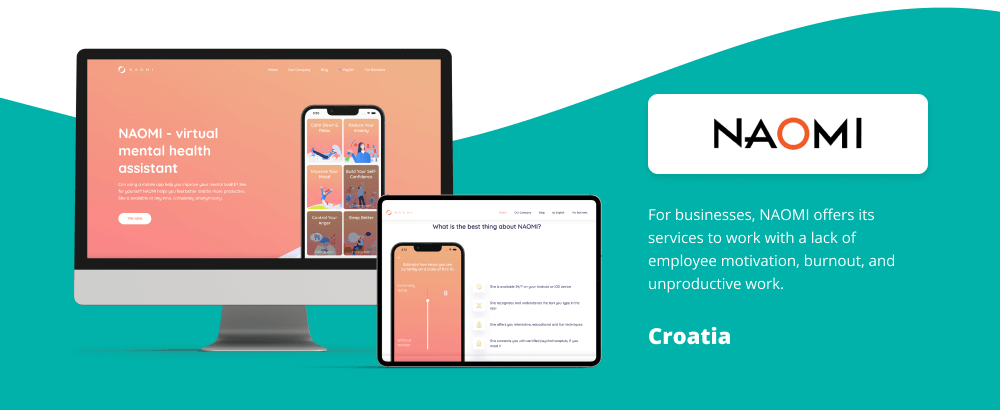 NAOMI is a virtual mental health assistant. It is worth mentioning, that mental health is one of the hottest subjects among healthcare technology startups in Europe. The same-name mobile app asks the user to choose the issue (stress, anxiety, anger, depression, etc.) and accompanies them to overcome it.
Mental health issues and conversations about them are still strongly stigmatized, so people who need to talk to a therapist don't do so to avoid condemnation. NAOMI is one hundred percent anonymous and collects information only by asking questions, analyzing answers, and making recommendations.
Besides, it includes numerous techniques to improve and maintain well-being based on cognitive-behavioral therapy. If required, NAOMI can connect the user with a certified psychotherapist.
For businesses, NAOMI offers its services to work with a lack of employee motivation, burnout, and unproductive work.
Bottneuro (Switzerland)

Bottneuro is a Swiss startup that offers a non-invasive neuromodulation therapy for Alzheimer's disease. Bottneuro collects patient data to identify regions of interest for electrical stimulation using magnetic resonance imaging (MRI) and positron emission tomography (PET) scans. Then, it uses computer simulations to optimize the stimulation of affected regions and is delivered through wearables. As a result, the startup's therapies stabilize patient behavior and slow down cognitive decline.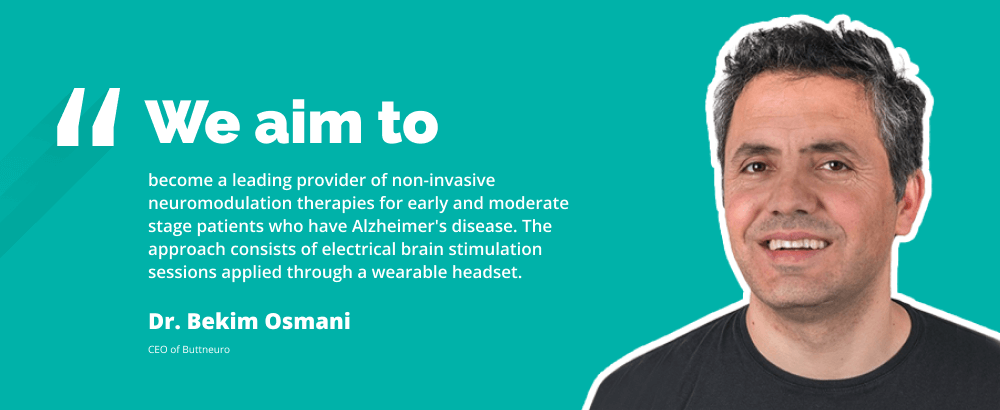 Bottneuro creators plan to start with clinical trials in 2023 and obtain the CE mark in 2024. Annual costs generated by AD patients in the DACH region (Germany, Austria, and Switzerland) were about € 40 billion for 2021. These numbers are increasing due to an aging society and Buttneuro has good chances to take hold in a list of the best health tech companies in Europe.
Our Experience in Developing Healthcare Startups

TechMagic has great experience delivering efficient and scalable health tech web and mobile applications of different complexity. We know the value of digitizing and automating medical workflows. Our healthcare software developers know how to build user-friendly and high-quality apps that streamline and automate processes and tasks.
ETYPE CARE
Care home management application
Etype Care is a digital suite for care home management, service quality assurance, and analytics. The TechMagic team created custom software for healthcare that consists of an app for residents and another app for care managers.

PSHEALTH
Referral management & care coordination app
psHEALTH solution automates the referral management process with a connected software solution that takes healthcare logistics time, energy, and cost to deliver better patient care. With custom healthcare solutions like this, you can create your healthcare organization's program, provide access to licensed doctors online, offer laboratory results, support, consultations, and do much more.
Final Thoughts

Healthcare is an area hugely transformed by tech progress. Some of the technologies that looked like something out of science fiction only a few years ago are now saving lives and improving the healthcare system as a whole. Accordingly, health tech startups remain one of the best fields for investment.
As a healthcare app development company, we provide our clients with consulting, development, intuitive health tech app design, and testing services, as well as post-release ongoing support. Our developers are here to deliver successful products in the medical, pharmaceutical, social care, and healthcare sectors.