How to Hire UX/UI designer to Stand Out Your App in 2023

Lead Business Analyst at TechMagic, with a background in Project Management and QA, mentor, and speaker. Passionate about Business Analysis and Product Design.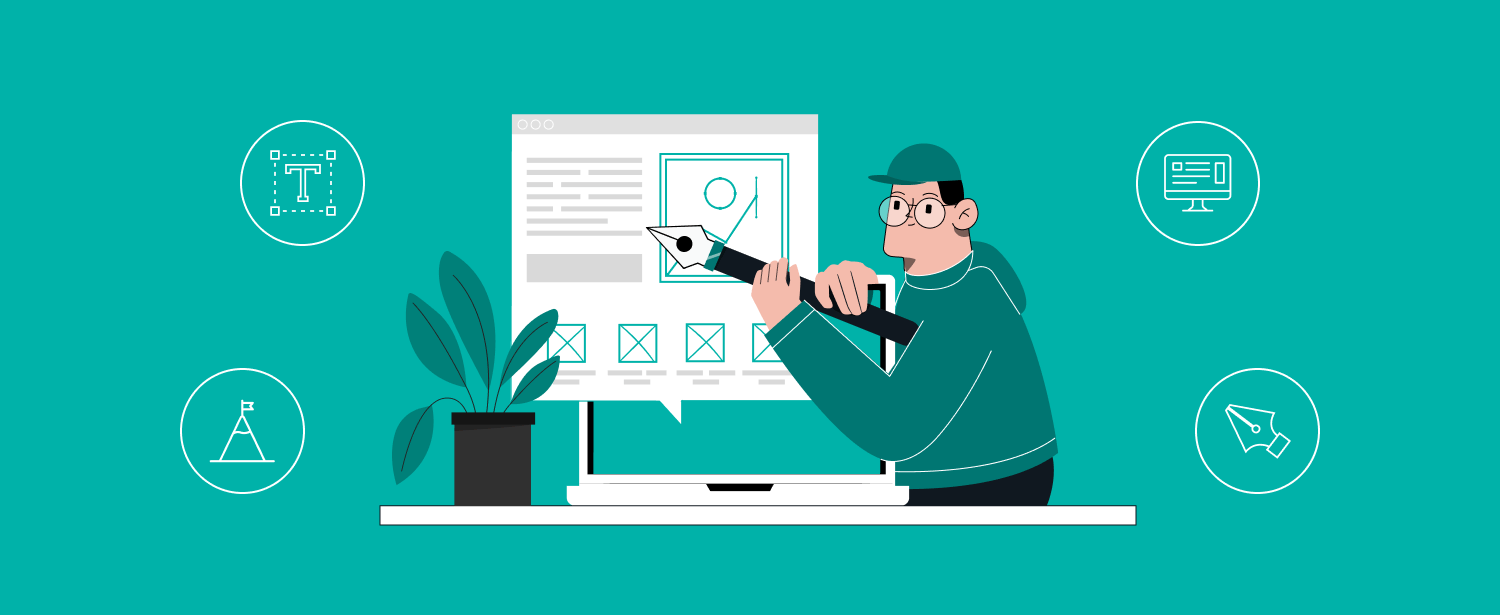 UX/UI design is key to how popular your app or website will be. The modern product should be convenient, usable, and carry no dead weights of useless steps. At the same time, its aesthetic has to be impeccable to win customers' hearts. You need to hire a UX/UI designer to make this happen.
But it's not only about hiring a designer. You need to find a true professional to get the results you've envisioned. Plus, there are several hiring options: an in-house designer, a freelancer, or a dedicated designer. All have their benefits and downsides, so you have to decide which answers your needs best.
This article will explain how to find and hire a UX/UI designer that is both competent and cost-effective, so you don't feel like you're throwing money down the drain. But first, let's take a closer look at the concepts of UX and UI.
When do you need to hire a UX/UI designer?
When starting product development, some business managers look at a design exclusively from the UI perspective. They put a lot of focus on the appearance of an interface — buttons, colors, icons, and styling while leaving the product's usability partially or completely overlooked. This approach often results in a product that users don't understand how to use. Why?
The goal of a UI design is to make your product aesthetically pleasing to the user. A good UI designer's work is reflected in a visually attractive interface. However, beautiful icons are meaningless if users are completely lost when they enter an app. That's why caring about the simplicity and intuitiveness of the user journey is critical for every digital product. So you shouldn't skip hiring a UX designer.
A UX designer creates a "map" of the interface and thinks through the steps the user must take to achieve the goal (for example, buying something in an online store). They create the foundational structure of user experience, trying to make it as simple, convenient, and intuitive as possible.
Recommending reading: Mobile-First Design: The Best Practices
A good UX design fits user in-app behavior patterns of the specific target audience. For example, an app for kids should provide a vastly different user experience from a banking app. If you're developing an app for kids, it should be easy for kids to use and be catered to the way kids, not adults, use the app.
Both the UX and UI should be professionally designed for your product to succeed. Today, many designers combine skills from both fields, which greatly simplifies the entire task. So, at what stage do you need to involve a UX/UI designer in a product creation process?
Ideally, you need to hire a UX/UI designer as soon as the project is started. Why? Because the basic way users interact with the product should be thought out from the beginning, and that's a designer's job. If you already have a finished product, you'll also need designers for its updates and improvements.
So, where is a good place to search for a competent UX/UI designer? We'll talk about this next.
Where to find a UX/UI designer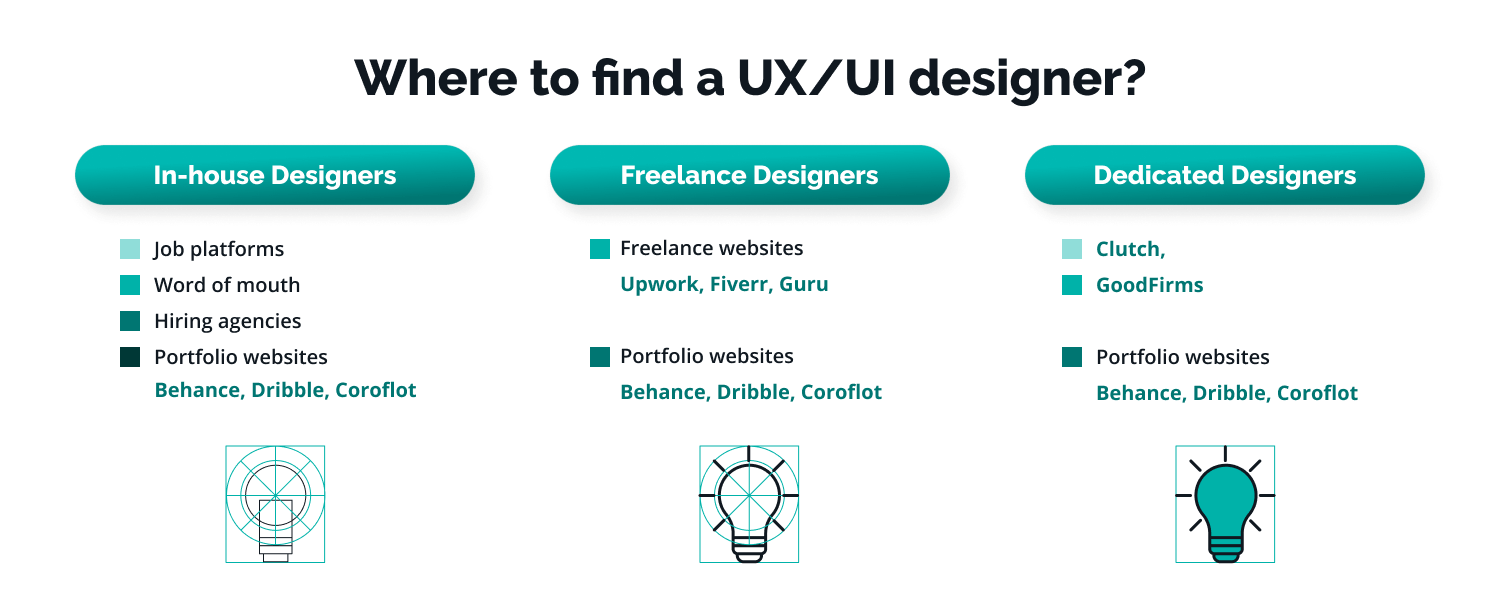 When hiring a UX/UI designer, you have three main options: an in-house designer, a freelance designer, or an outsourced dedicated designer. Let's see what each option involves so you can make an informed decision.
In-house designers
In-house designers are hired as full-time or part-time company employees. This means that you need to have enough work to justify the expenses involved. These include complying with employment regulations, paying a salary and employment benefits, covering sick leave, and dealing with employment taxes.
One benefit of hiring an in-house designer is that they will settle into your company culture, develop skills that specifically match your business needs, and work according to your company's management policy. On top of that, you'll have full control over the entire design process. That said, in-house designers might fall short when it comes to completing non-standard tasks outside of their common area of expertise.
Finding and hiring a UX/UI designer for an in-house team is often a lengthy process. So, if you have an urgent design task, you will probably need to outsource it.
Where to find in-house designers: Job platforms, word of mouth, hiring agencies, portfolio websites (Behance, Dribble, Coroflot, etc.)
Freelance designers
Finding a freelancer is another way of hiring a UX/UI designer. Freelancers do not become a part of your in-house team; they simply complete certain tasks for your company as contractors. So you don't need to concern yourself with employment-related issues. Freelance designers are hired mainly because they're cheap. However, the cheapest option is not always the most cost-effective.
Freelancers are their own managers and supervisors, which can negatively affect design quality. Plus, it can be difficult to find a real professional with free time for your project. If there is time, it often means that the freelancer is working on multiple projects simultaneously. So, you shouldn't expect a freelancer to get fully immersed in your company culture.

Where to find freelance designers: Freelance websites (Upwork, Fiverr, Guru, etc.), portfolio websites (Behance, Dribble, Coroflot, etc.)
Dedicated designers
Hiring a dedicated designer means that you hire a UX/UI designer from an agency or tech company. You can either manage them yourself or delegate management responsibilities to your outsourcing partner.
Although they perform all the same tasks as an in-house designer, a dedicated designer is cheaper since you don't have to pay employment benefits and taxes. Plus, you can stop using the services of a dedicated designer at any moment, which is indispensable if there is no constant flow of design tasks. Or, if the task is complex, an agency can scale up your design team, adding more members to it.
Recommending reading: Top 3 Examples of UX in Healthcare Apps
At the same time, a dedicated designer is a more reliable and high-quality option than a freelancer. If you hire dedicated web designers from a reputable agency, you can be sure these are competent designers. Agencies care a lot about their reputation and quality. That's why agency designers usually have plenty of experience in varied projects and are aware of recent trends. Speaking of UX/UI design services why wouldn't you check our case where design plays one of the leading roles?

In general, hiring a dedicated designer can be the most efficient solution for most projects.
Where to find dedicated designers: Clutch, GoodFirms, portfolio websites (Behance, Dribble, Coroflot, etc.)
A dedicated UI/UX designer's field of responsibility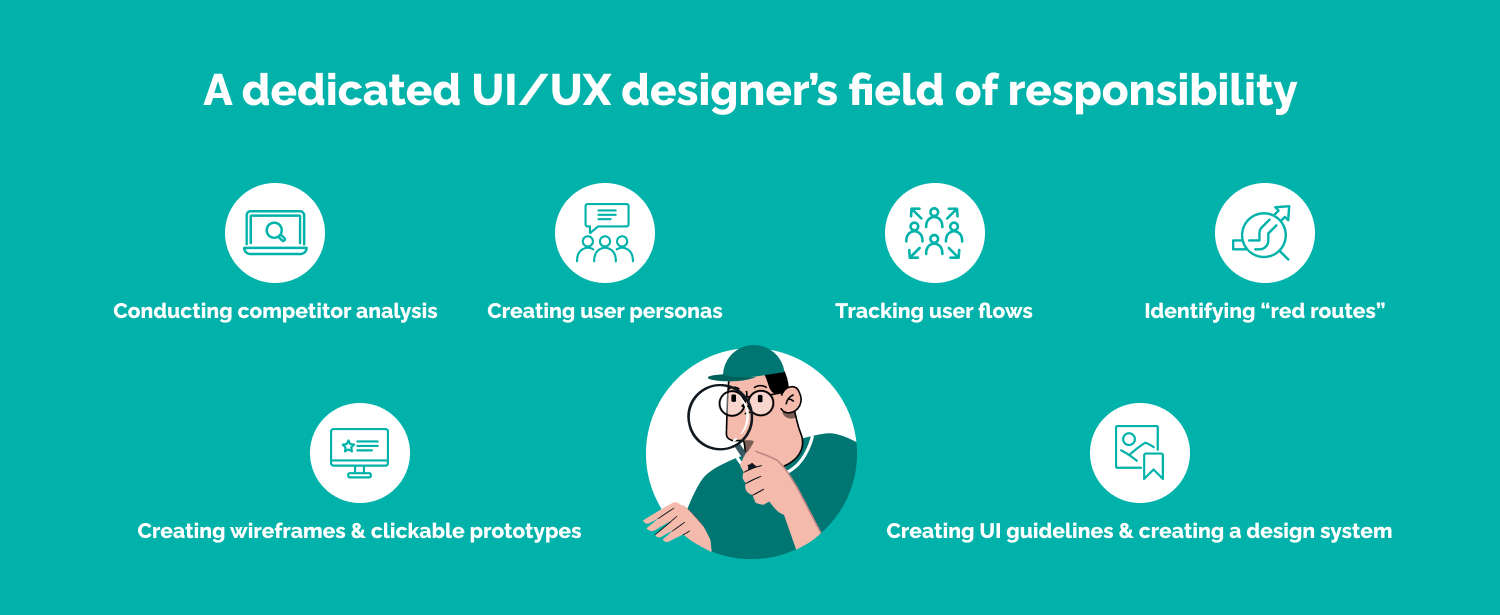 Suppose you hire a dedicated web designer. What is their field of responsibility? The short answer is that they will perform all the tasks an in-house designer would do within a particular project. The exact list of such tasks will depend on the specifics of your request and design needs. But some common UI/UX designer's responsibilities include:
Conducting competitor analysis. This is required to identify the best UX/UI solutions already offered on the market and any potential pitfalls to avoid.
Creating user personas. After a designer completes this task, you'll get a potential user portrait along with your future users' needs and pain points.
Tracking user flows. The goal of this task is to get a better understanding of the pathways of product use.
Identifying "red routes." "Red routes" are the most important user journeys. Identifying them and eliminating all obstacles that could impede them is essential.
Creating wireframes and clickable prototypes. These will allow you to see and feel the product before it's developed. Wireframes and prototypes are also useful when revamping the product design after receiving feedback.
Creating UI guidelines and creating a design system. The guidelines and design system will contain all the rules for fonts, images, and colors for your product, so you can create a consistent visual identity for it.
That said, different design tasks require different levels of skills from designers. So, if you have decided to hire a UX/UI designer, it's necessary to understand what seniority level you're looking for. We'll cover this next.
Junior, middle, or senior UI/UX designer: Which is the best fit?
As usual in the tech field, the seniority of designers is divided into three main levels: junior, middle, and senior. Which level do you need for your project? Let's explore.
Junior UX/UI designers
A junior UX/UI designer is a learner. Companies usually hire junior designers to complete simple tasks under the leadership of a middle/senior designer. If you hire a UX/UI designer of a junior level, they'll assist other designers in researching, wireframing, prototyping, and modeling user flows. So, it's a good idea to have a junior designer in your team if you already have a senior/middle designer and they need help with routine tasks.
Middle UX/UI designers
A middle UX/UI designer is a qualified professional with a few years of experience. If you hire a UX/UI designer of a middle level, they'll be fluent in design tools and can be responsible for the design of particular features. They can also cooperate with developers, copywriters, and product managers and are expected to propose and defend design decisions. Usually, middle designers are the core of a design team.
Senior UX/UI designers
A senior UX/UI designer is a professional with at least five years of experience who can be a team leader. A senior designer develops a UX/UI strategy for the product, manages the team of designers, and oversees their decisions. Hire a senior designer if you need a pro to lead your design team or someone who is an expert in niche and complex issues.
Once you decide on the seniority level of designers you need for your project, you'll need to select the best candidate out of all the applicants based on the portfolios you'll receive. That might seem quite overwhelming. But don't freak out; we have a few tips for you.
Recommeding reading: Mobile App Design Trends in 2022
How to analyze a UX/UI designer portfolio
So, you need to hire a UX/UI designer with a certain skill level, and you are considering several candidates. How should you evaluate their portfolios? We recommend following these three steps:
Step 1. Look at the cases in their portfolio. It's good if the cases look visually attractive, but that's not enough if you want to hire a UX/UI designer. Look for briefs that explain the role the candidate played in that project. Ask which design decisions were their own and which parts they were not involved in.
Step 2. Ask about the logic and reasoning behind the design decisions. Which UX assets and research tools were used to get to a particular solution? How are those decisions contributing to a smooth user flow? Are they solving a concrete usability problem?
Step 3. Ask about the UI part. It's a must for a UX/UI designer to be well-versed in aesthetics as well. This covers all visual aspects like typography, color palette, applications of UI trends, etc.
But even if you know how to analyze a designer's portfolio theoretically, the actual hiring process might be intimidating. That's why we've created a checklist that will help you get a pro designer on your team.
Hiring checklist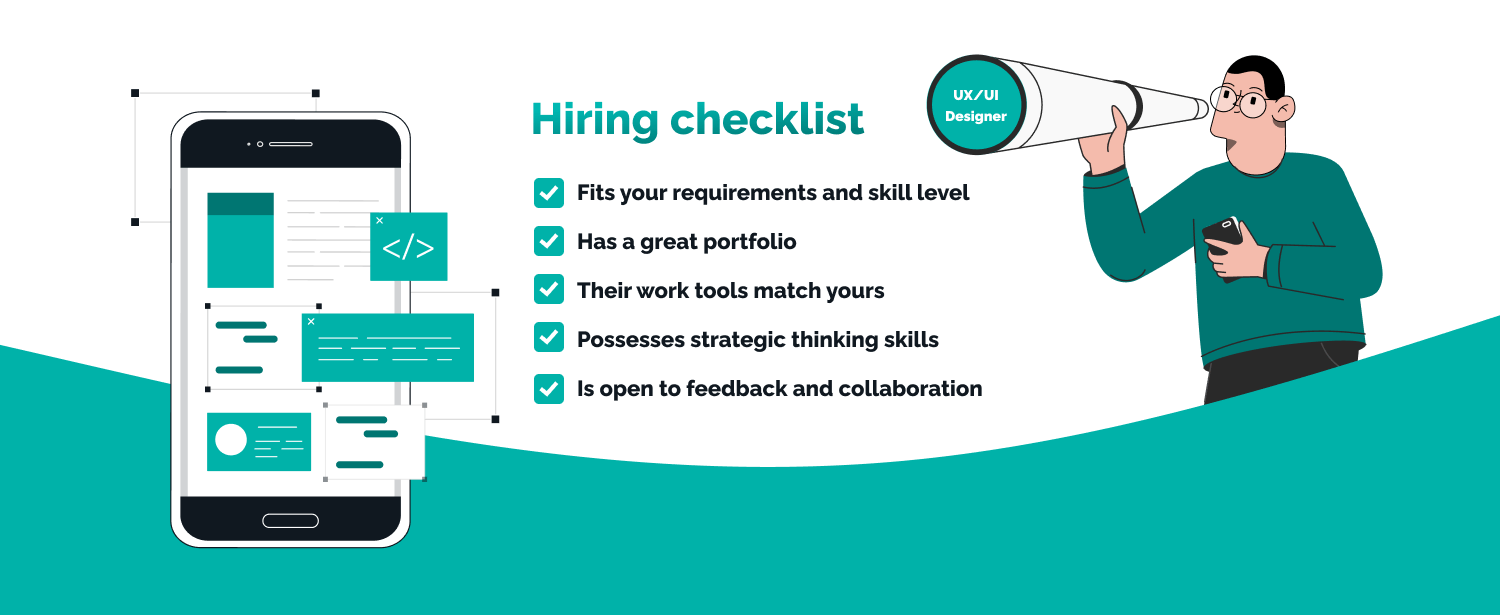 If you want to hire a UX/UI designer who will perfectly match your needs, they must tick all the boxes below.
Fits your requirements and skill level. A suitable candidate should have the relevant skills and experience for your particular position and project.
Has a great portfolio. A detailed and rich portfolio is the best sign you've found a pro.
Their work tools match yours. A match should work well with the technical designer tools used in your company.
Possesses strategic thinking skills. For a UX/UI designer, strategic thinking is a must. It's not just about visual taste. Your candidate should have an excellent understanding of problem-solving techniques.
Is open to feedback and collaboration. UX/UI designers constantly cooperate with other team members to achieve the best results. Your candidate should have good communicative and deliberative skills, as well as be receptive to feedback.
With this list in hand, selecting the right UX/UI designer for your project won't be a problem.
Conclusion
All effective mobile or web solutions need an attractive and user-friendly interface, which means that you need to hire a UX/UI designer for your project. A competent UX/UI designer should combine excellent aesthetic taste with competency in technical tools, strategic thinking, and an interest in user research.
Hiring a dedicated designer from an agency or tech company is the optimal choice for the majority of business tasks. It's faster and more cost-effective than hiring an in-house designer. Meanwhile, a dedicated designer is often more professional and reliable than a freelancer. And should you have any issues, replacement options are at hand.
Have you got a product idea in mind which you are looking to hire a dedicated web designer for? TechMagic has you covered. Contact us to discuss your project!