Product Analytics: Types, Benefits and Use Cases

Lead Business Analyst at TechMagic, with a background in Project Management and QA, mentor, and speaker. Passionate about Business Analysis and Product Design.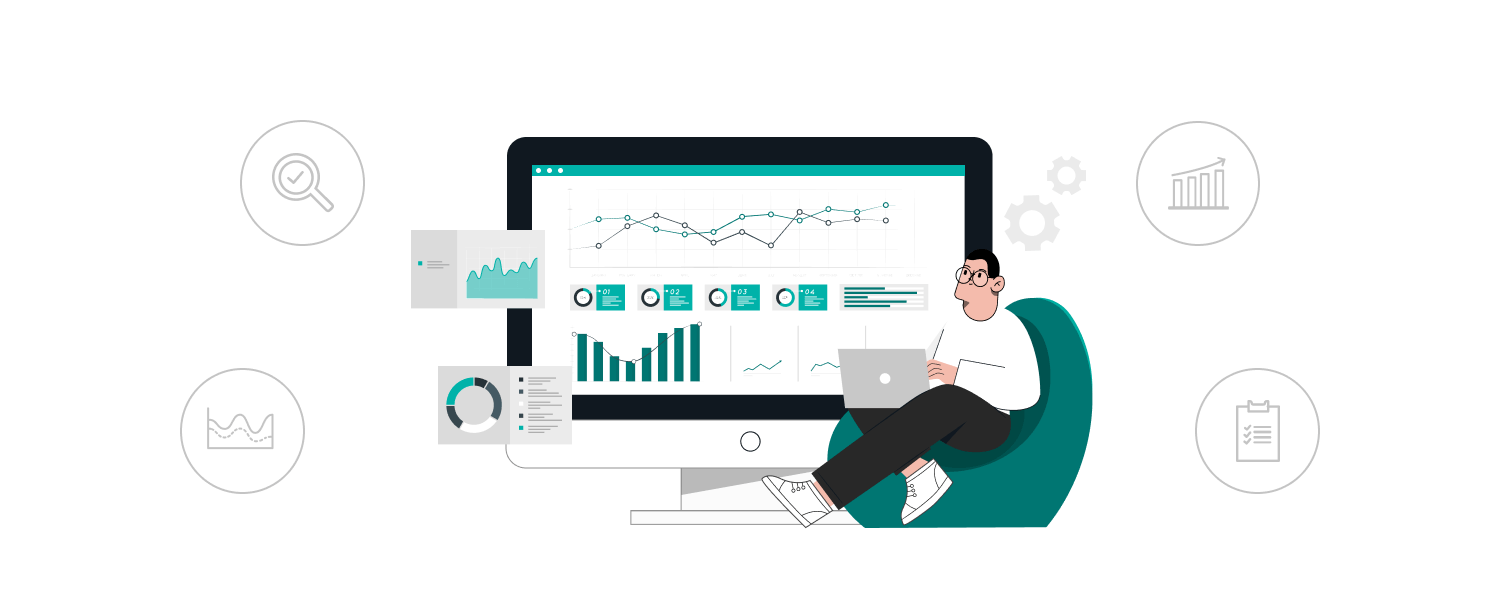 Companies that conduct product analytics have much stronger insight into the customer base than competitors because they know everything they're doing and can go in and make intelligent decisions. It's moving from an opinion-based world to a fact-based world with product analytics.
How do we choose items and services as consumers? By choosing the quality, affordability, and utility of the required tools. People who create goods should care about what is best for all customers. It's important to keep an eye on a product to verify it fits the demands of the end-users.
In this article, we'll cover what product analytics is and what benefits it brings to businesses and show you the top best tools on the market.
What is Product Analytics?
Product analytics is a way to tell a story about how people are using your product so that you can understand how to improve their experience and positively impact your business metrics.
Product analytics make it easier to deliver personalised recommendations of products while the growing need to improve customer behaviour management. It allows product teams to collect, display, and analyse data about user engagement and behaviour without the need for event setup. These programs may leverage the additional data to create heatmaps and session replays, among other things.
Companies always take advantage of every chance to learn more about our consumers. Knowing their needs is essential for developing valuable products.
Product analytics includes conducting customer interviews, surveys, and investigating in-product data. Its data shows how consumers use the product, not what they want to do, how they believe they're using it, or even how we think they're using it.
Products analytics will help you understand how users behave when first accessing your first stage of the funnel. As a funnel enables you to understand the steps required to reach an outcome on a website and how many users get through each of those steps, then product analytics manage the data of how users interact with our product or service and enhance their experience.
Users will undoubtedly encounter situations that hinder them from achieving the desired goal as they cross this funnel journey.
Product analytics is about building better products and focusing on engagement & retention to answer the following questions: by answering critical questions.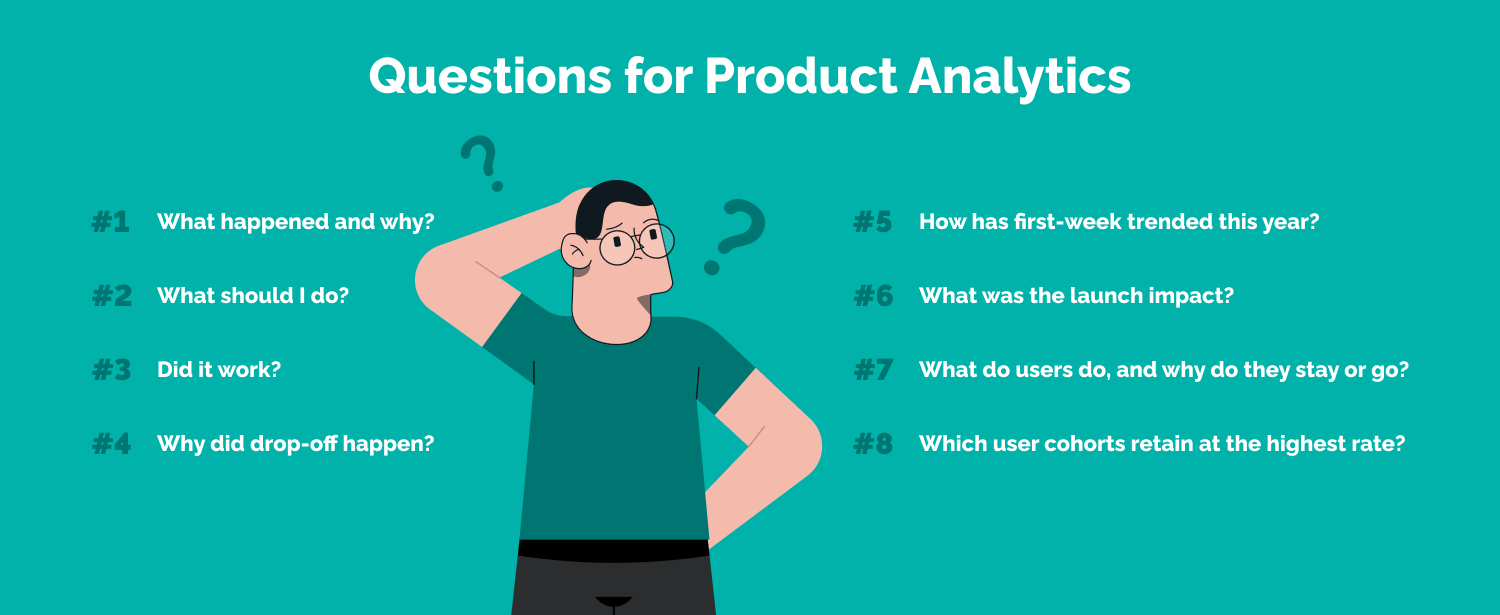 Without constant testing such as A/B and analysing of users' actions such as signing up, filling in the personal data or purchasing the products, you won't move forward. Thus, let's figure out how is used the A/B testing.
It is a method of website optimisation. For example, it compares two or more versions of a website to determine which one performs better, usually in terms of conversions. In A/B testing, one website (A) is published, and the other (B) is unpublished.
Users are invited to visit the websites or send them via email. They are asked to complete a particular action, such as buying a product, registering for an event, or downloading a piece of content. After you get data about their interactions in A and B variants, and can already enhance the customer journey.
Remember, an A/B test never fails; it's always learning the user's behaviour.
A product analytics tool's industry-standard functionality is to capture events and user journeys. Regardless of the tool you choose, the dashboard should display meaningful insights.
Let's look at the examples of what our specialists track and you should too.
Events: anything that happens within your product, such as
Number of daily visitors to a specific page
Number of daily purchases (transactions) for a specific product
Site-wide conversion rate (i.e., the percentage of users who completed a goal)
Average time users spent on a specific page
Average session duration (i.e., the time users spend on the site)
Number of conversions
Users: can be thought of as anyone who's interacting with your products, for example
Configuration: what the customer chooses for the product (what is it set as).
Usage: how long it takes to use that product (what is it used for).
Success: when the customer gets what he wants or when solves a problem.
Failure: when the customer has a problem or when he does not like a product.
Satisfaction: the customer's opinion of the product.
So these metrics provide context about both users and events and are key to collecting actionable insights and analysing in the right direction.
Types of Product Analytics
Product analytics tools come in a variety of shapes and sizes. Some only provide analytics, whereas others additionally provide associated toolkits, such as those for collecting client feedback.
Additionally, there is a difference between qualitative and quantitative product analytics solutions. Qualitative analytics tools are concerned with user behaviour, whereas quantitative analytics tools are concerned with numerical data.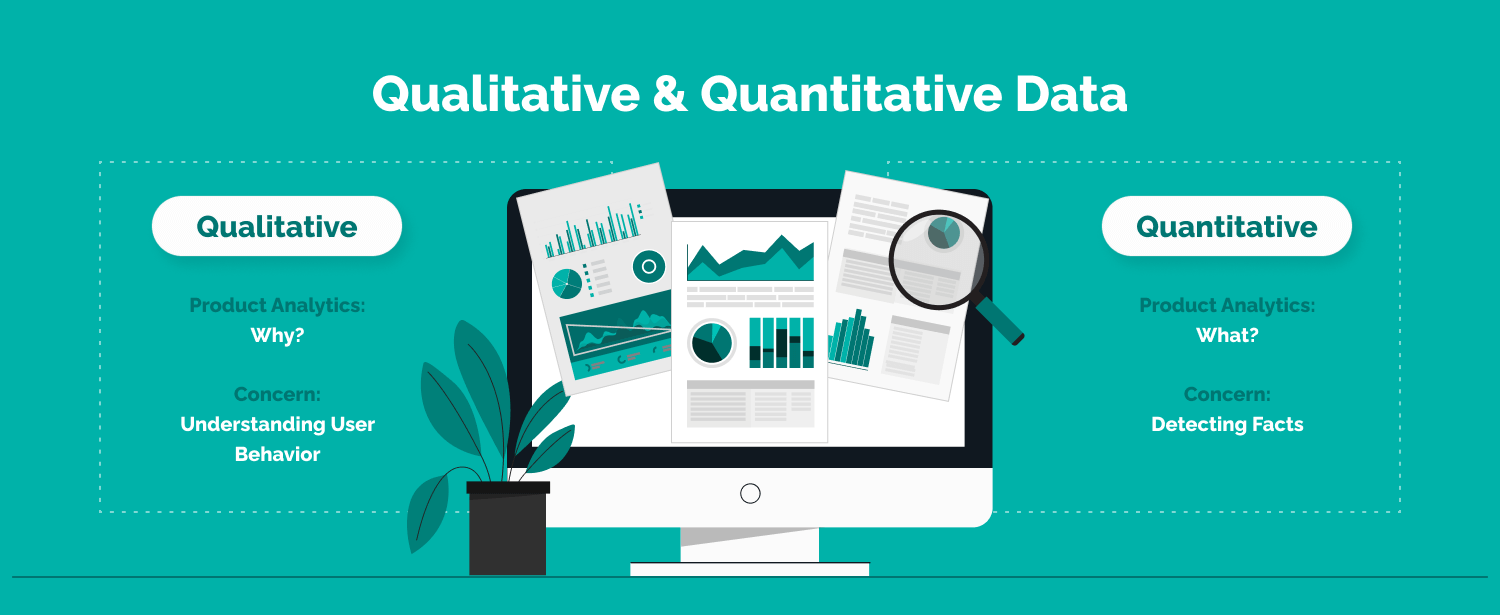 As qualitative analytic tools are used to find ways of describing the behaviours of people so that you can understand how they prefer to interact with a product, service or brand. These tools can help you to know how people make decisions about products, services, and brands. This information can then be used to design better products and services.
Quantitative analytics tools are used to gather, store, analyse, and visualise data; and, in doing so, help businesses inform better business decisions. The three most important categories of such tools include data visualisation tools, data mining, and business intelligence tools.
Experience analytics combines qualitative, quantitative, and technological analytical methodologies to give you all the information you need to ensure the success of your app.
Why do you need Product Analytics?
Mixpanel survey reported that approximately two-thirds (68%) of companies said they did not have a dedicated product analytics function. So what do they lose?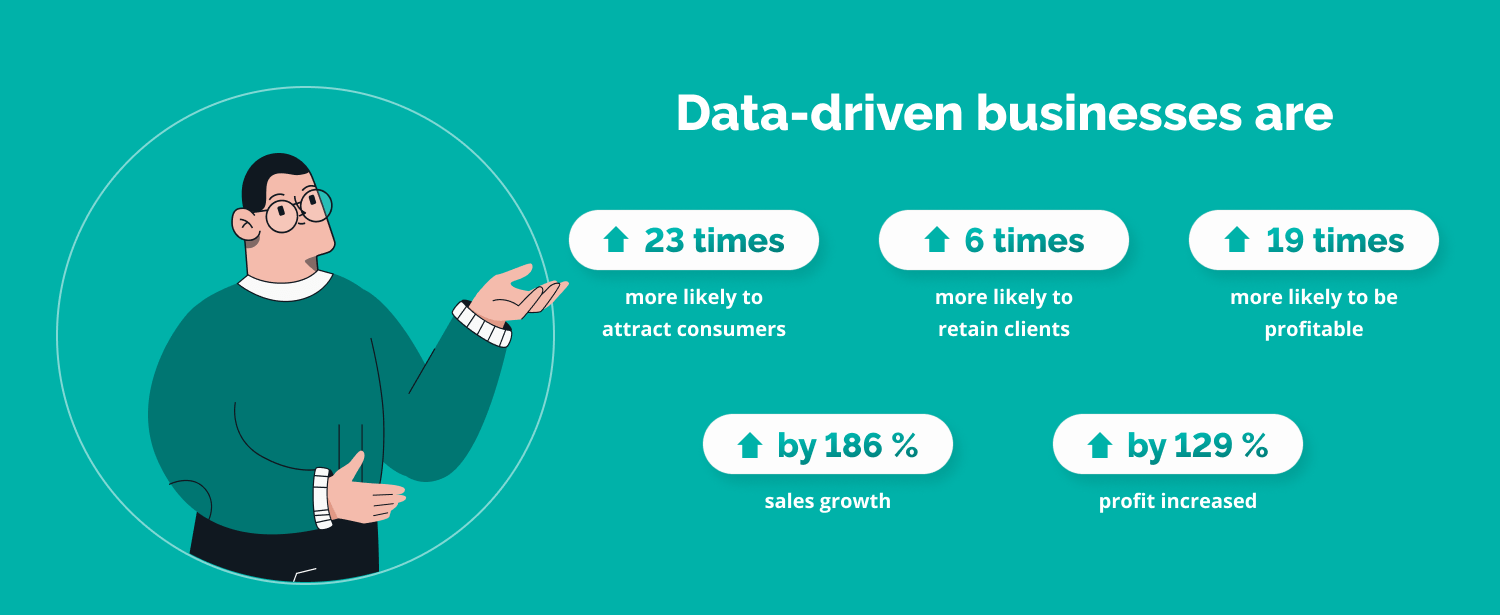 91% of clients are more likely to shop with brands that recognise, remember and provide relevant offers and recommendations
5-15% increase in revenue due to the implementation of personalisation
75% of customers have stopped buying from the company because a competitor provided a better experience
Product analytics is the most dependable and objective technique to gather feedback on products or services. Consumer satisfaction frequently leads to a loyal customer base for any Martech startups and large companies. Using product analytics technologies provides information on whether or not customers are satisfied or not with the product.
You can follow up on every stage of the user's journey and get the analytics as:
Product Engagement indicates how frequently people utilise a given element of your product or how much time they spend with it.
User Behaviour tracks and gathers data on user behaviour, such as how consumers use the product, which features they spend the most time on, and so on.
Product Performance indicates which characteristics of the product are attracting more clients and which are repelling traffic.
Comparative Analysis delivers visual dashboard and analytics reports, making data analysis easy.
Let's mention a few words about what makes product analytics challenging to achieve for companies.
Not being user-centric.
Building a better product without understanding your users usually causes "features" to become obsolete quickly.
Lack of proper product analytics.
43% of PMs say that the analytics tools provided by their companies aren't designed for product teams. Sometimes using the wrong tool becomes a barrier to effectively measuring product metrics.
No clear metrics framework, tracking analytics in the aim of monitoring analytics.
Knowing your visitors' demographics and interests allows you to adjust tools for customers and improve your search engine exposure.
How we built
a BPM app using JavaScript stack and Serverless on AWS
Learn more
Benefits of using Product Analytics Tools
Product analytics tools are well worth the investment they represent. These tools offer a good deal of advantages, such as:
Awareness of how well your product is performing based on data and analytics that can be verified.
Detailed information on client visit frequency and how they engage with different product features
Comparable information about the product's many qualities is the foundation for a SWOT analysis.
Segmented analysis based on the users' behavioural habits, age, and a variety of other factors and analysing of A/B test performance and test automation
Locating the places where users are experiencing pain or where clients are becoming trapped and leaving a company and finding bottlenecks in your product funnel
Guides product development and design to know what clients use by tracking user events, improving customer experiences, and directing customers to goods you know perform well.
Building better customer relationships and understanding how people use your product; You can customise a consumer experience when you know what they like and how to use the product.
Key Features of a Benchmark Product Analytics tool
Here is a list of primary product analytics tools that provide the following features:
Tracking
The user journeys are long and non-linear; tracking enables to follow up the customers' journey across their actions across your site or app.
User segmentation
Divide users into groups based on demographics, behaviour, and more to identify who users are, where they came from, and what they are interested in
Funnels
Reports deliver insights into how users navigate your product, including where and when they dropped off to test why.
Integration
Your product analytics tool may not lead to data silos. Exchanging data upstream and downstream will benefit from building open, modern stacks.
KPI dashboards
Summarising key metrics and reports in one location will permit data visualisation in the most helpful and revealing ways and share critical information within your organisation.
Measurements tools
Evaluating how users engage with each feature to satisfy their needs and bring them to the journey's end.
Analysis
The detailed analysis examines customer touchpoints that lead to a purchase using attribution analysis to determine desired conversion activities or drop-offs and investigate the customer rate to learn what drives customers to depart.
Product Analytics Use Cases
Let's look at Acorn-I as an eCommerce app; our goal was to increase revenue. We can look at doing one of three things:
To increase the number of users installing the app
One of the things you can do to increase revenue as an e-commerce app is to grow the number of users accessing your app in the first place. As a result, you would likely have more people converting, so which means more revenue
To increase the conversion rate
So for every ten people accessing your app, if two convert today, you can get more revenue by converting four from those ten in the future.
To increase the average basket size.
This means you have the same number of users starting and the same number going through, but each is spending a little more money.
We decided to focus on increasing the conversion rate.
Conversion is the number of people checking out from the number of people installing, and we want to find out how we can expand this percentage. We might want to develop some hypotheses why this happens, but if we just look at it as an install in the checkout, it's a bit too simple because the user journey looks a lot more like someone will install the app; go through your onboarding hit the home screen.
Maybe they perform a search, then they might filter and look at a product or go back to search, and you get the point that there's no set journey they have to go through to get to your checkout. We built a funnel for the main events.
Someone would carry out followed by the next key event they have to carry out the next and next, we saw that from the journey we saw earlier. We're not including search and filter that's because not everyone has to search and filter, but these are the steps you have to go through to get from installing the app to checking out, and those are the steps that we want to influence.
We've got:
80% per cent of people who view your onboarding screen access the home screen,
25% who view products from that 80%
50% are adding an item to a cart
50 % are finishing the checkout process.
As a result, is a significant drop-off between viewing the home screen and viewing products thanks also to the core idea and features of Acorn-I, so we might want to find out what's happening when they get to the home screen and why aren't they getting to a product. We chose to look at the percentage distribution of what users do on the home screen.
Some users are searching, some are tapping specific product categories, and some are just ending their session. That's a bit alarming because half of the users who get the home page left before they even try to look for a product. Users aren't trying to look for products because they don't know how to use the app to find what they're looking for, or it's too much work to go from the home screen to a product.
How we built
an E-commerce analytics app using JS and Serverless on AWS
Learn more
How did we improve the conversion at this step? We assumed we wanted to make it easier by showing them our most popular products by default. If we think they don't understand how to use the product, we might want to develop an onboarding flow to walk users through it, meaning a more detailed onboarding flow than the one they've already been through.
Let's say we want to add popular products to the screen now that we can use our product analytics and infrastructure to deploy an A/B test and analyse its impact on conversion, which is the goal we aim to increase.
We built a variant b which shows the five most popular products to users on the home screen variant A was just the exact product you have today, and since we are tracking user properties. We added variant a or variant b as a user property for people who see each of those versions.
Which results have we gotten?
doubled our conversion from home to product-viewed screens.
Because users aren't performing a critical step, we looked at a funnel of our key steps between install and checkout to identify where the most significant drop-off was.
discovered the behaviour to understand where users were going instead of going to the desired destination.
The Best Product Analytics Tools List
We collect reviews of the best product analytics tools on the market. We'll clearly explain the pros and cons of product analytics tools and how those differences impact the kind of insights you can get from each one.
Mixpanel – Web and mobile self-service event-based analytics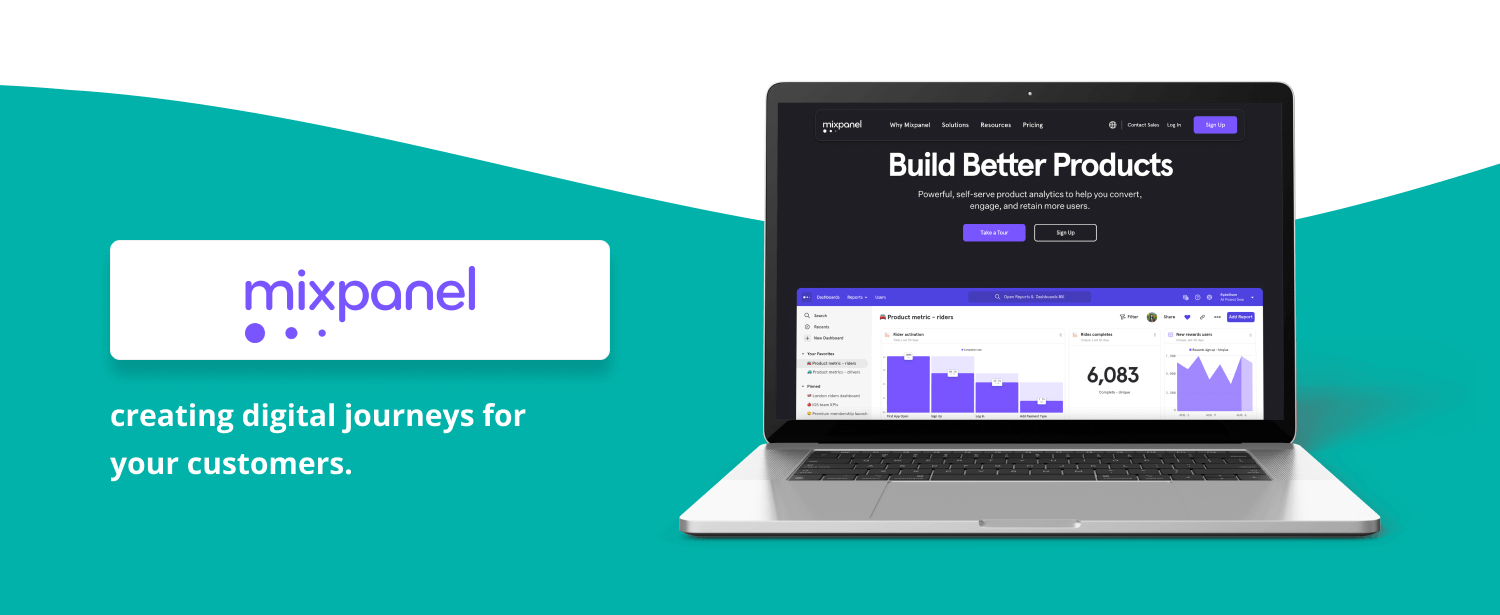 Mixpanel is a valuable product analytics tool for product managers who wish to do their in-depth analysis of the gathered data. The application offers a wide range of customisation choices to meet the specific segmentation requirements of companies from various industries. Mixpanel offers its customer a long rope to organise and manage their stats with its customisable dashboard.
See more: 8 Best Product Management Tools in 2022
With Mixpanel, individual event tracking must be set up proactively. They advise making a tracking plan to ensure you're tracking what you want. It's time-consuming to set up and requires constant maintenance by developers to ensure it's recording events correctly as your product improves.
It also means that you can't specify occurrences in the past. If you notice you're not monitoring anything critical, you'll have to wait for developers to add tracking code to the feature or element and then wait for data to arrive.
Pros:
Event-based
Granular user data
Predictive analytics
Messaging & A/B testing modules
Cons:
Extensive technical setup and some ongoing maintenance
Difficult functionality as customer aggregation and no accurate segmentation
Amplitude Analytics – Examine specific actions, user characteristics, and channels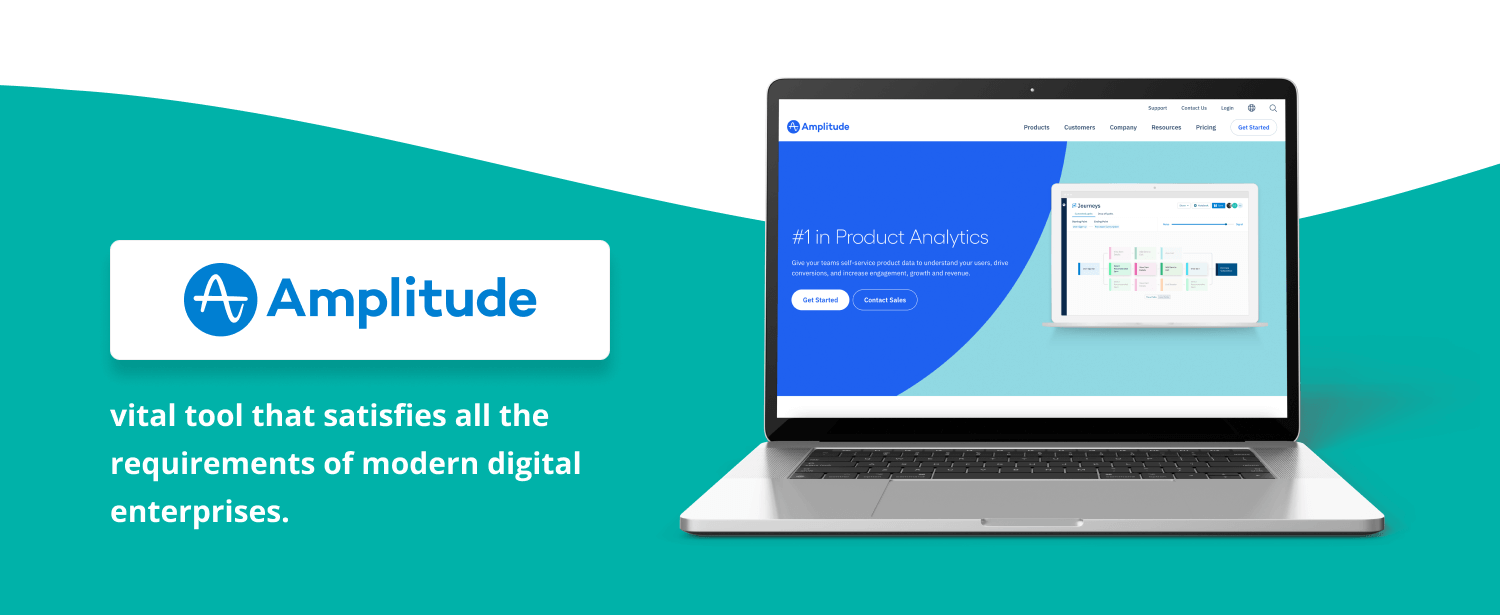 Amplitude Analytics is a vital tool that satisfies all the requirements of modern digital enterprises. It offers several unique features, like cross-platform monitoring and real-time statistics. This tool's qualities also include its security system and customer support capabilities.
Amplitude is the most complete product experience analytics solution available. It can do any event-based analysis and comparison as a digital intelligence platform. Still, it's time-consuming to set up and use daily, making it more ideal for data scientists and teams with access to developer assistance.
Pros:
Granular user data
SQL interface
User profiles.
Real-time event stream.
Cons:
Cohorts cannot be synced with other tools
Extensive interface that is hard to understand at first
High-cost
Heap – Capture every user interaction automatically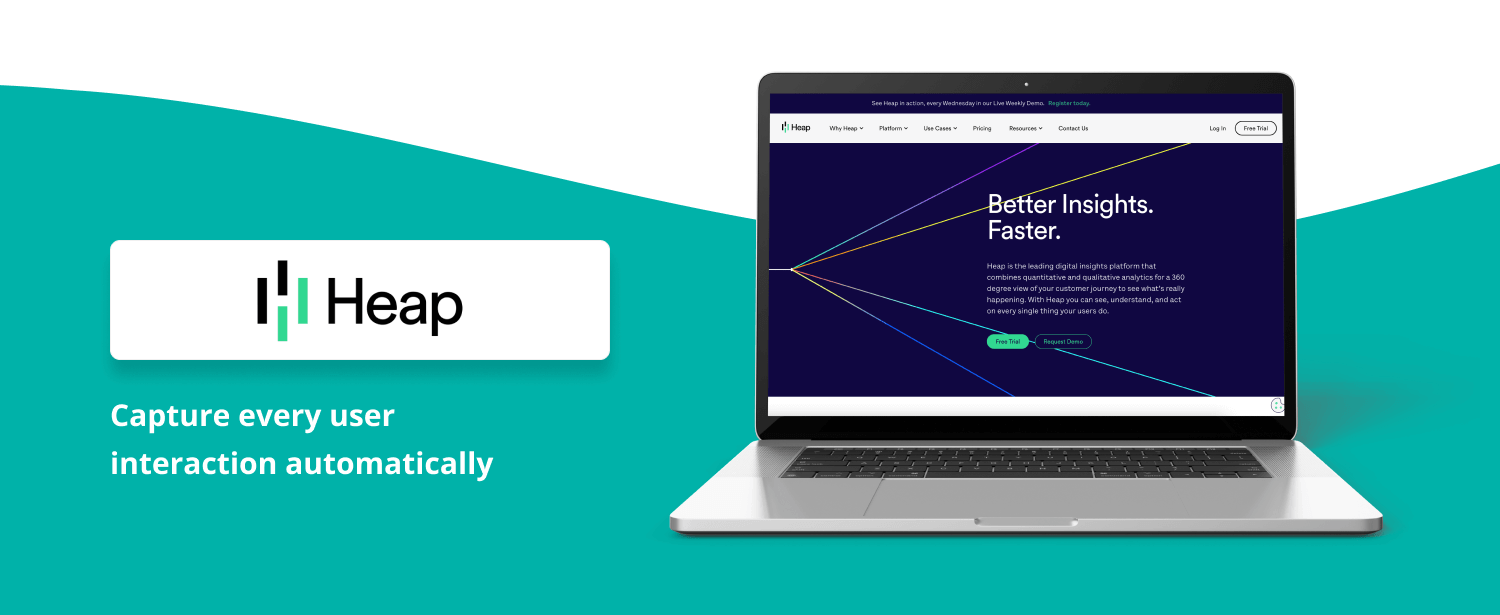 Heap is highly effective at identifying the point in a multi-step digital journey that customers become stuck or have difficulty continuing. It analyses your complete information to swiftly uncover hidden insights inside your users' digital journeys, allowing you to act confidently. You can see and understand everything your users do with Heap, so product and marketing teams know where to make improvements.
Heap captures every user action taken on a website. For each event you define, you can see things like which pages people were on, what element they clicked on, the colour of the button, the target text on the click, the actions users took before and after clicking, and the users' titles.
Over 8,000 organisations such as Twilio, Logitech and Northwestern Mutual rely on Heap to increase the business impact by providing better experiences and products.
Pros:
Event-based
Behavioural tracking
Exploratory data analysis
It can be implemented without technical knowledge
Cons:
More frequent syncs with integrations
Sharing user-created dashboards
Complex memory management
High-cost support
UXCam – Mobile app session replay and event analytics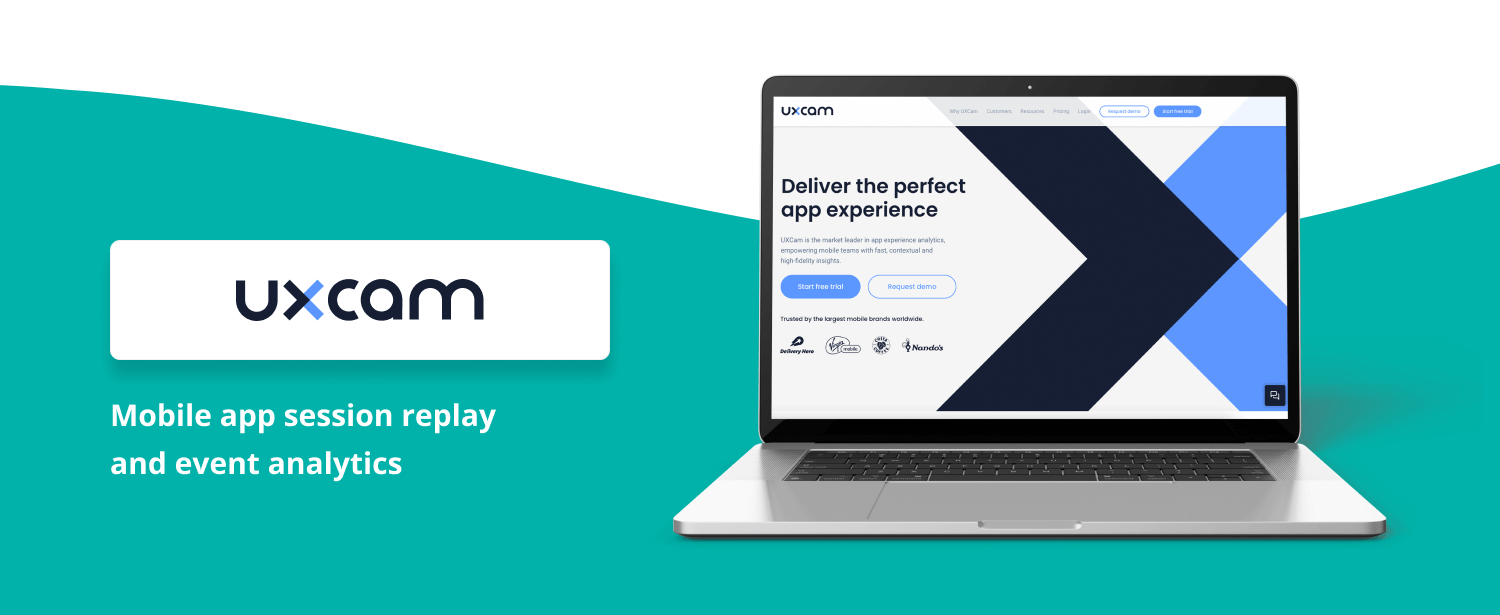 UXCam is a product analytics solution that provides detailed insights to mobile teams to design customer-centric mobile apps. The mobile app analytics platform records and visualises user activity to make more informed product decisions. Product managers may connect in their SDK and quickly gather information through heatmaps, funnel analytics, screen recordings, crash statistics, and much more.
Rage taps are the sole user interaction events that UXCam captures by default. UXCam automatically records program crashes, average session time, and active user count. To obtain any other user activity data, you must create custom events, which you can then add to funnels and utilise to filter session records.
After you complete the SDK integration, which should take approximately 30 minutes, UXCam will begin automatically recording all user sessions.
Pros:
Reveal user frustrations automatically
Quickly understand the entire user journey
Spot concealed bottlenecks
Cons:
Hard to follow at first contact
Not powerful detailed event analytics
Pendo – Know the user experience and encourage the use of digital products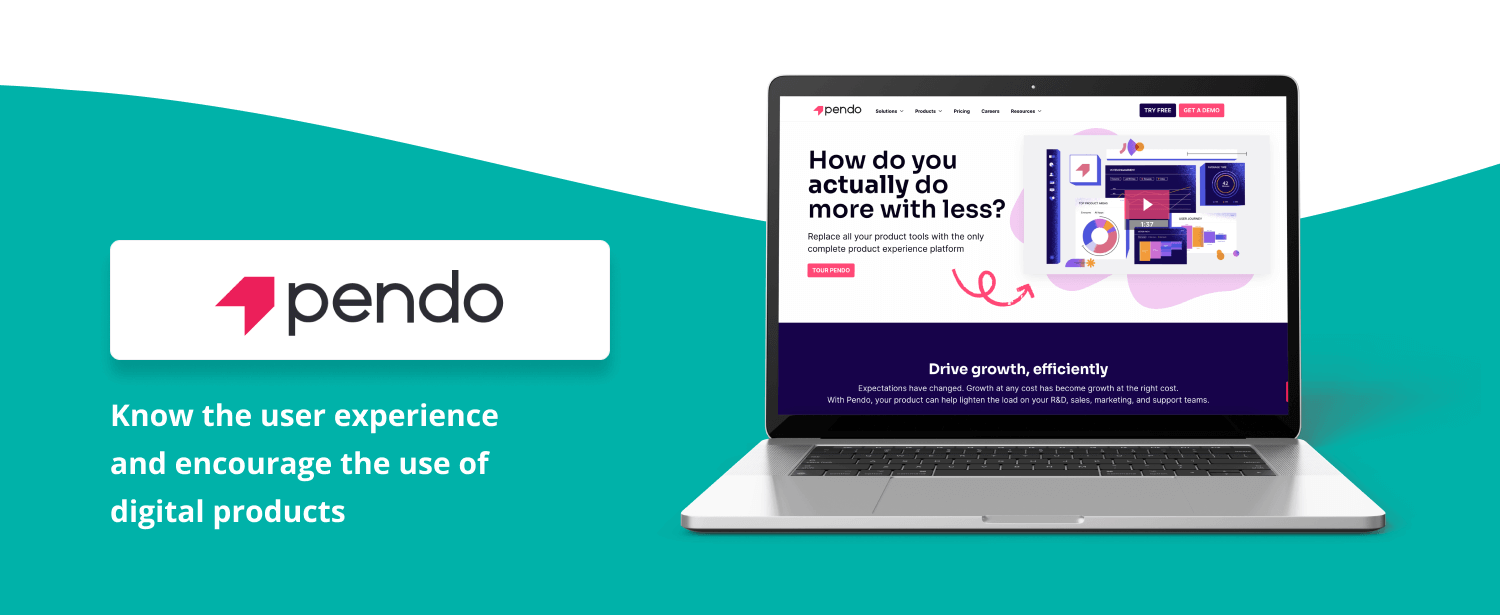 Pendo is a product experience platform that assists software product teams in creating solutions that people enjoy. Product teams may use Pendo to answer questions such as, "Which features are consumers using?" Which characteristics are they ignoring? Which is giving joy and which are generating anguish and confusion?
Pendo captures every feature click, screen, and page load without the requirement for any coding and provides retroactive event creation for those sorts of events. It's best recognised for tools that help users navigate your apps, such as tailored suggestions and pop-up messages that urge users to complete onboarding tasks or explore new features.
Pros:
Tracking user's click paths and page views
Providing users with release notes
Targeting segmented groups with messaging
Landing page optimisation
Cons:
Walk-through, step-by-step guides could be more fluid
No screen recording
High-pricing
Google Analytics - fully-featured tool for monitoring the behaviour of website or app users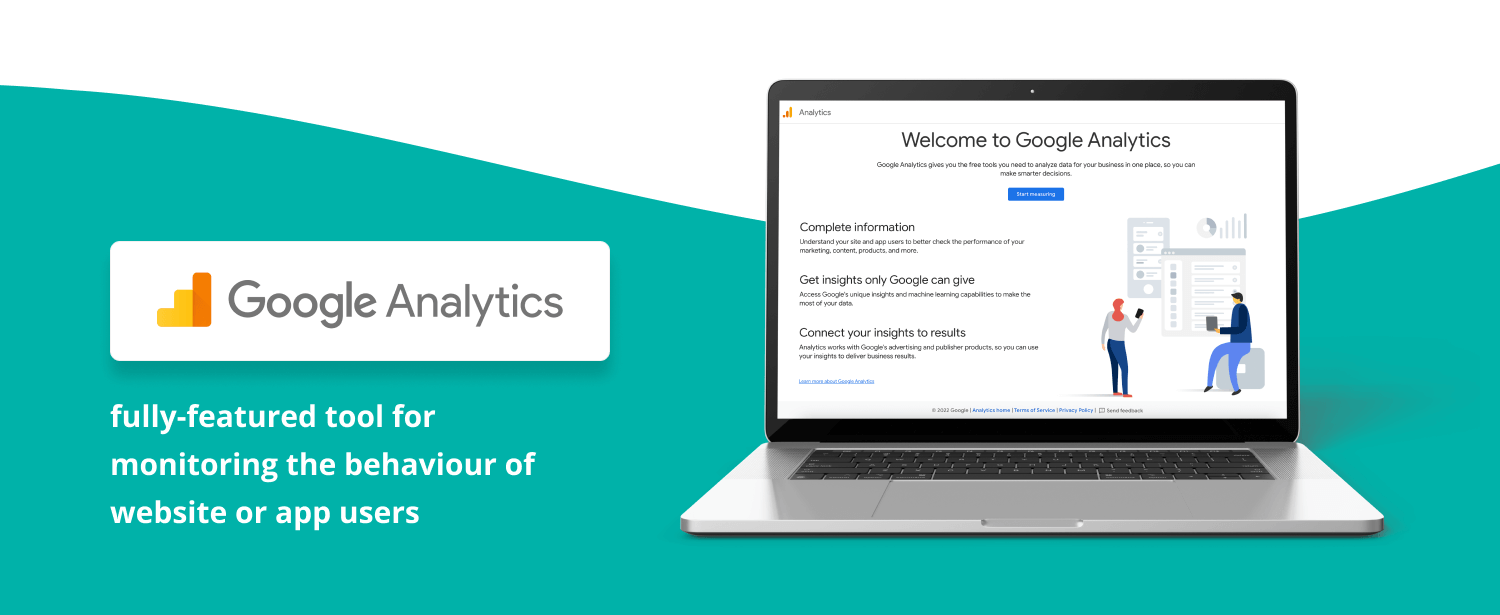 One of the first tools for product analytics is Google Analytics, which is still running. 88% of the top 100 000 websites use Google Analytics - Web Technology survey. The development team has worked tirelessly to enhance the functionality and user interface.
The most attractive feature of Google Analytics is that you may utilise its free basic version when you are just getting started and not ready to pay for the program yet. You may upgrade to the premium version to further your product management.
Google Data Studio is ideal because it provides simple access to an extensive repertoire of analytical tools. For example, you can visually present data using charts, tables, and maps. You can share custom reports with key stakeholders, make inquiries, and generate reports on demand. You can incorporate live data, including AdWords and Google Analytics data, as well as third-party data, such as weather, stock quotes, and social media data.
Pros:
Anonymised user real-time data
Granular source tracking
Reporting on where traffic is coming from (location, device, etc.)
Cons:
Using secondary dimensions and other advanced tools can be challenging
Detail of reporting - very high level
Complex and large system, needs better UX
Glassbox – creating digital journeys for your customers.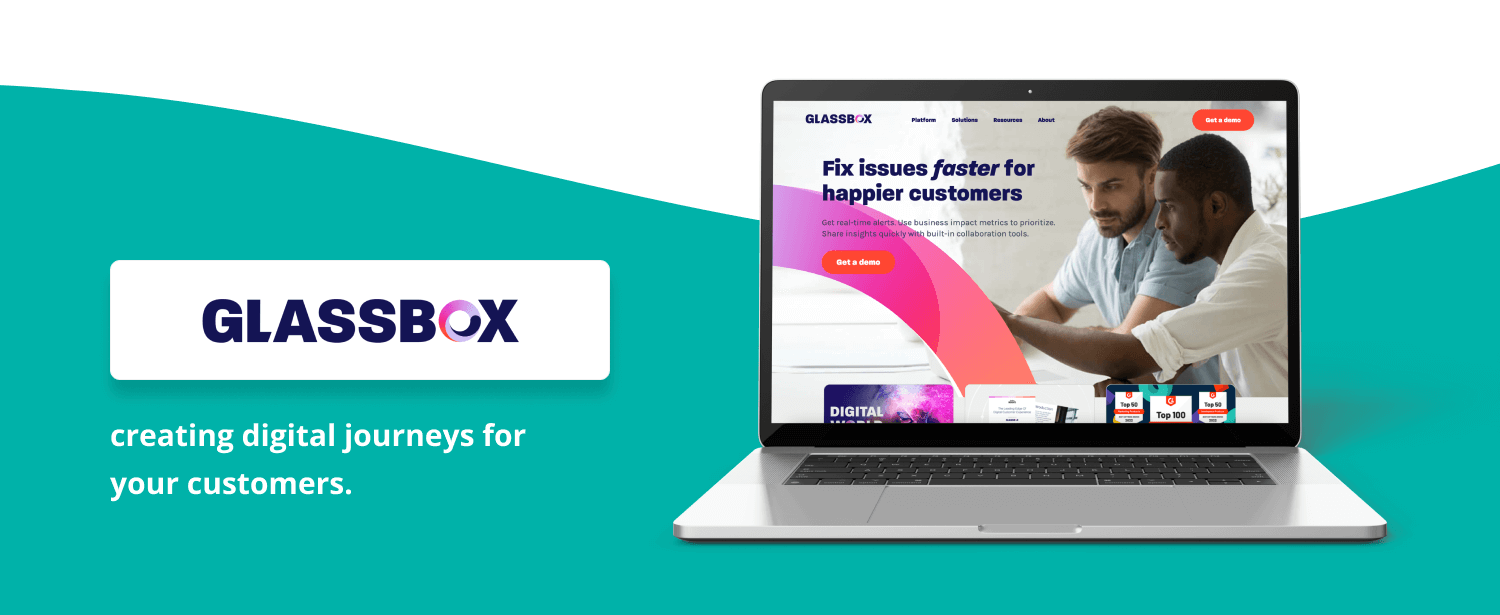 Glassbox, the analytics solution, delivers a seamless digital trip to its customers. The analytics solution is real-time and works across websites and mobile applications. AI-powered visualisation and analytics assist product managers in visualising user journeys and understanding their challenges. Glassbox aids them in problem-solving and improving the user experience.
Glassbox enables businesses to design smooth digital journeys for their consumers. To increase loyalty and growth, digital experience analytics technology works in real-time across mobile applications and websites. Glassbox helps teams prioritise customer experience and digital product updates from a single collaborative system. Teams from IT and product management to marketing and compliance can discover user pain points, map the customer journey, and improve each step.
Pros:
Premium consulting and integrations
UI to visualise the gathered data and take actions
Funnel analysis
Cons:
Data are not counting correctly
In behavioural analytic tools, results might be false positive.
Playback and scrolling
Final Word
We want to know how people interact with our product, what works well and what doesn't, how different groups of people use our product, and how the features we roll out affect usage and engagement. Figuring out all that can be tricky – product analytics makes it much more manageable.
The value of analytics is to ask questions and get answers quickly to which groups are successful and which users are doing what, and the data helps you get to the truth. With product analytics, we can now look at a personal level at what features we should roll out for, which features we just should sunset we can understand churn and what behaviours people are taking in different segments.
Your focus is on providing users with the best product experience. To be data-driven, you must carefully choose the product analytics technologies you employ. However, with the variety of product analytics tools on the market, it's easy to lose sight of which tools are worth considering.
I hope this guide is helpful in your search for the right option for you. Contact us to get valuable answers to your questions and identify what makes users your best customers.
FAQs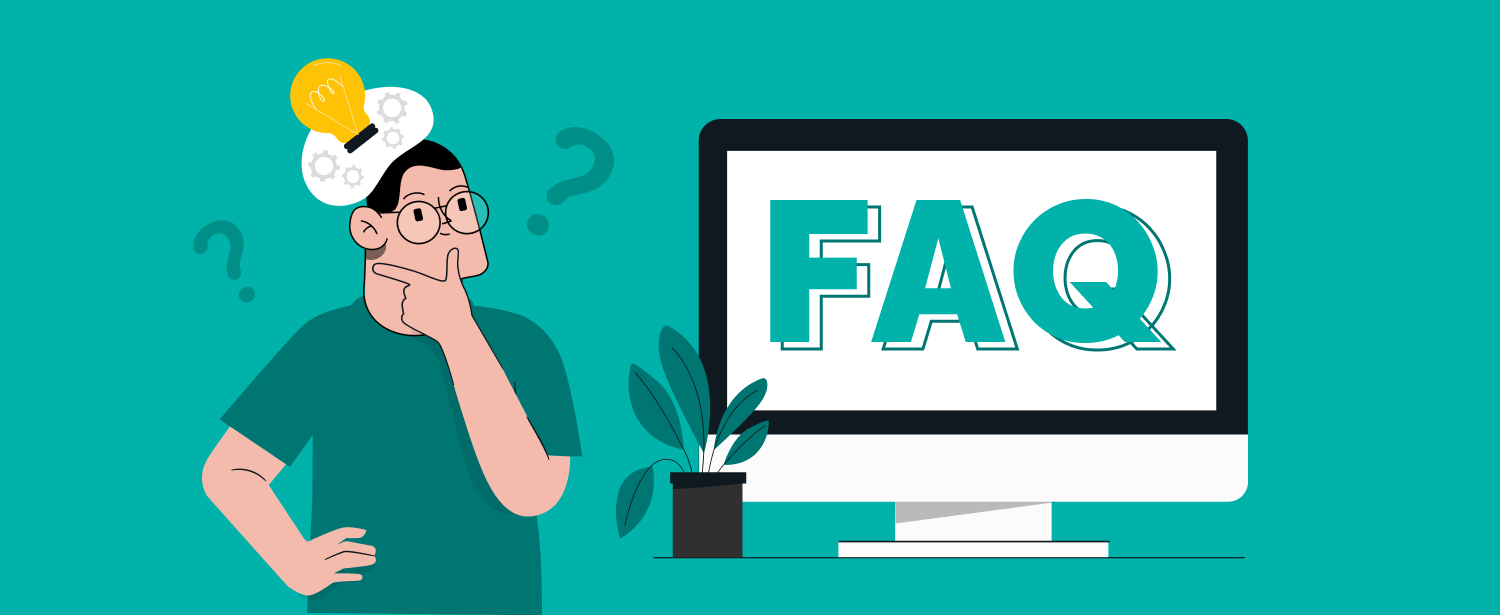 What is the best product analytics tool?

After defining the data disciplines, and business objectives, companies can select the appropriate product analytics tool. As I have already mentioned, there are several flexible and easy-to-use tools such as Heap, Pendo, GlassBox, Mixpanel, Amplitude and Google Analytics. You must ensure which fits your analysis best based on your business needs.

What tools does a product analyst use?

A product analyst uses a wide range of tools to gather and analyse data about a product that will be used by the customer, including spreadsheets and collecting data, including interviews with customer end-users. These tools include category and competitor research, online and offline databases, and surveys. The product analyst makes decisions based on experience, intuition, and analytical reasoning.

What are the three analytical steps?

First, conduct research on your users, what they are looking for, and how to close their needs and improve their experience. Next step is defining the metrics you would choose to monitor and where you would track them. Finally, you can now analyze how your customers behave interacting with your product, what disturbs them, and make adjustments based on colleсted data.

What are the three analytical tools?

Based on the company size and goals, you can choose one of the product analytics tools. You can choose Google Analytics which is really hard to understand at first, if you want a complex and detailed analysis with many options to track. Or Mixpanel, which is one of the best for event tracking and the opportunity to change code without developers. Perhaps, Heap creates a user digital journey and is simple for everyone to implement.

How do integrate product analytics into product?

Product Analytics implementation is challenging not only for startups but even for large companies. In words, there are only a few actions such as setting a product strategy, evaluating key metrics, analyzing customer journeys, and driving digital business growth with data. But in reality, businesses must have product analytics specialists or teams that will track all the metrics, follow the changes in user behavior to integrate and make the best for their customers.

When should my business consider investing in product analytics?

Product analytics may help your company if you want to influence and improve customer experience. The reasons to use the product analytics are:

Develop your data value chain, boost user retention and conversion rates, and reduce customer churn if you want to expand correctly.
When you're curious about your visitors' experiences on your site and want to improve them.
When you want to create a product that others will like—or, better still, adore.
When you want to improve your data storytelling and guarantee that you keep up with the market.

How do I pick the best product analytics tool?

Begin with the final goal when you're selecting a product analytics tool. Choose a tool based on your business goals and Key Performance Indicators depending on your company's aims. To obtain the most information, be as specific as possible, and be open to exploring and trying new things.