Top FinTech Companies in the USA to Keep an Eye On

Director of FinTech at TechMagic. Ex-VP of Goldman Sachs. Blockchain and Web3 expert. Experienced engineering manager and CTO.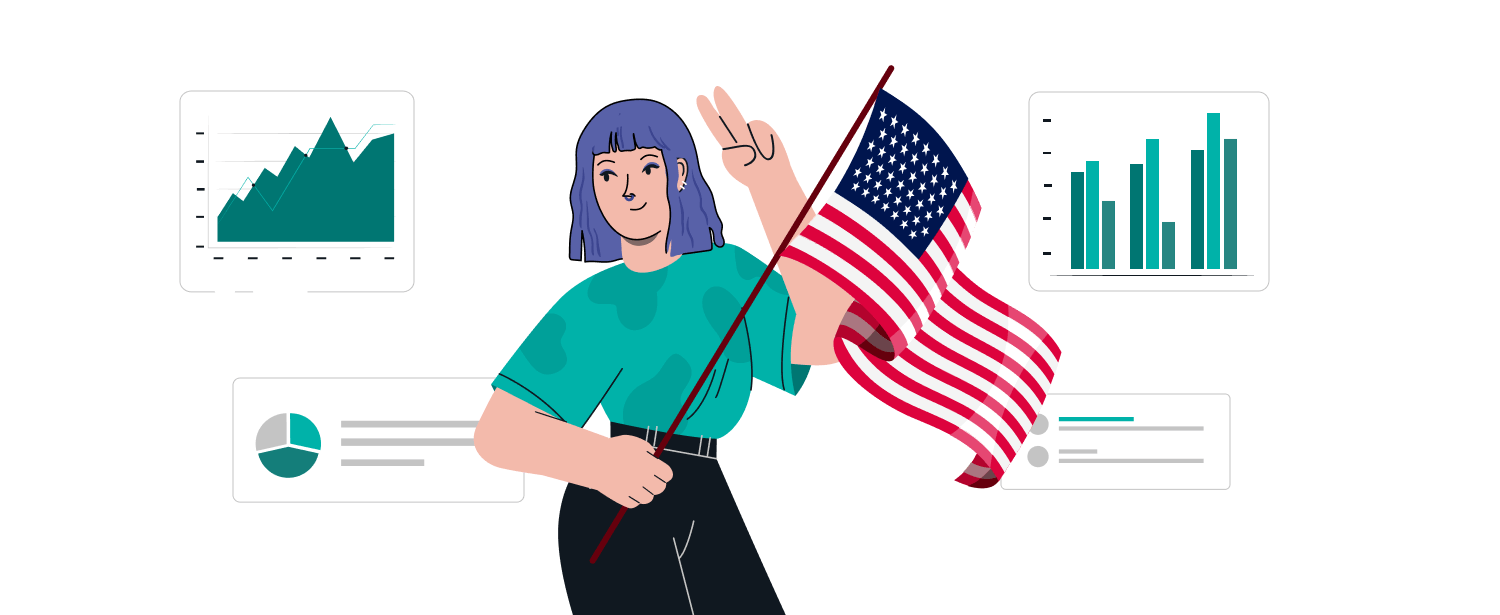 The world of finance is evolving rapidly, and FinTech companies are leading the way in innovation and disruption. With a wide range of services catering to individuals and businesses, FinTech companies are making it easier to manage finances, invest in stocks, and handle transactions online.
If you're looking for the top FinTech companies to watch out for, this article is for you. In this post, we'll look at the best FinTech companies in the USA, their unique features, and what sets them apart. From payment processors to digital banks, we'll cover everything you need to know to stay ahead of the game in the world of finance. So, let's dive in!
Overview of the FinTech Market in the USA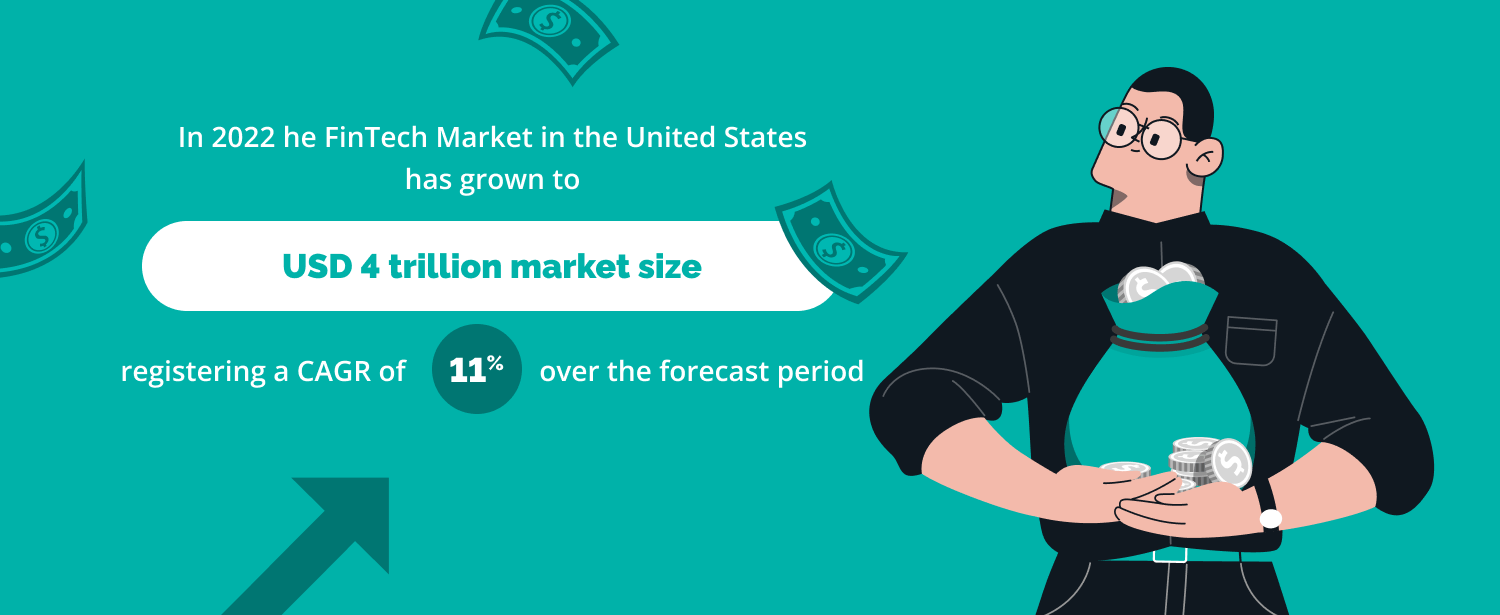 The industry is dominated by digital payment, valued at over $1.2 trillion in 2021.
Service propositions include digital payment, investments, alternative lending, and alternative funding segment in the US fintech market.
The growth of e-commerce has propelled the fintech market, with digital payments being the leading segment.
The US will account for over 62% of the global fintech transaction value by 2025.
The industry has a high rate of customer fintech implementation at 46%.
One of the main reasons for the growth of fintech in the USA is the increasing adoption of mobile devices and online platforms. In 2021, 80% of US adults owned smartphones, and 67% used mobile banking apps.
Another factor contributing to the growth of fintech in the USA is the rise of digital banking. These digital banks offer various fintech services, including checking and savings accounts, debit cards, and investment options.  
Overall, the fintech market in the USA is poised for continued growth in the coming years. With the increasing adoption of mobile devices and online platforms, the rise of digital banking, and significant investment, the industry is driving innovation and creating new opportunities for consumers and businesses.
A List of TOP-100 FinTech Companies from the USA
See who's on top of the industry in the United States by downloading the list of the top 100 companies from the Financial Technology market. There are short overviews of each company, raised funds and founding date.
Further in this post, we look closely at the top 10 companies from the list. But at first, let's dive a little deeper into the market context. (Use the navigation bar at the right to jump to any part of the article instantly).
What are the specialisms of the USA FinTech solutions?
In the USA, the FinTech industry is home to a diverse range of companies that specialise in different areas of finance. Some of the top FinTech specialisms in the USA include:
Payment processing companies like Stripe, PayPal, and Square have revolutionised how businesses handle online transactions. These companies offer secure and easy-to-use payment processing tools that allow businesses to accept payments from customers worldwide.
Digital banking has emerged as a major area of focus for fintech companies USA. Companies like Chime and Varo Money offer fully digital banking services, including checking and savings accounts, debit cards, and investment options.
Wealth management is another key area of specialisation in the USA FinTech industry. Betterment and Wealthfront offer investment management services that use algorithms to build and manage portfolios.
Insurtech is an emerging area of FinTech that is focused on using technology to disrupt the insurance industry. Companies like Lemonade and Root use AI and machine learning to offer more personalized insurance products and services.
Whether you're looking for payment processing tools, digital banking services, investment management, digital asset management development, or innovative insurance products, the USA FinTech industry has something for everyone.
FinTech Development
Learn about our expertise in the industry and what we have to offer
Learn more
Evolution of FinTech in the USA
In the 1990s, the first online banking and stock trading platforms emerged, marking the beginning of the FinTech revolution.
The 2008 financial crisis fueled the growth of FinTech in the USA, as consumers and businesses looked for alternative ways to access financial services. The passage of the Dodd-Frank Wall Street Reform and Consumer Protection Act in 2010 further accelerated the growth of FinTech, as it created new opportunities for startups to enter the financial services industry.
In 2015, the USA saw the emergence of the first unicorn FinTech company, with online lender SoFi achieving a valuation of $1 billion. Since then, the number of unicorn FinTech companies in the USA has continued to grow, with companies like Stripe and Robinhood achieving multi-billion dollar valuations.
The COVID-19 pandemic has further accelerated the growth of FinTech in the USA, as consumers and businesses have turned to digital financial services to cope with social distancing measures.
The USA is one of the fastest-growing regions in fintech, and there are several reasons for this.
One of the main factors is the country's large and established financial services industry, which has a long history of innovation and technology adoption. The rise of fintech has created a wave of disruption in the industry, with many startups challenging traditional players and bringing new products and services to market.
Another reason for the fast growth of fintech in the USA is the country's strong entrepreneurial culture and access to capital. There is a wealth of venture capital and private equity firms in the USA which are eager to invest in innovative startups that have the potential to disrupt the market.
The USA also has a large and diverse consumer market, which presents a significant opportunity for fintech companies to scale their businesses quickly. With a population of over 330 million, the country is home to many demographics, from millennials to retirees, each with unique financial needs and preferences.
The combination of an established financial services industry, strong entrepreneurial culture, access to capital, and a diverse consumer market has made the USA a fertile ground for fintech companies to flourish and overgrow.
Bamboo
Learn how we built macro-investing app with its own token and reward system
Learn more
New features of FinTech in the USA
The fintech industry is constantly evolving, and the biggest fintech companies in the US are always looking for new ways to improve their services and gain a competitive advantage. Here are the hottest fintech trends for 2023 for new features in the USA fintech industry:
Voice-activated transactions: Develop voice-activated transactions with the increasing popularity of smart speakers and voice assistants.
Biometric authentication: Provide higher security for financial transactions with biometric authentication, such as facial recognition and fingerprint scanning.
Cryptocurrency integration: Integrate cryptocurrency transactions into their services.
Personalized financial planning: Develop algorithms that analyze a customer's financial data to create customized financial plans and investment portfolios based on their goals, risk tolerance, and other factors.
Real-time financial data: Leverage technologies like artificial intelligence and machine learning to offer real-time insights into a customer's financial data, such as spending habits, income, and credit score.
These are just a few potential ideas for new features in the USA fintech industry. As technology continues to evolve, there are sure to be many more exciting innovations to come.
Top 10 FinTech Companies in the USA
Some of the world's most innovative and largest fintech companies in the US. Let's take a closer look at the top 10 of them and what they do.
Robinhood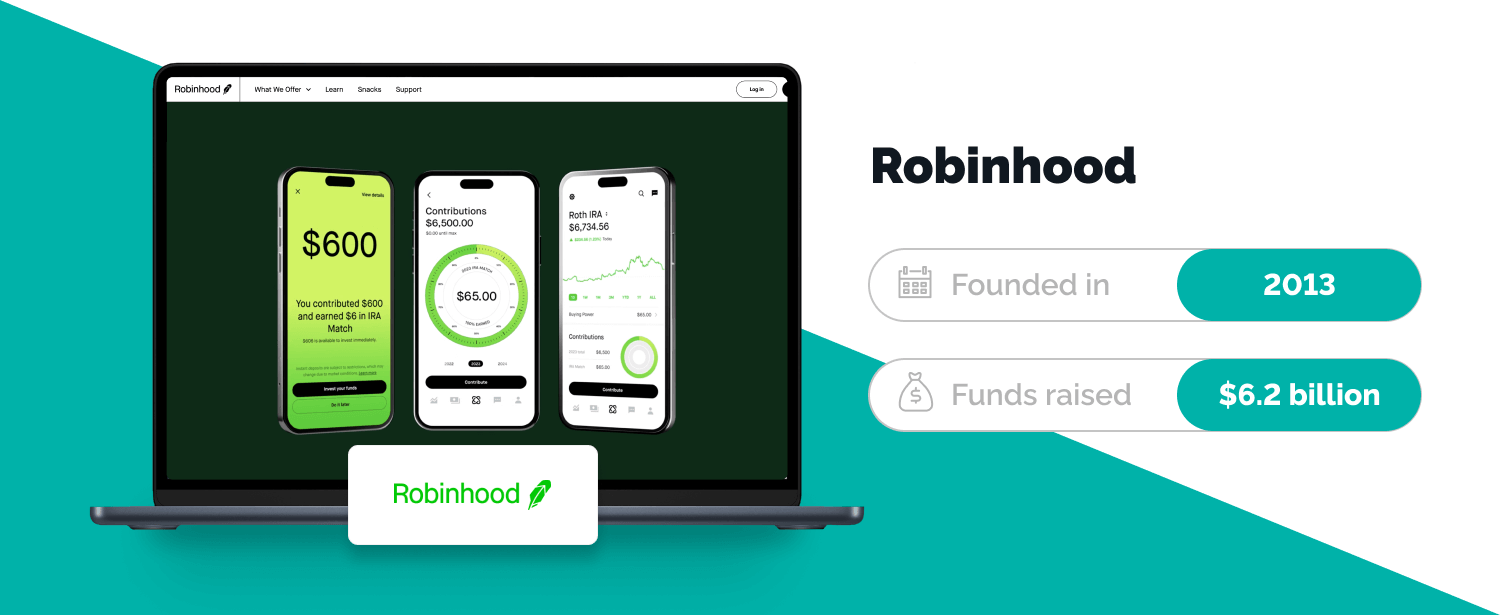 Robinhood has quickly become one of the most popular online trading platforms. The platform offers commission-free trading of stocks, ETFs, options, and cryptocurrency. It has over 18 million users.
Founded in 2013
Funds raised: $6.2 billion
Robinhood features:
Commission-free trading: Robinhood was one of the first brokerage firms to offer commission-free trading on stocks, options, and ETFs. This feature has made investing more accessible to everyday investors and has disrupted the traditional brokerage industry.
Fractional shares: Another unique feature of Robinhood is the ability to purchase fractional shares of stocks and ETFs. This means that investors can buy a portion of a share, making it easier to invest in expensive stocks.
Cryptocurrency trading: The company was one of the first mainstream investment apps to offer cryptocurrency trading. Users can buy and sell popular cryptocurrencies like Bitcoin, Ethereum, and Dogecoin, all within the same app as their stock and ETF investments.
Robinhood Gold: For a monthly fee, Robinhood Gold offers premium features like extended trading hours, access to professional research reports, and the ability to trade on a margin. This feature is designed for more experienced investors who want to take their trading to the next level.
Acrisure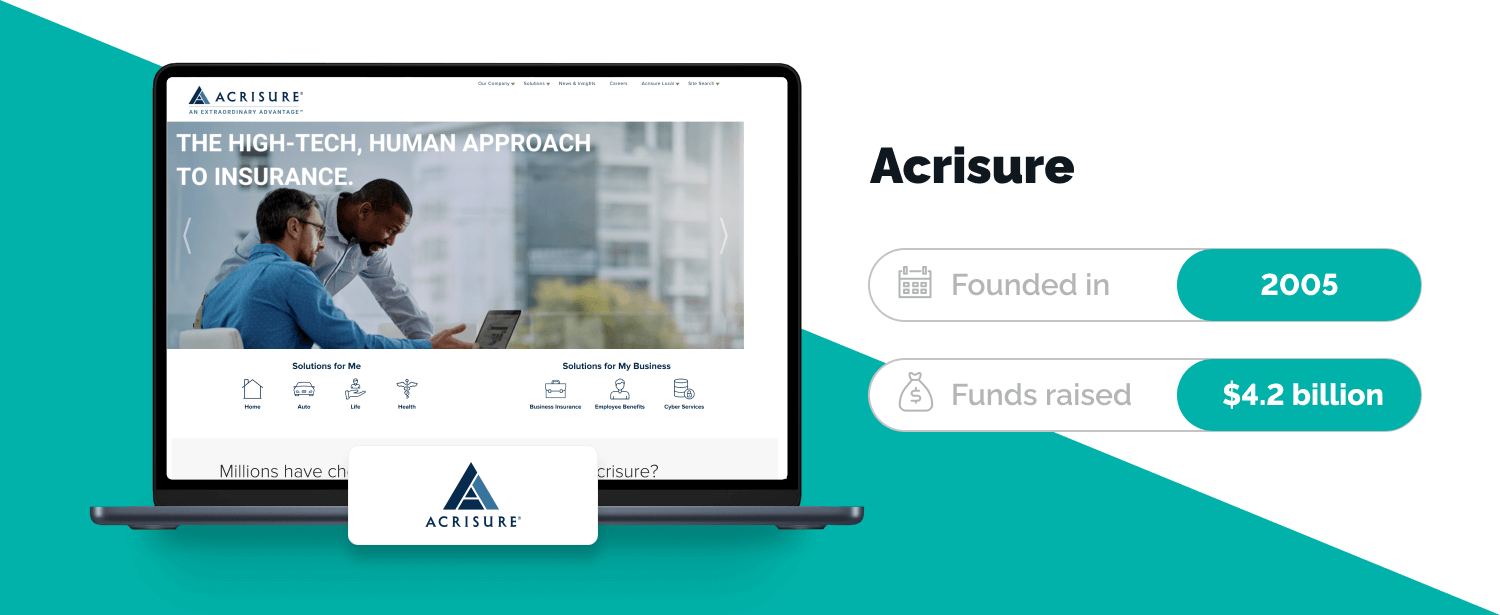 Acrisure is an insurance brokerage company that provides various insurance products and services. The company has grown rapidly in recent years, acquiring several other insurance brokers and agencies.
Founded in 2005
Funds raised: $4.2 billion
Acrisure features:
Global Reach: With a presence in over 45 countries, Acrisure's global reach allows them to provide local expertise and support to clients wherever they operate.
Broad Expertise: Acrisure has a team of over 7,000 insurance professionals with expertise in various industries, including healthcare, manufacturing, transportation, and more. This allows them to offer tailored solutions to meet each client's needs.
Innovative Solutions: The company is known for its innovative approach to insurance, with solutions beyond traditional coverage to include risk mitigation, loss control, and other services that help clients reduce their risk exposure.
Data Analytics Platform: It developed its proprietary data analytics platform, the Acrisure Insights Platform, with real-time data and insights to help clients make informed decisions about their insurance coverage.
SoFi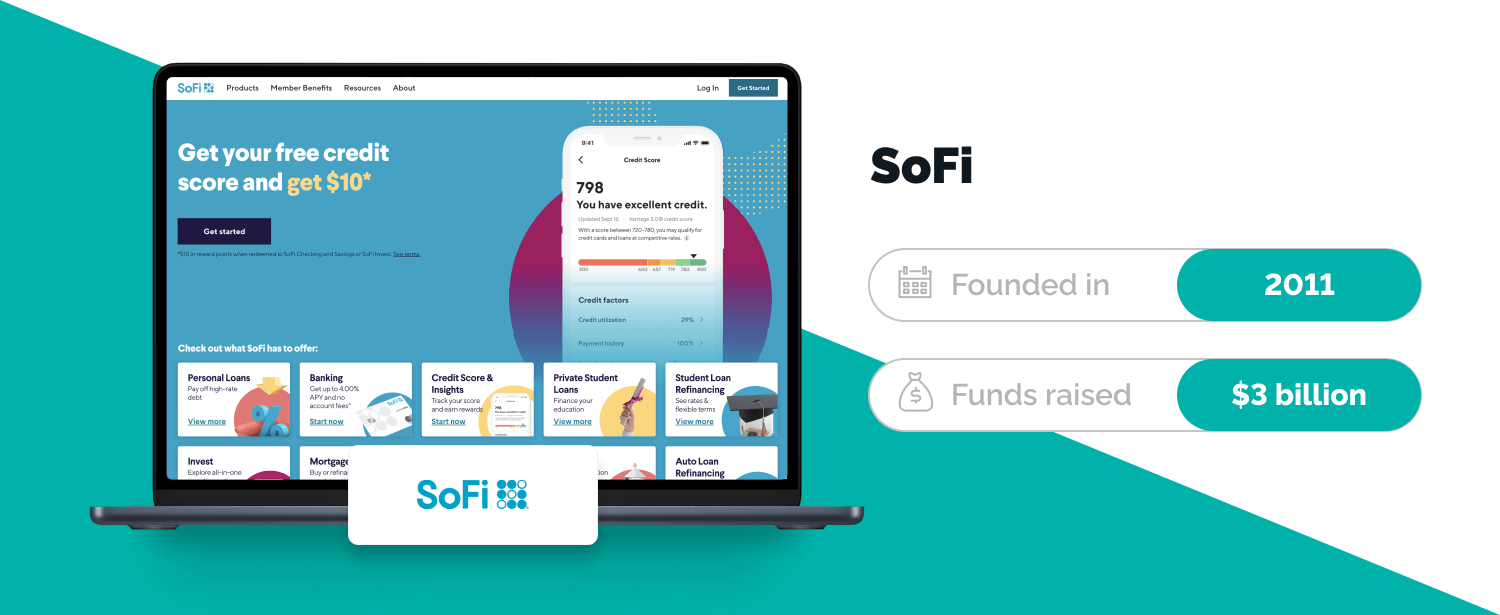 SoFi is a personal finance company offering various financial products and services, including student loan refinancing, mortgages, personal loans, and investment services.
Founded in 2011
Funds raised: $3 billion
SoFi features:
Robust product offerings: SoFi has a comprehensive range of financial products, including student loan refinancing, personal loans, mortgages, investment accounts, and even life insurance in one place.
Competitive rates: SoFi is known for offering some of the most competitive rates in the industry. For example, the company offers student loan refinancing at rates as low as 2.25%, much lower than the industry average.
Membership benefits: The company delivers a unique membership program that provides customers benefits, such as career coaching, member events, and discounts on other SoFi products. This adds value to the customer experience and helps to build customer loyalty.
Robo-advisory services: SoFi also has a robo-advisory platform for investment accounts, which allows customers to invest in various ETFs and mutual funds. The platform uses algorithms to automatically rebalance portfolios and optimize returns based on the customer's risk tolerance and investment goals.
Kabbage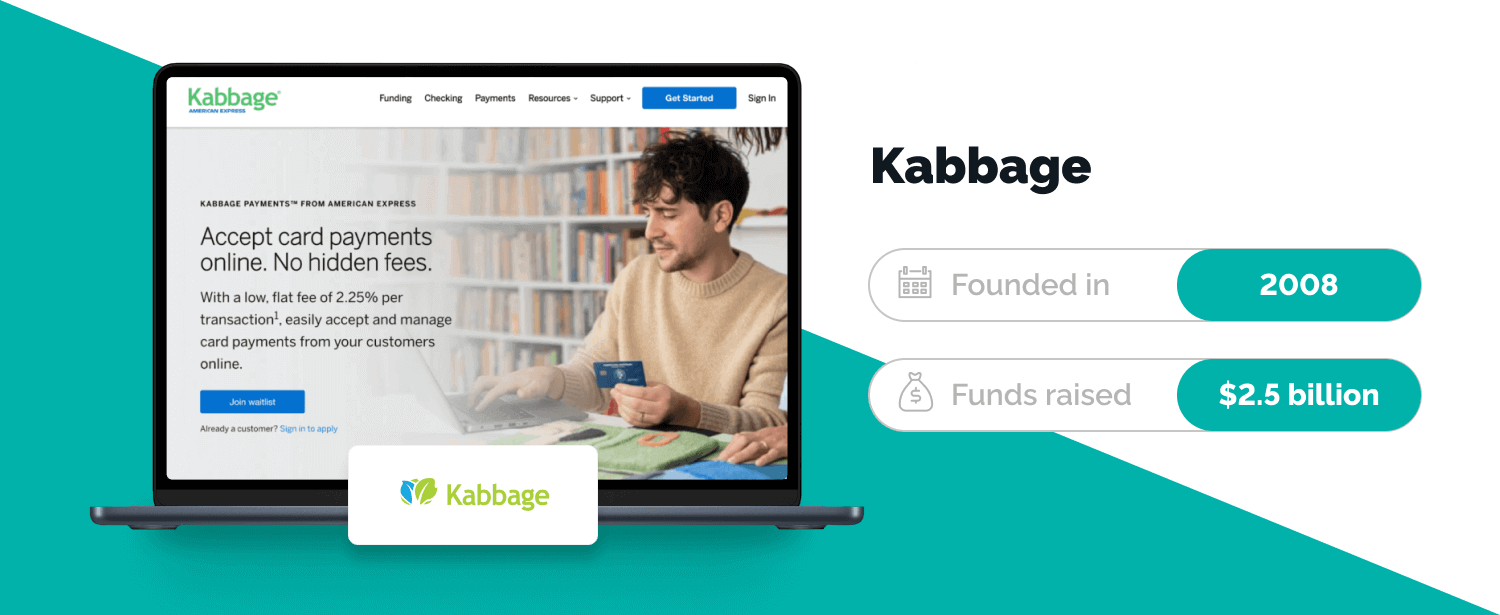 Kabbage is an online lending platform providing small businesses with funding access. The platform uses advanced algorithms to analyze data from various sources, including social media and accounting software, to assess the creditworthiness of potential borrowers.
Founded in 2008
Funds raised: $2.5 billion
Kabbage features:
Online Approval: Kabbage's online platform allows small business owners to easily apply for and get approved for funding in minutes. It uses advanced algorithms and machine learning to assess the creditworthiness of a business based on data from sources like accounting software, bank accounts, and payment processors.
Fast Funding: Once approved, businesses can receive funds in their accounts in as little as 24 hours, making Kabbage a great option for businesses needing quick capital access.
No Hidden Fees: Kabbage has a transparent fee structure with no hidden fees or prepayment penalties. Businesses only pay a monthly fee for the funds they use, and there are no fees for early repayment.
Accessible Customer Service: Kabbage offers support to its customers through various channels, including phone, email, and live chat. Its customer service team is available seven days a week to assist with any questions or issues.
Flexible loan terms: Kabbage provides loans with terms ranging from 6 to 18 months, allowing borrowers to choose a repayment schedule that suits their needs. The company also offers a revolving line of credit, which allows borrowers to withdraw funds as needed and only pay interest on the amount borrowed.

Stripe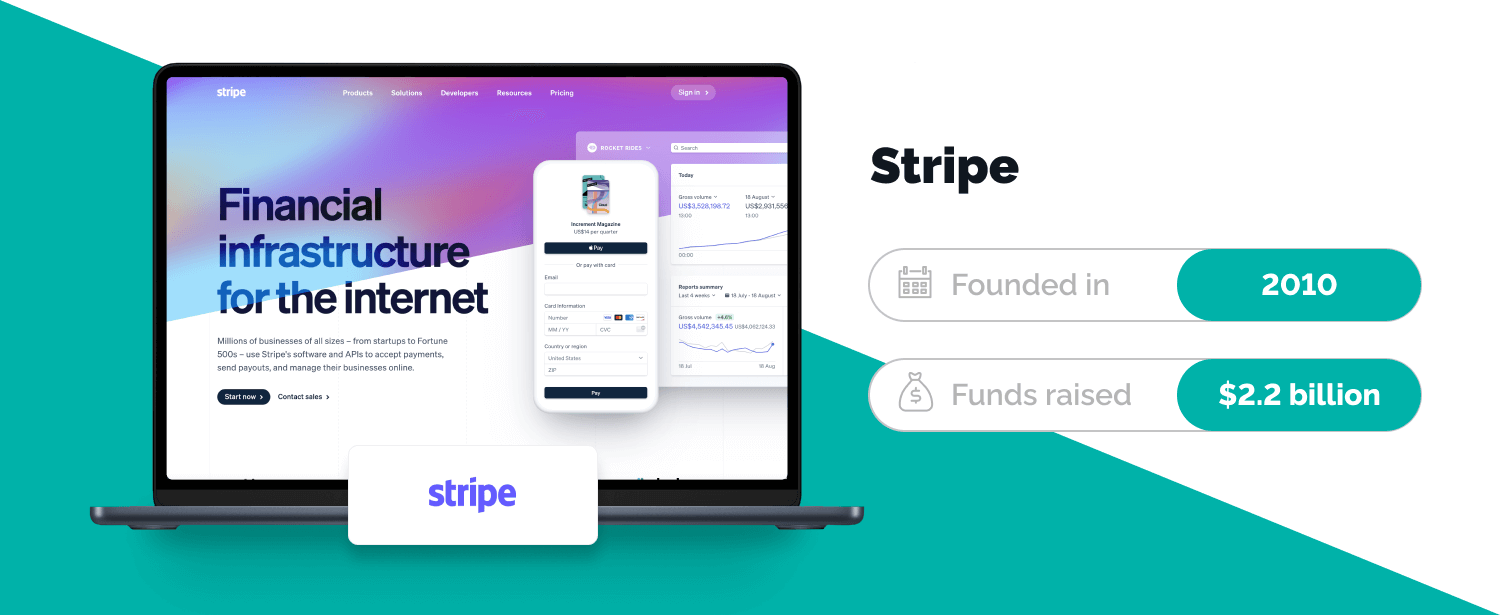 Stripe is a payment processing company that provides businesses an easy way to accept online payments. Businesses of all sizes use the company's platform, from small startups to large enterprises.
Founded in 2010
Funds raised: $2.2 billion
Stripe features:
Global reach: Stripe supports payments in over 135 currencies and has a presence in over 40 countries.
Seamless integration: Stripe offers easy integration with many popular platforms, including Shopify, Squarespace, and WooCommerce, making it simple for businesses to start accepting online payments quickly.
Customizable payment options: Businesses can customize their payment options and choose from over 135 currencies to support international customers.
Fraud protection: It has advanced fraud protection tools, including machine learning algorithms and customizable rules, to help businesses minimize the risk of fraudulent transactions.
Subscription management: It offers tools for managing recurring payments and cancellations for businesses offering subscription-based services.
Developer-friendly: Stripe's API and documentation make it easy for developers to integrate Stripe's payment processing into their applications.
Navan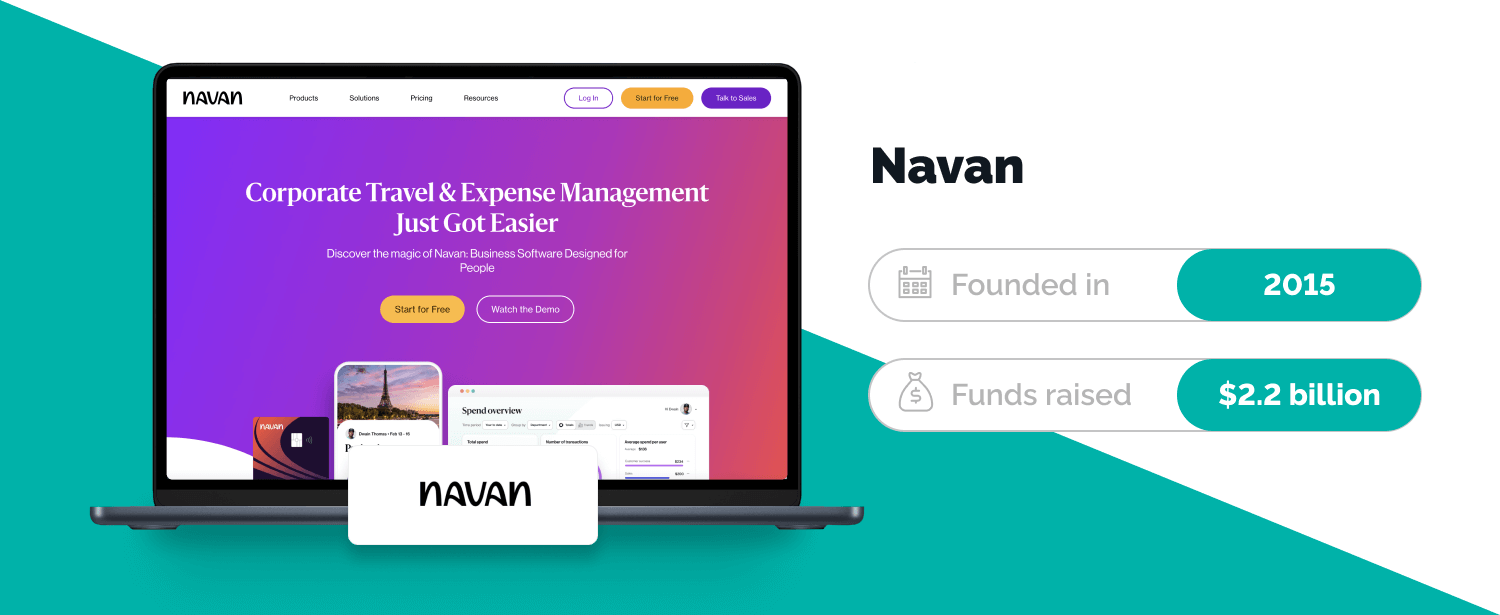 Navan is a business travel and expense management platform that provides companies with various tools and services to help them manage their travel expenses. The platform uses machine learning to optimise travel plans and save companies money on travel expenses.
Founded in 2015
Funds raised: $2.2 billion
Navan features:
Personalized travel options: Navan offers personalized travel options for employees based on their preferences and past travel history, allowing them to book flights, hotels, and rental cars quickly and easily.
Cost savings: Navam leverages its partnerships with airlines, hotels, and other travel providers to offer exclusive discounts to its clients, helping companies save on travel expenses.
Expense management: The platform provides a comprehensive expense management system that automates expense reporting and streamlines reimbursement.
Advanced reporting and analytics: It has advanced reporting and analytics capabilities, providing companies with real-time insights into their travel expenses and helping them make data-driven decisions.
Chime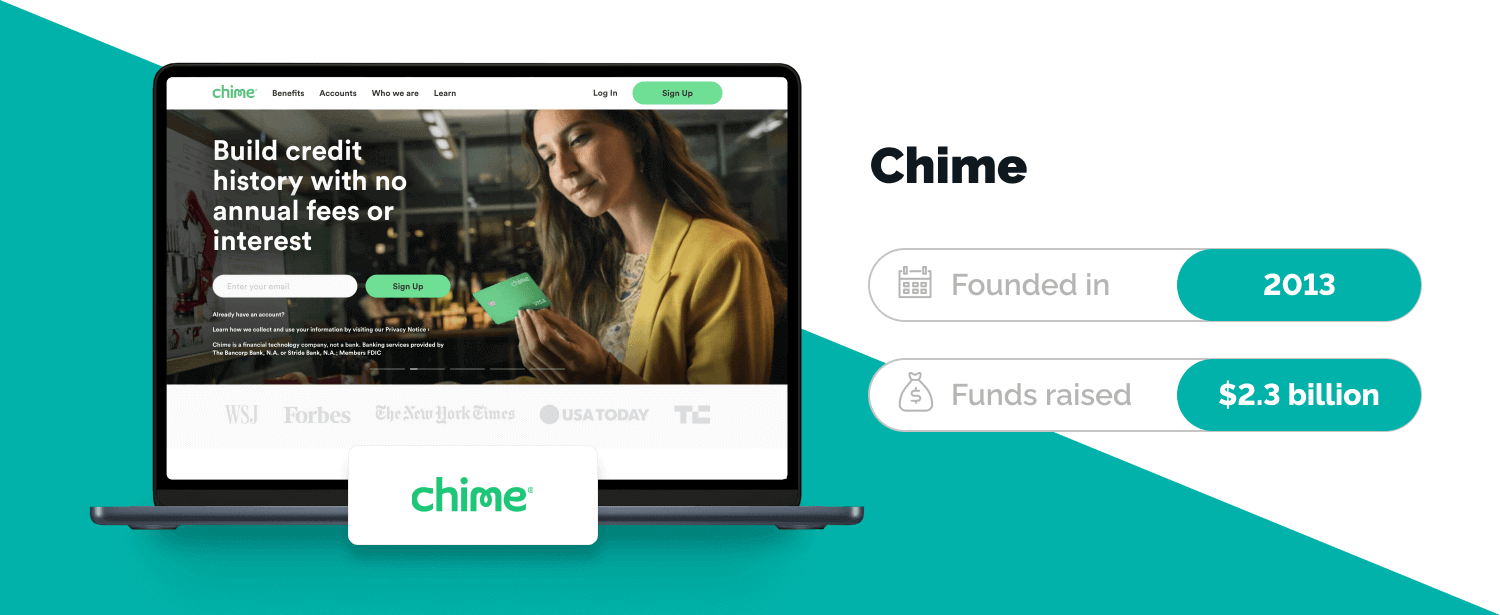 Chime is a neobank that provides users with fee-free checking and savings accounts. The platform offers other financial services, including debit cards, loans, and credit monitoring.
Founded in 2013
Funds raised: $2.3 billion
Chime features:
No fees: It prides itself on being a fee-free banking platform. They don't charge any monthly, overdraft, foreign transaction, or minimum balance fees.
Early payday: Its "Get Paid Early" feature allows users to access their paychecks up to two days earlier than traditional banks.
Automatic savings: Company offers an automatic savings feature called "Save When I Get Paid," which automatically transfers a percentage of your paycheck to your savings account each time you get paid.
Round-up savings: Chime's "Round Up" feature allows users to round up each transaction to the nearest dollar and automatically transfer the difference to their savings account.
Partner perks: Chime partners with companies to offer perks and discounts to its users, including cashback on purchases at select retailers and discounts on prescription medications.
Avant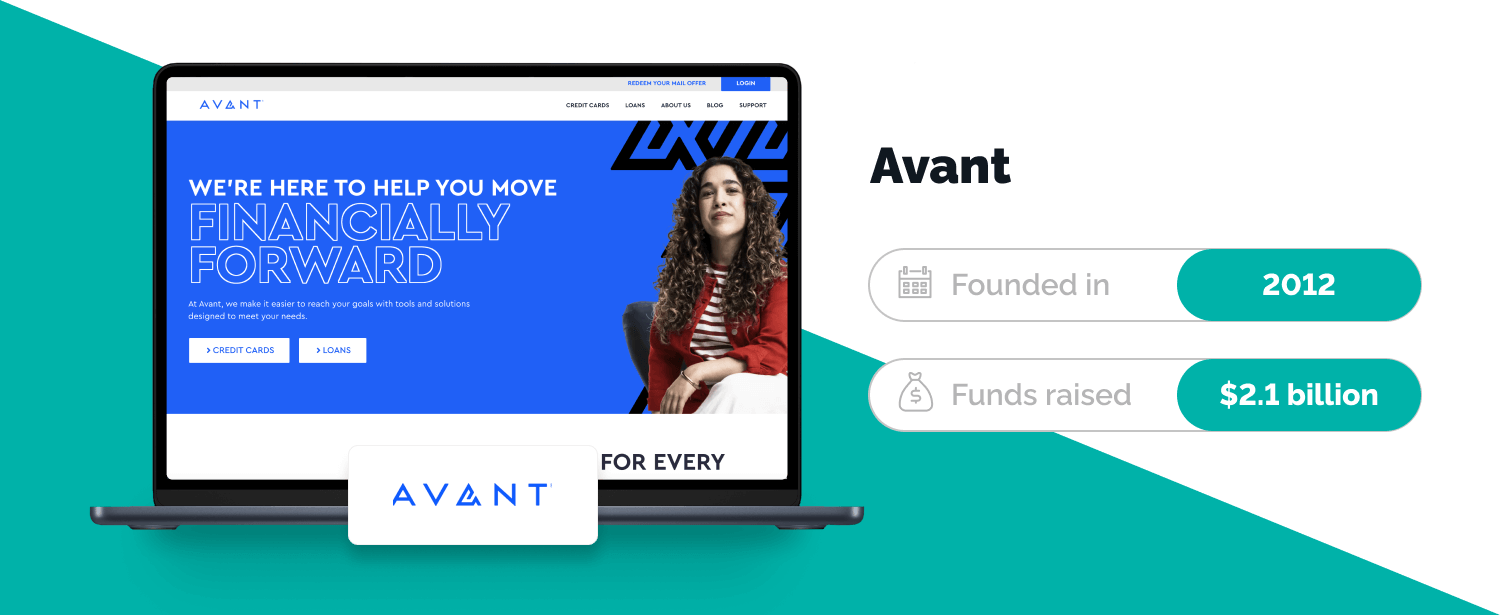 Avant is an online lending platform that gives consumers access to personal loans with lower credit scores. The platform uses machine learning algorithms to assess the creditworthiness of potential borrowers and offer them personalized loan options.
Founded in 2012
Funds raised: $1.2 billion
Avant features:
Fast and easy loan approval process: The loan application process is quick and easy, with many customers receiving loan offers within minutes of applying.
Flexible loan options: Avant offers loans ranging from $2,000 to $35,000 with 24 to 60 months repayment terms, giving customers the flexibility to choose a loan that best fits their financial needs.
Personalized rates: It uses a proprietary algorithm to determine personalized interest rates for each customer based on their creditworthiness and financial history.
Transparent fees: The platform is transparent about its fees, with no hidden charges or prepayment penalties. Customers can easily see what fees they will be charged before accepting a loan offer.
Fair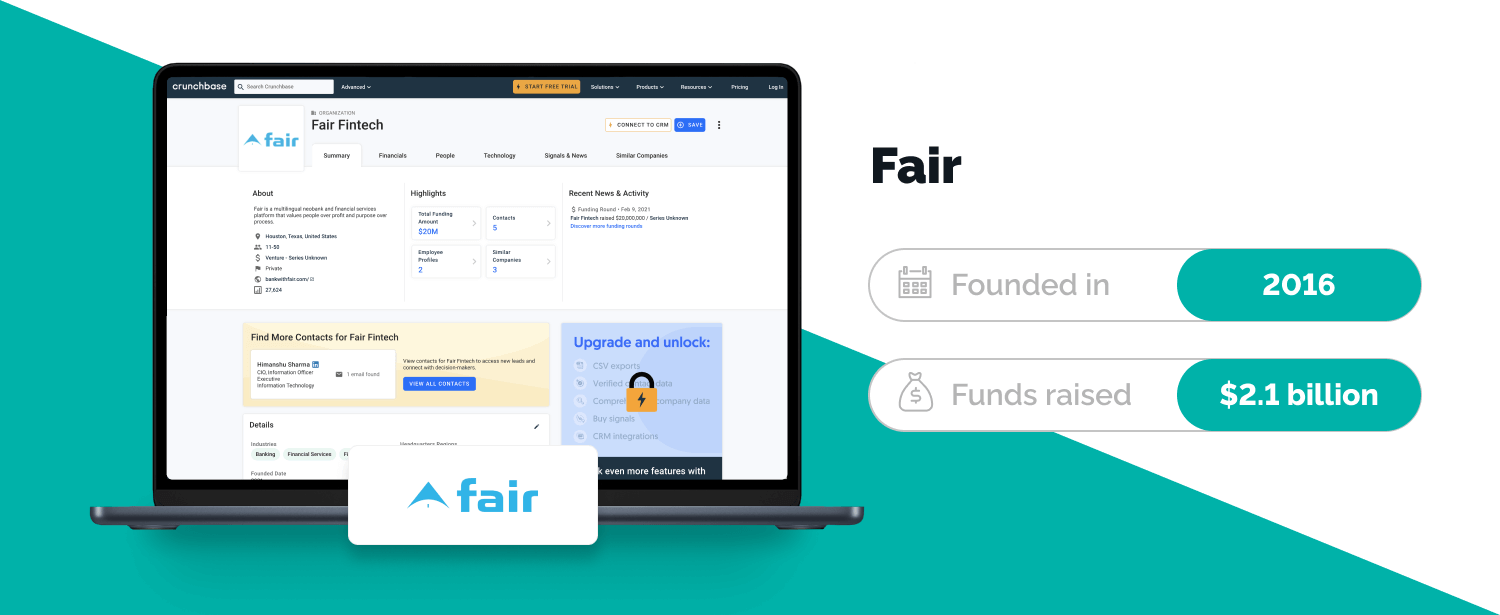 Fair is a car leasing platform that allows users to lease cars on a flexible, month-to-month basis. The platform uses a proprietary algorithm to determine the monthly cost of leasing a particular car based on various factors, including the car's make and model and the user's credit score and access and finance vehicles through its app.
Founded in 2016
Funds raised: $2.1 billion
Fair features:
Flexible vehicle leasing: Fair's app allows users to lease vehicles with a range of options, such as the length of the lease, the mileage limit, and the make and model of the vehicle.
No long-term commitments: Unlike traditional car leasing programs, Fair does not require long-term commitments. Users can return the car anytime or exchange it for a different one.
All-in-one app: Fair's app enables users to choose, lease, and pay for their vehicles all in one place. The app includes roadside assistance, routine maintenance, and insurance coverage.
Not requiring a credit score: Fair is unique because it does not require users to have a minimum credit score to lease a vehicle. Instead, the company uses a proprietary algorithm to determine users' eligibility.
No dealership visit required: Users can choose and lease a vehicle entirely through the Fair app without visiting a dealership or negotiating with a salesperson.
Opendoor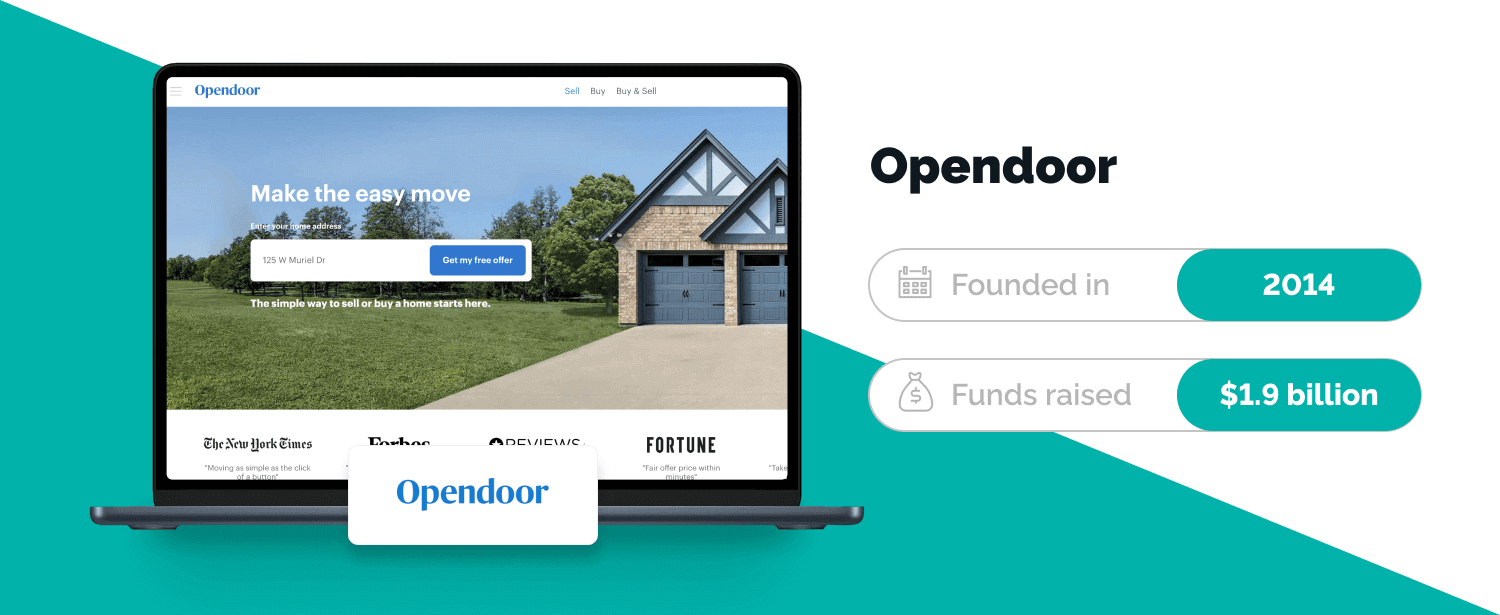 Opendoor is an online real estate marketplace aiming to simplify home buying and selling and offers a convenient and transparent experience for buyers and sellers alike. The platform uses a proprietary algorithm to determine the value of a home and offer users a cash offer for their home.
Founded in 2014
Funds raised: $1.9 billion
Opendoor features:
Instant offers: Opendoor allows homeowners to receive an instant offer on their property without the need for listing it on the market, inspections, or open houses. This makes the process faster and more convenient for both buyers and sellers.
Fair market value: The company uses data-driven pricing algorithms to offer fair market value to homeowners for their properties.
Flexibility: It offers a flexible home buying and selling experience. Buyers can tour properties on their schedule and make offers online, while sellers can choose their closing date and move out a timeline.
Home trade-in: There is a trade-in program where buyers can use their current home's equity to purchase a new home from Opendoor, simplifying upgrading to a new home.
No hidden fees: Opendoor is transparent about its fees and doesn't charge any hidden costs or commissions. This helps ensure a straightforward and honest transaction for both parties.
Conclusion
The USA fintech industry is a rapidly evolving landscape, with a diverse range of companies and specialisms driving innovation and growth. From digital payments and online lending to trading platforms and cryptocurrency exchanges, the USA fintech market is home to some of the world's most dynamic and disruptive companies.
Of course, this is just a small sample of the many exciting and innovative companies that are shaping the future of finance in the USA. As the fintech industry continues to mature and expand, we can expect to see many more breakthroughs and innovations emerge, transforming how we think about and interact with money.
Keep an eye on these top 100 fintech companies and the market as a whole and witness the birth of the next big thing in finance with fintech app development services by TechMagic. From cryptocurrency exchange to blockchain platforms, payment processing apps to asset management product development, we provide end-to-end software development for any size of business.
Interested to learn more about TechMagic?
Contact us
FAQ
Where is the fintech capital of the US?

While many cities in the US have thriving fintech ecosystems, the title of fintech capital is often given to San Francisco, California. This city is home to some of the world's most innovative and successful fintech companies, including Stripe, SoFi, and Robinhood. The proximity of San Francisco to Silicon Valley, a hub of technology and innovation, has made it an attractive location for fintech startups and established companies.

How many fintech companies are in the US?

As of 2021, more than 12,000 fintech companies are estimated to operate in the US. This number is expected to grow as more startups enter the market and establish companies to expand their fintech offerings. The US is one of the largest and most important markets for fintech, with a diverse range of companies offering everything from mobile banking to insurance and investment services.