React vs Angular vs Vue.js — What Is the Best Choice in 2023?

Content Marketing Manager at TechMagic. Mainly focused on content marketing, SEO optimization, and media relations.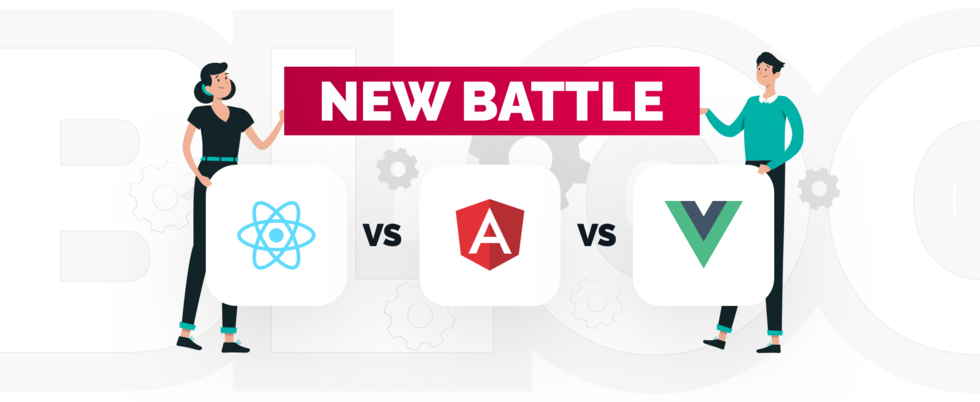 What are the best JavaScript frontend frameworks for companies? If you haven't yet heard, the updated comparison of Vue vs. React vs. Angular is here!
JavaScript frameworks are developing at an extremely fast pace, meaning that today we have frequently updated versions of Angular, React.js, and another player on this market - Vue.js. Let's have a look at the demand represented in Google Trends for the last 5 years. The blue, red, and yellow lines represent Angular, React, and Vue.js respectively.
It can be seen from the chart that during 2014-2015 there was a small difference between the number of React and Angular inquiries. Then, we see that deviation between them increased for some short period. From the middle of 2017, these requests balanced, and React started to grow and reach closer to Angular's demand. The Vue.js framework was still not popular very much, but it was slightly increasing its presence on the market of frameworks, showing a potential for further growth. In the last years, Angular and React almost balanced, meaning that they are the most usable frontend frameworks on the market.
Overall, React and Angular develop organically with relatively the same dynamics. If we try to forecast the demand for these frontend frameworks, then we can see a positive tendency for React while Angular has a bit of a declining one. The situation with demand on Vue.js development services is still not clear, but according to its specific convenient structure, it's going to grow as well, maybe just a bit less than the main frameworks.
We also analyzed the number of open positions worldwide that require specific knowledge of a certain framework. As a source, we looked at Indeed.com and got the following distribution according to more than 60,000 job offers.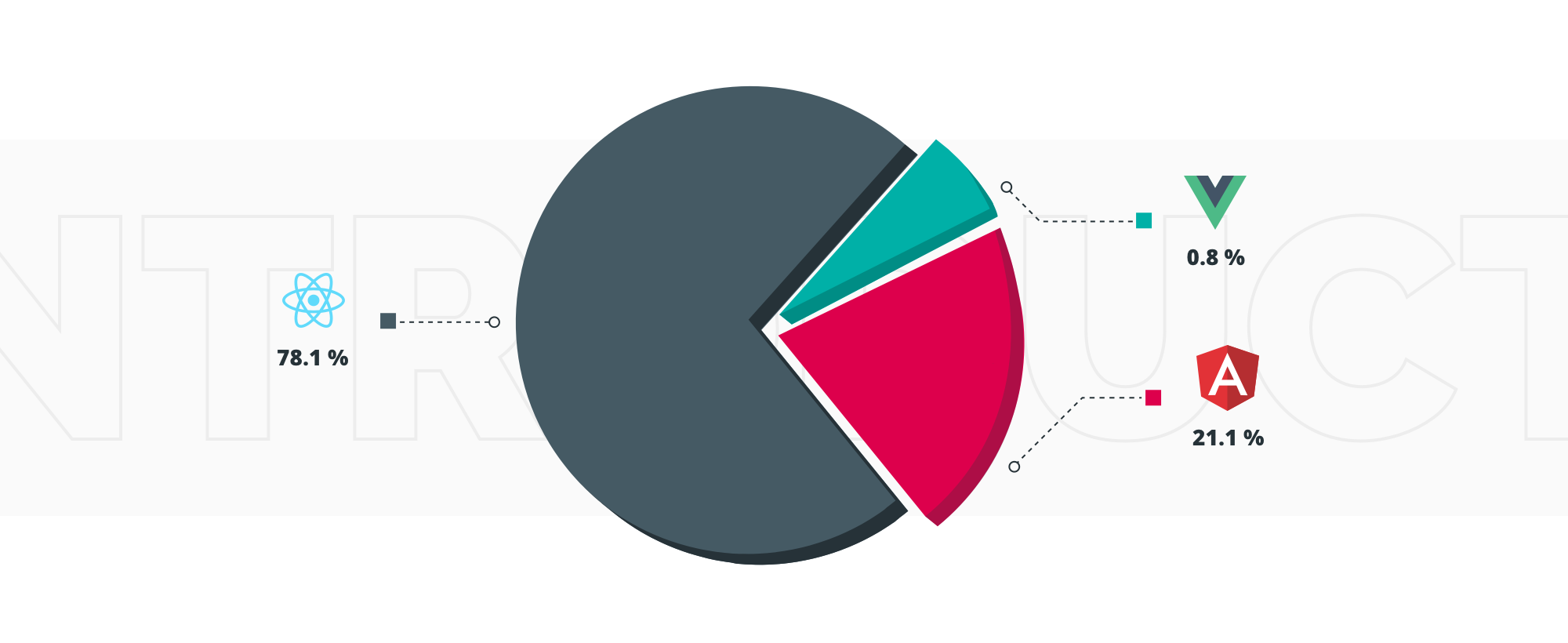 Taking into account the following data, we decided to share the main advantages and disadvantages of every frontend framework and help tech professionals or engineers to choose the best one for their development needs.
Pros and Cons of Angular
Angular is a superheroic JavaScript MVVM framework, founded in 2009, which is awesome for building highly interactive web applications.
Benefits of Angular:
New features like enhanced RXJS, the faster compilation (in under 3 seconds), new HttpClient launch.
Detailed documentation that allows getting all necessary information for the individual developer without asking his colleagues. However, this requires more time for education.
Two-way data binding that enables singular behaviour for the app which minimized risks of possible errors.
MVVM (Model-View-ViewModel) allows developers to work separately on the same app section using the same set of data.
Dependency injection of the features related to the components with modules and modularity in general.
The disadvantages of Angular:
The complex syntax comes from the first version of Angular. Nevertheless, Angular 5 uses TypeScript 2.4 which is the least difficult to learn in comparison.
Migration issues can appear while moving from the older version to the latest ones.
Companies that use Angular 5: Upwork, Freelancer, Udemy, YouTube, Paypal, Nike, Google, Telegram, Weather, iStockphoto, AWS, Crunchbase.
Companies that Use Angular
The first version of Angular was released by Google in 2010. The most current version released in 2019 is Angular 2+. Today, popular companies using Angular development services include Google, Microsoft Office, and Upwork.
For example, Angular provides Google with a highly functional framework to create larger applications. It is used in developing Google Cloud Console. Microsoft Office was able to launch two stand-alone applications with the help of the Angular framework. With the case of Upwork, it uses the framework to provide a responsive experience for its members.
Pros and Cons of React.js
ReactJS is a JavaScript library, open-sourced by Facebook in 2013, which is great for building huge web applications where data is changeable on a regular basis.
Benefits of React.js:
Easy to learn. React is much easier to learn because of its simplicity in terms of syntax. Engineers just need to recall their HTML writing skills and that's it. No need to deeply learn TypeScript like in Angular.
High level of flexibility and maximum responsiveness.
Virtual DOM (document object model) that allows arranging documents in HTML, XHTML, or XML formats into a tree from which is better acceptable by web browsers while parsing different elements of the web app.
Combined with ES6/7, ReactJS can work with the high load in an easy way.
Downward data binding means that with this kind of data flow the child elements cannot affect parent data.
100% open-source JavaScript library which gets a lot of every day updates and improvements according to the contributions of developers all over the world.
Absolutely light-weighted because the data performing on the user side can be easily represented on the server-side simultaneously.
Migrating between versions is generally very easy, with Facebook providing "codemods" to automate much of the process.
Drawbacks of React.js:
Lack of official documentation - super-fast development of ReactJS leaves no place for the proper documentation which is a bit chaotic now as many developers contribute it individually without any systematic approach;
Comparing Angular vs React, last one is unopinionated - meaning that developers sometimes have too much choice;
Long time to master which means that React JS requires deep knowledge of how to integrate the user interface into MVC framework.
Companies that use services from ReactJS development companies: Facebook, Instagram, Netflix, New York Times, Yahoo, Khan Academy, Whatsapp, Codecademy, Dropbox, Airbnb, Asana, Atlassian, Intercom, Microsoft.
Companies Using React
Big billion-dollar companies using React are proof of how good a framework is. Apart from Facebook, most of the well-known famous companies that use ReactJS are Twitter, Amazon Prime, Udemy, Expo, Codesandbox, Uber, and Pinterest. But Facebook is in the centre of it.
For the most part, React is a great tool for the above services as they have high traffic. React.js development company provides a faster way of building and maintaining mobile applications. Also, these companies can build applications while using fewer resources. It is the best frontend library in existence.
Pros and Cons of Vue.js
Vue.js is a JavaScript framework, launched in 2013, which perfectly fits for creating highly adaptable user interfaces and sophisticated single-page applications.
Benefits of Vue.js:
Empowered HTML. This means that Vue.js has many similar characteristics to Angular and this can help to optimize HTML block handling with the usage of different components.
Detailed documentation. Vue.js has very circumstantial documentation which can fasten the learning curve for developers and save a lot of time to develop an app using only the basic knowledge of HTML and JavaScript.
Adaptability. It provides a rapid switching period from other frameworks to Vue.js because of the similarity with Angular and React in terms of design and architecture.
Awesome integration. Vue.js can be used for both building single-page applications and more difficult web interfaces of apps. The main thing is that smaller interactive parts can be easily integrated into the existing infrastructure with no negative effect on the entire system.
Large scaling. Vue.js can help to develop pretty large reusable templates that can be made with no extra time allocated for that according to its simple structure.
Tiny size. Vue.js can weigh around 20KB keeping its speed and flexibility that allows reaching much better performance in comparison to other frameworks.
Drawbacks of Vue.js:
Lack of resources. Vue.js still has a pretty small market share in comparison with React or Angular, which means that knowledge sharing in this framework is still in the beginning phase.
Risk of over flexibility. Sometimes, Vue.js might have issues while integrating into huge projects and there is still no experience with possible solutions, but they will definitely come soon.
Chinese background. As far as Vue.js has a bit of Chinese background, a lot of elements and descriptions are still available in Chinese. This leads to a partial complexity on some stages of development, nevertheless, more and more materials are being translated into English.
Companies that use Vue.js: Xiaomi, Alibaba, Wizz Air, Euronews, Grammarly, and Laracasts, Adobe, Behance, Codeship, Reuters.
Companies Using Vue.js
Vue.js fully-fledged framework is kind of a latecomer but there are many companies using it. Some of the companies using Vue also include Google, Apple, Trivago, and Nintendo. Google was able to use Vue for its career page while Nintendo included this framework into its website. Trivago, one of the most popular sites to search for hotels, incorporated Vue in their magazine. Apple on the other hand used Vue to create their SwiftUI tutorials. Actually, many more companies are shifting their codebases every month and it has around 140K start at the GitHub platform.
How to Choose a Perfect Framework for Your Project?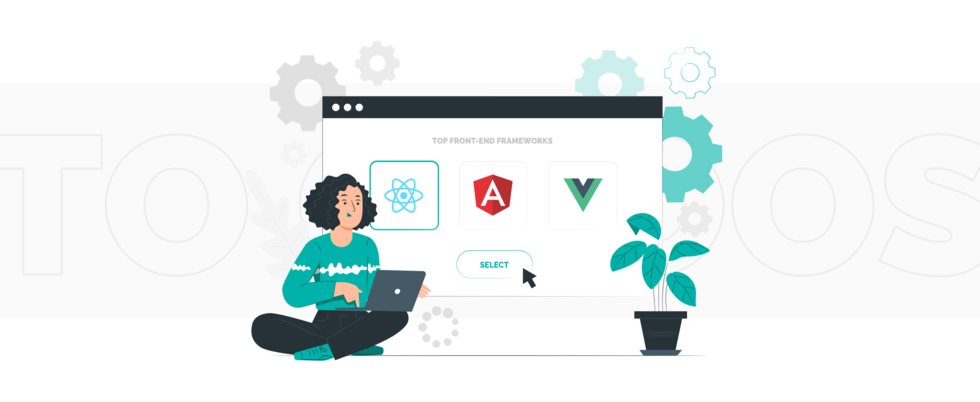 How do you know which to use, Vue vs. React vs. Angular? What is the best way to maximize the benefits of each framework? How do you know when to use React or Angular? Based on the advantages and disadvantages of each, here is a guide to help you decide.
When to Use Angular
When you compare Angular vs. React popularity among developers, React is just slightly more popular than Angular. So let's compare Angular vs. Vue.js and see when to use it:
Angular is more useful for large complex projects;
Angular is a better option for reliable scalability;
Use Angular if you have time to learn Typescript.
When to Use Vue.js
Which is better when comparing Vue.js vs. Angular? Some of the Angular disadvantages mean that you may pick Vue.js, therefore, use Vue.js when:
High-performance applications are needed;
You are lacking skilled front-end developers;
Your team does have enough time to learn about new technology.
When to Use React
Which is better in React.js vs. Angular battle? React vs. Angular popularity is a close one with React being slightly preferred. The main reason why React is more popular when you compare React vs. Angular is because of the Angular drawbacks mentioned earlier. The great ecosystem of React makes it a better solution for:
Projects that can incorporate reusable components;
Projects that want to have a simple frontend;
Projects that require the highest level of scalability;
Projects with short deadlines.
Intrested in our Web Development expertise?
Learn more
Conclusion
For a real engineer, there is no substantial difference in which framework to choose, because it just takes some time to get used to the new one. As a software product development company, we grow expertise in mostly React.js and Angular, but Vue.js is also on board. Every framework has its own pros and cons, meaning that there should be just a right choice for every single case during the product development. You might also like to check JavaScript latest trends in another article on our blog.
FAQs
Which is more popular Angular or React or Vue.js?

React is the most widely used framework, Angular and Vue.js take the next place in popularity among developers.

Does Netflix use Vue or React?

Worldwide company Netflix uses Vue to enhance software development processes.

Should I learn React or Vue 2023?

If you need straightforward, quick-to-learn, and easy-to-get-started with - choose React. But if you're looking for greater flexibility and complexity that can develop with your project over time without requiring you to start from scratch - learn Vue.js.